Features
UK Christmas TV 2021: Your Guide To This Year's Festive Specials
From Doctor Who to animated Terry Pratchett, a Ghosts special and a spooky M.R. James tale from Mark Gatiss, here's our pick of this year's UK Christmas TV.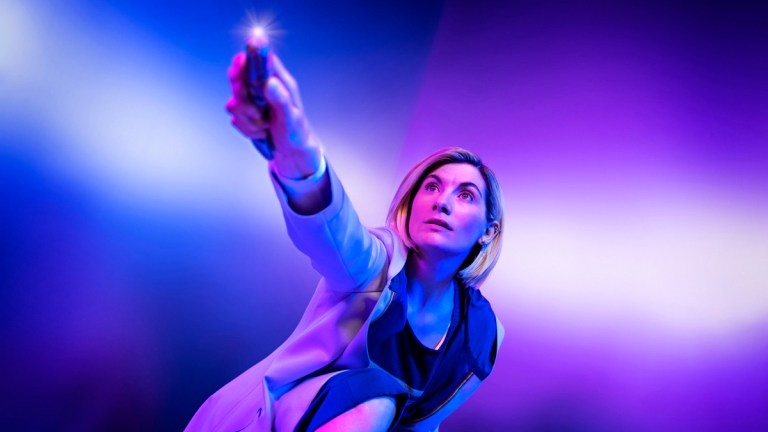 Though our mileage with Christmas may vary (personally mine's all the way to space and back, but you may well refuse to even back out of the car park), we can all agree on one good thing about this time of year: television. Not the deeply un-special Christmas specials in which Gregg Wallace walks around a mince pie factory with a bit of holly pinned to his lapel, but the actual good stuff: a brand new episode of Ghosts for example, a new Terry Pratchett family animation, a creepy M.R. James ghost story from Mark Gatiss…etcetera.
Below is a selection of our top five highlights plus a bunch of recommendations that will be updated as the Christmas TV schedules are confirmed. Get the central heating on and open a tin of Roses, 'tis the season.
HIGHLIGHTS
1. Doctor Who New Year's Day Special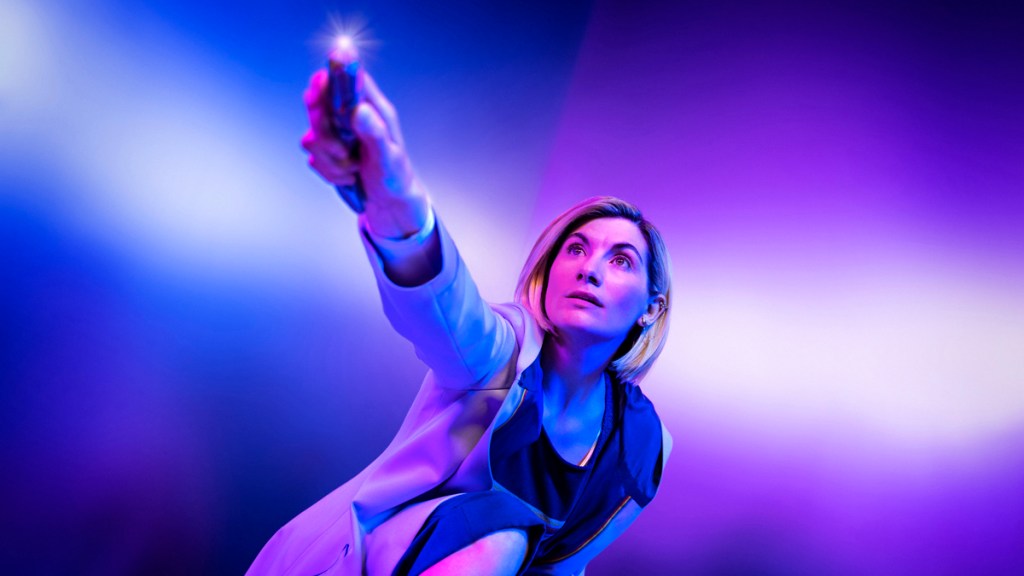 The first of three Doctor Who specials airing in 2022, the New Year's Day episode was written by Chris Chibnall and directed by Annetta Laufer and promises to see the Doctor "encounter friends and foes (new and old) in an action-packed, thrilling adventure". Guest stars joining Jodie Whittaker's Doctor this time around include Aisling Bea (This Way Up), Adjani Salmon (Dreaming Whilst Black), andPauline McLynn (Father Ted, Gameface).
Air date: Saturday 1st January 2022, BBC One.
2. Ghosts Christmas Special
Button House returns after last year's gloriously cockle-warming festive special for another, which sees Alison, Mike and the ghosts at Christmastime dealing with a mysterious visitor to the grounds whom Kitty is convinced is more than he seems. Funny, daft, good-hearted and always a must-watch.
Air date: Thursday 23rd December, 8.30pm, BBC One
3. The Mezzotint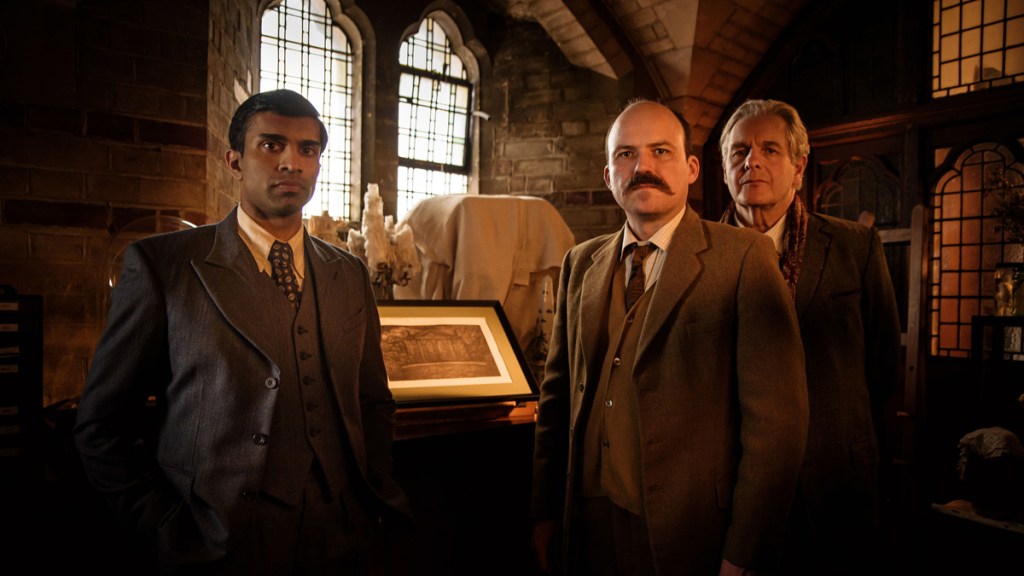 Mark Gatiss continues his string of M.R. James ghost stories for Christmas adaptations with this 1920s tale of a university museum curator and the horrific story he sees unfolding in a 19th century mezzotint image. The cast is top, and includes Rory Kinnear (No Time to Die, Years & Years), Robert Bathurst (Doctor Who: Flux, Downton Abbey, Toast of London)and Doctor Who's Frances Barber.
Air date: Friday 24th December, 10.30pm, BBC Two
4. Terry Pratchett's The Abominable Snow Baby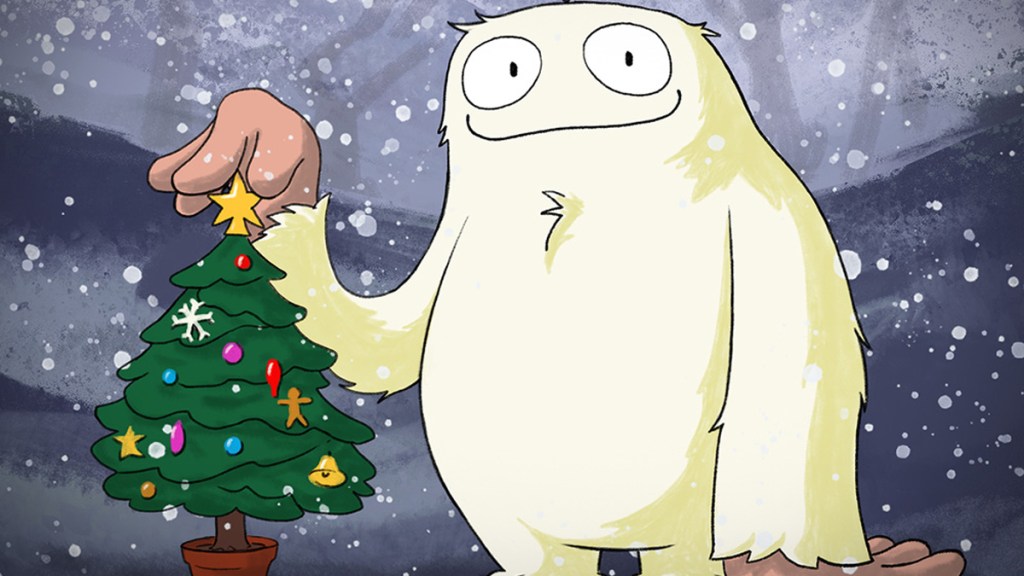 Now an annual treat, this year's Channel 4 animation following on from The Tiger Who Came to Tea and Quentin Blake's Clown is Terry Pratchett's The Abominable Snow Baby. It's adapted from Pratchett's collection of festive short stories for children, Father Christmas' Fake Beard and tells the story of a 14-foot interloper to a small village which is taught to overcome its suspicion by the love and good sense of a little boy and his grandmother. Julie Walters, Hugh Dancy and David Harewood provide the voices.
Air date: TBC, Channel 4
5. Taskmaster New Year Treat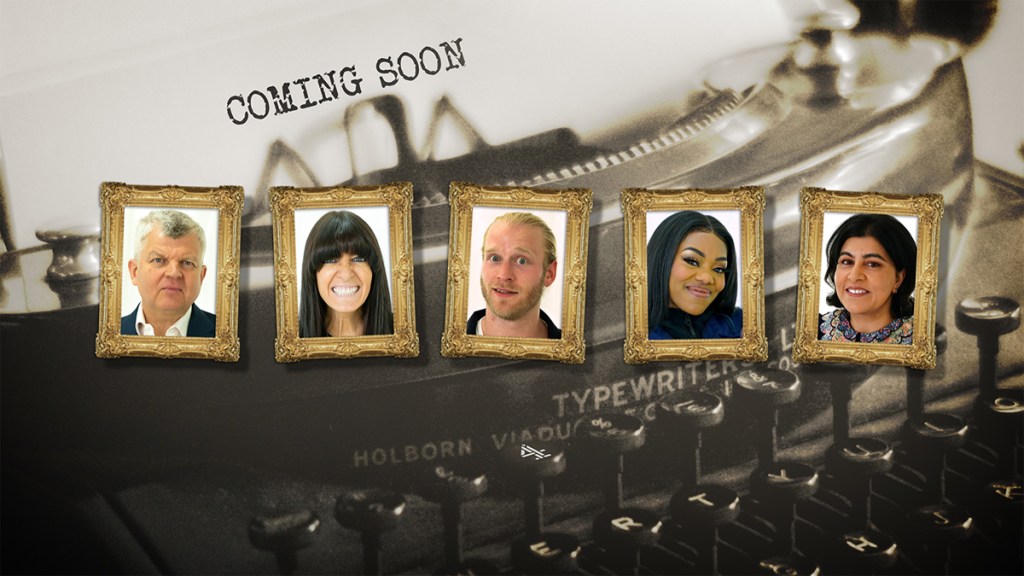 Prepare to welcome five brand new contestants to the stage for another Taskmaster one-off New Year Treat. They are: broadcaster and journalist Adrian Chiles, presenter Claudia Winkleman, athlete Jonnie Peacock MBE, rapper Lady Leshurr and politician-turned-person-who-gets-booked-for-this-kind-of-thing Baroness Sayeeda Warsi. Presumably that'll be followed by the long-anticipated second Champion of Champions special episode (featuring the winners from series six to ten: Ed Gamble, Lou Sanders, Kerry Godliman, Liza Tarbuck and Richard Herring). Always a highlight round these parts, few comedy shows are as reliably daft and enjoyable as Taskmaster.
Air date: TBC, Channel 4
DRAMA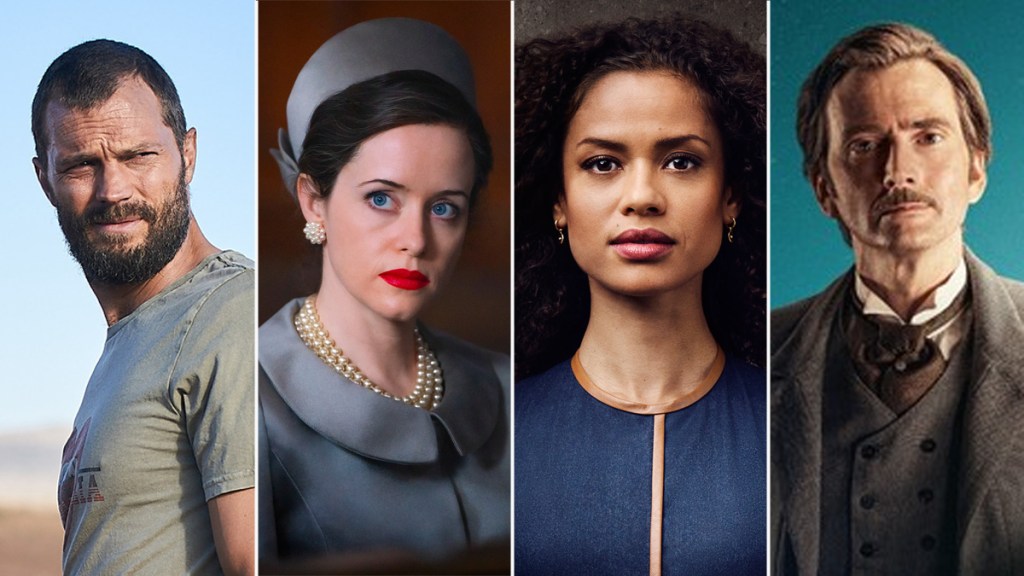 Around the World in Eighty Days
An eight-part adaptation of Jules Verne's famous globe-trotting book starring David Tennant in the lead role. Air date: Sunday 26th December, 5.50pm (double-bill), BBC One.
A Very British Scandal
Agatha Christie-adapter extraordinaire Sarah Phelps is behind this three-part drama starring Claire Foy and Paul Bettany, inspired by the true story of the scandalous divorce of the Duke and Duchess of Argyll. Air date: Sunday 26th December (then on the next two consecutive nights), 9pm, BBC One.
The Girl Before
Gugu Mbatha-Raw and David Oyelowo star in this four-part thriller adapted from a bestselling JP Delaney novel about a traumatised woman, a minimalist house and a creepy architect. Air date: Sunday 19th December, 9pm and for the next three consecutive nights on BBC One.
The Tourist
Jamie Dornan plays an amnesiac in Australia in the latest thriller from Harry and Jack Williams, the creators of The Missing, Rellik and more. Air date: Saturday 1st January, 9pm, BBC One.
CHILDREN'S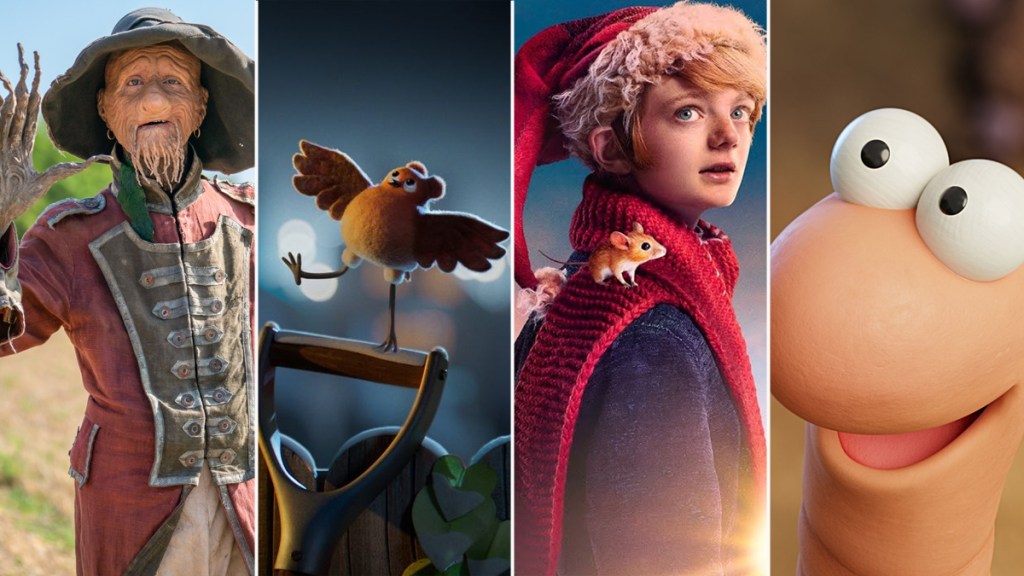 A Boy Called Christmas
A film adaptation of Matt Haig's festive bestseller featuring Dame Maggie Smith, Kristen Wiig, Jim Broadbent and more. Air date: Out now on Sky Cinema.
Beauty and the Beast: A Comic Relief Pantomime for Christmas
Last year, they did a star-studded version of Cinderella on Zoom, this year, it's Beauty and the Beast. Air date: Sunday 19th December, 9pm, BBC Two.
Christmas Lectures from The Royal Institution
England's Chief Medical Officer Jonathan Van Tam and pals explain the science of viruses. Air date: TBC, BBC Four.
Hansel and Gretel: After Ever After
David Walliams is back with another Sky pantomime. Air date: TBC, Sky Max.
Robin Robin
A new half-hour special from Aardman Animations about a young robin raised by a family of mice. Air date: Out now on Netflix.
Shaun the Sheep: The Flight Before Christmas
A festive edition of the Aardman series. Air date: December 3rd (Netflix), December 25th, 11.25am (BBC)
Superworm
The Julia Donaldson/Axel Scheffler animations continue on the BBC, this one featuring Matt Smith, Olivia Colman and Rob Brydon in the voice cast. Air date: December 25th, 2.30pm, BBC One.
The Amazing Mr Blunden
Mark Gatiss has written and directed this new take on the 1972 original family film about a haunted house and the modern teenagers who travel back to the 19th century at the behest of a mysterious old man. Simon Callow and Tamsin Grieg star. Air date: TBC, Sky.
The Night Before Christmas
CBeebies' festive show, featuring Justin Fletcher and more. Air date: TBC, BBC One.
Worzel Gummidge
Following the Bonfire Night special are two new episodes of Mackenzie Crook's scarecrow stories, featuring guest star Bill Bailey. Air date: 28th December, 7.15pm, BBC One.
COMEDY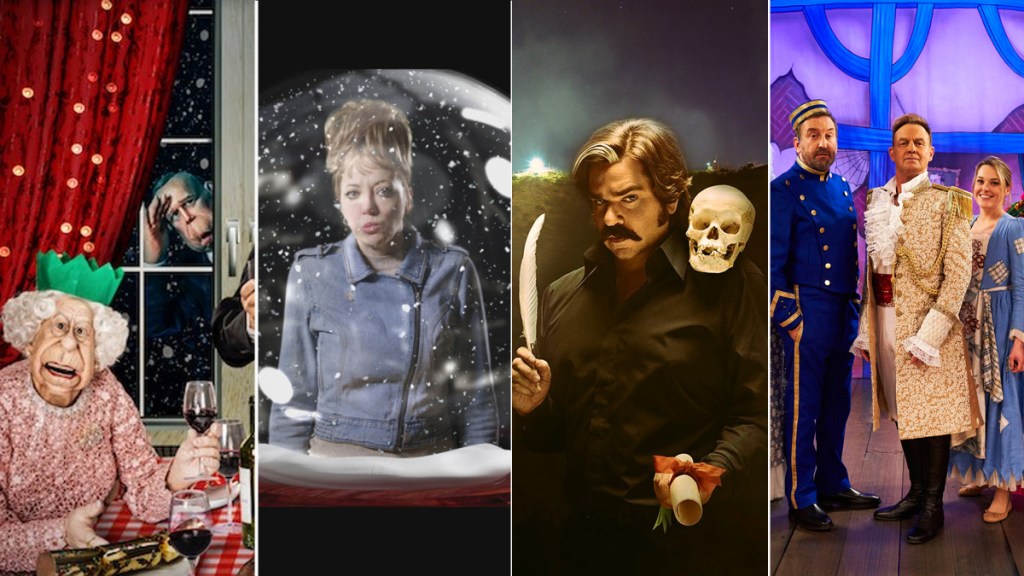 Frankie Boyle's New World Order
A satirical look back at the world events of 2021 hosted by stand-up Frankie Boyle. Air date: Wednesday 29th December, 10pm, BBC Two.
The Spitting Image Christmas Special
The satirical show returns fresh from its second series for a festive special including puppet-y takes on Prince Andrew, Tom Cruise, Keir Starmer, Phoebe Waller-Bridge and Rishi Sunak. Air date: Thursday 2nd December (Britbox), TBC (ITV)
Not Going Out
Lee Mack's sitcom delivers the latest in a long line of Christmas specials, this one panto-themed and featuring a guest appearance by Lucy's teenage crush, Jason Donovan. Air date: Thursday 23rd December, 10pm, BBC One
Ray and Gaynor
Gavin and Stacy's Ruth Jones and Rob Brydon star in a one-off half-hour comedy special. Air date: TBC.
Toast of Tinseltown
Matt Berry's thesp returns in this BBC special following Stephen Toast's adventures in Hollywood. Air date: TBC early in the New Year, BBC Two.
Two Doors Down Christmas Special
A pre-Christmas get-together on Latimer Crescent turns fraught in this BBC comedy. Air date: Monday 20th December, 9.30pm, BBC Two.
We Wish You a Mandy Christmas
A new 16-minute festive instalment of Diane Morgan's self-written and directed comedy. Air date: Monday 20th December, 10pm, BBC Two.
ENTERTAINMENT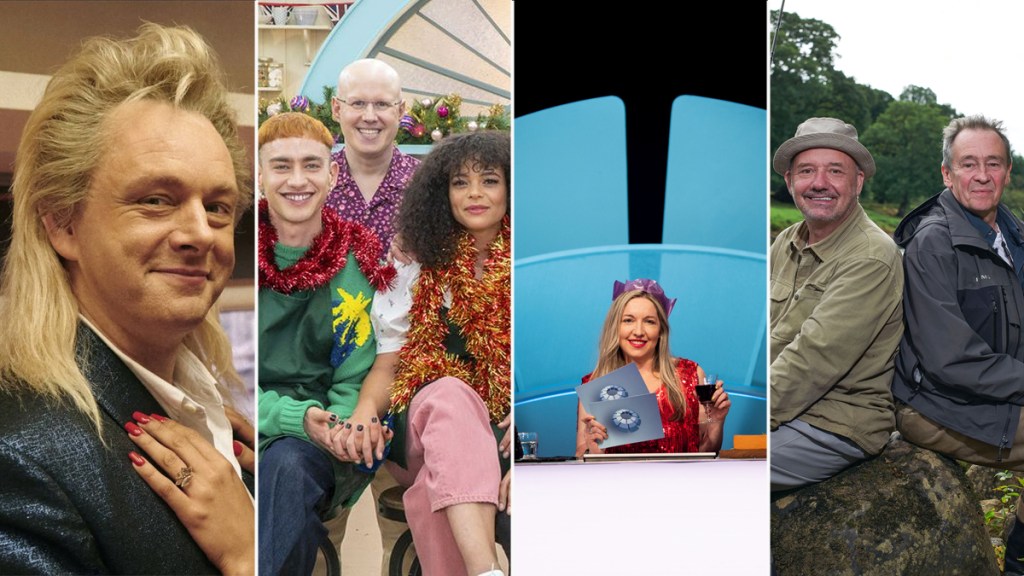 A Christmas Number One
Freida Pinto and Iwan Rheon star in an original film about a musician whose seriously ill niece wishes for him to get a Christmas number one. Air date: TBC, Sky Cinema.
Last Train to Christmas
Michael Sheen, Nathalie Emmanuel and Cary Elwes star in an original festive fantasy about a music exec on a train home for Christmas that takes him through his past. Air date: 18th Dec, Sky Cinema
Mortimer and Whitehouse: Gone Christmas Fishing
More good-hearted, daft fun with Bob Mortimer and Paul Whitehouse. Air date: Sunday 26th December, 9pm, BBC Two.
Never Mind the Buzzcocks Christmas Special
Greg Davies hosts the revamped music quiz, with Daisy May-Cooper and Jamali Maddix. Air date: TBC, Sky Max.
Only Connect Christmas Specials
Torturously tough quizzing hosted by Victoria Coren-Mitchell. Air date: From Monday 27th December, 8pm, BBC Two.
QI Christmas Special
They've reached 'S' for Sandi Toksvig, Sally Phillips, Joe Ly-sett and er, Bonnie Langford. Air date: Monday 20th December, 9pm, BBC Two.
The Great Christmas Bake-Off
The cast of It's a Sin compete in a one-off special, followed by The Great Festive Bake-Off featuring four returning bakers from previous series. Air date: TBC, Channel 4
The Greatest Snowman
Sue Perkins hosts a celebrity snowman-building competition in an Alpine resort. That's celebrities building snowmen, not snowmen of celebrities being built. Or maybe it's both. Air date: TBC, Channel 4.
University Challenge Christmas Special Series
A new 10 episode series featuring celebrity alumni from the UK's universities. Air date: Daily from Monday 20th Dec, 8.30pm, BBC Two.
Would I Lie To You At Christmas?
David Mitchell, Lee Mack and Rob Brydon are joined by Jim Broadbent, Rose Matafeo, Angela Rippon and Ardal O'Hanlon. Air date: TBC, BBC One
All that, plus: Strictly, Call The Midwife, Mrs Brown's Boys, The Larkins, All Creatures Great and Small, Death in Paradise, Quentin Blake: The Drawing of My Life; The Weakest Link, The Repair Shop, The Great British Sewing Bee, MasterChef and more.