Features
True Story and the Diverse Career of Wesley Snipes
Wesley Snipes' repertoire includes sportsmen and criminals, drag queens and vampires—and now he's starring in the meta Netflix drama True Story.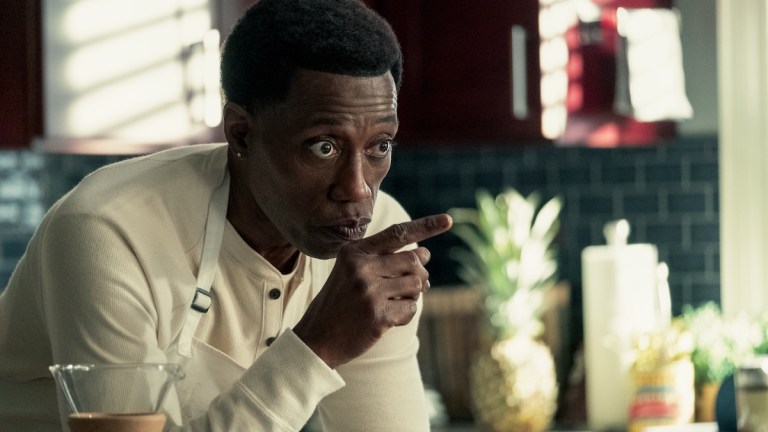 He's a five-time black belt who showed off a fluid brutality in action films such as the Blade franchise; yet when he went to school, he was originally convinced his future and passion lay in performative dance. He's a four-time winner of the NAACP Image Awards; he's played villains, criminals, and that one bleached-blond fiend who wanted to blow up Sylvester Stallone in Demolition Man. He's worked with the likes of Denzel Washington, Robert De Niro, and Spike Lee in some of the auteur's most seminal films, but his first big break was being the tough guy who taught Michael Jackson how to be "Bad" in that Martin Scorsese music video.
It's a singular career and one indicative of one of the brightest talents of his generation. "I've always kind of looked at my arc in the business as being diverse, and try to find the things that are challenging," Snipes tells Den of Geek. "If I do a comedy, then I'll look to do a drama. If I do a drama, then I'll look to do action. If I do action, then I might look to do a comedy."
In the new Netflix miniseries, True Story, he's on the bleeding edge again of the moviemaking industry in the 21st century: taking a risk on a project that could seemingly only find a home on a streaming service. Indeed, True Story is a risky project, one in which his co-star Kevin Hart plays The Kid, a larger-than-life comedian who winds up in a murder mystery that quickly spirals into a potentially career-killing cover-up conspiracy.
Leading that hush-hush operation is the Kid's older and less famous brother, Snipes' Carlton—a man who loves his baby brother, but also becomes his slapdash fixer. Given Snipes' own complicated history with authorities such as the IRS, some might speculate if any of the miniseries' alleged "true story" elements are drawn from Snipes' own experiences. However, as Snipes notes, Hart commissioned this series, with this title, and in the context of a career quite similar to the Kid's.
"Man, you know something, I think there is a lot going on with Kevin," Snipes whispers. "I mean, he tells [us] that the origin of the idea for this project was him calling [executive producer and writer] Eric Newman and telling him, 'Hey man, I'm going to kill somebody. I need you to write something for me to kill somebody.'" Snipes adds: "I think this may be a therapy session for Kevin. The things that he wanted to say to a couple of people out there that he wasn't able to say, or couldn't say without being sued. So he put it in a movie."
The series, which premiered on Netflix last month, is Snipes' latest foray into the realm of streaming and his first in the long-form format after contributing to his career renaissance with a scene-stealing role in 2019's Dolemite Is My Name. In that Eddie Murphy-led picture, Snipes played an old school character actor who could (and would) brag about working with the likes of Roman Polanski… in a bit part as an elevator operator.
The real Snipes has worked with legends of all stripes, in all mediums, and can be proudly old-school. Growing up in the Bronx, he attended Manhattan's School of Performing Arts (now LaGuardia High School), which was featured in the film Fame. He's been classically trained in dance, stage, and martial arts. And yet speaking with him reveals a thoughtful but enthusiastic reverence for all genres and mediums, and roles as eclectic as leading Lee's interracial drama Jungle Fever (1991) and his star-making turn in the comedy Major League (1989). In the latter he plays Willie Mays Hayes, a ballplayer who can show up to spring training in his pajamas and still look cool as he rounds third base. "I like to mix it up like that, and keep my skill set [fresh]," Snipes admits. "I'm still stuck in that mid-'80s repertory theater mindset. How cool is it to do it in films though? That's the cool part."
And despite his reputation, at times, for being a "Method" actor, Snipes is quick to note he has always been able to separate himself from the character he's playing when the curtain comes down or the camera stops rolling.
"I learned very early on to keep some separation [from my characters]," Snipes says. "When it's time to go into work and to go to perform, we lock in and we load. But when it's time to go home and relax, and be yourself, be the person, the family member that people recognize. And you let all of that stuff from the movies go."
One of his early teachers in this regard may have been De Niro. The two only worked together once, in The Fan, a film where Snipes played another ballplayer, this one oblivious that he had one fan (De Niro) whose passion was turning him into a full-fledged stalker. The film came out in 1996, and Snipes credits it as a learning experience.
"Oh, man, I was a gooey-eyed girl working with De Niro on that project," Snipes says with an appreciative laugh. "I was looking at him and watching his every move. When he left the set, when he came on the set. I was very much a student at that time." And one of the best lessons turned out to be shared by complete accident: the ability to provide multiple line readings and inflections for the film editor an actor might never meet.
"[De Niro] would do multiple reads of a particular line during a particular shot," Snipes recalls. "And at that time I thought maybe he didn't hear the other actors, or he didn't hear me read my line to him. But that was a style, and it made a lot of sense when you think of how films are put together during the editing process. You give them multiple options and then let the arc of the character be built in the editing room."
Perhaps the biggest character that Snipes built is the beloved vampire-killing Daywalker, Blade. When the first movie in that series came out in 1998, New Line Cinema and even members of Snipes' team felt inclined to hide its comic book movie origins. Now we look at Blade as the first successful superhero film inspired by Marvel Comics. But it came at a time when comic book movies were considered expensive toy commercials like Batman & Robin, or B-movie schlock like the Shaquille O'Neal-led Steel (both of which arrived one year before Blade), making it a notable risk.
In fact, the way Snipes tells it, it was his intuition about the material and relating it to the Blaxploitation triumphs of his youth, especially those led by the Actors Studio and American Theatre Wing prodigy William Marshall, which inspired him to stick to his silver stakes and dust some bloodsuckers.
"Blade came to me as a script," Snipes says. "And against the advice of all of my representation at the time, I thought it was a cool opportunity to do something, a great opportunity to do something very cool. I remember William Marshall, the great thespian and great Shakespearean actor, played Blacula. And I said to myself, wow, if William Marshall could play Blacula, then to me, as a young thespian, it was fair game. Plus, it was an opportunity to put the martial arts in it. It was a no-brainer for me. Everybody else thought it was stupid. I was crazy for doing a comic book character."
With a reboot from Marvel on the way, featuring Mahershala Ali in the title role, appetite for more Blade action is huge, even though so far Ali's version has only appeared as a voice off screen in a post-credits scene.
That genuine excitement among fans of all backgrounds is inarguably down to the iconography that Snipes built, over the course of three films, around the previously little-known characters.
Not that the actor begrudges how things change. He has previously told us he had Ali's back in reinterpreting the character "1,000 percent" and how he's communicated to the actor to "go rock it, baby."
Plus, Snipes has always been one to nurture and support Black talent. He played the first major Black superhero in Blade, of course, and he was one of Spike Lee's go-to performers in seminal films such as Mo' Better Blues (1990), where he played Shadow Henderson (and the saxophone), as well as leading the aforementioned groundbreaker, Jungle Fever.
Today, the actor is thrilled at what he sees is the spread of opportunities to hear more Black voices, and real Black stories, both in front of and behind the camera, in movies such as Judas and the Black Messiah and The United States vs. Billie Holiday.
"Great-quality narratives, great-quality performances, transform people," Snipes considers. "And when people are transformed, the culture, the society, the nation is transformed. So the better-quality performances, the better-quality narratives of storytelling that's out there, the better quality of people we'll have, and that will hopefully produce a better-quality society and quality of life."
And quality is something Snipes seems determined to live, both on-screen and off.
True Story is streaming on Netflix now.