News
Wesley Snipes Has Blade Advice for Mahershala Ali: 'Go Rock It, Baby'
Wesley Snipes reveals that while he hasn't talked to Mahershala Ali on playing the Marvel superhero Blade that he's got the actor's back "1,000 percent."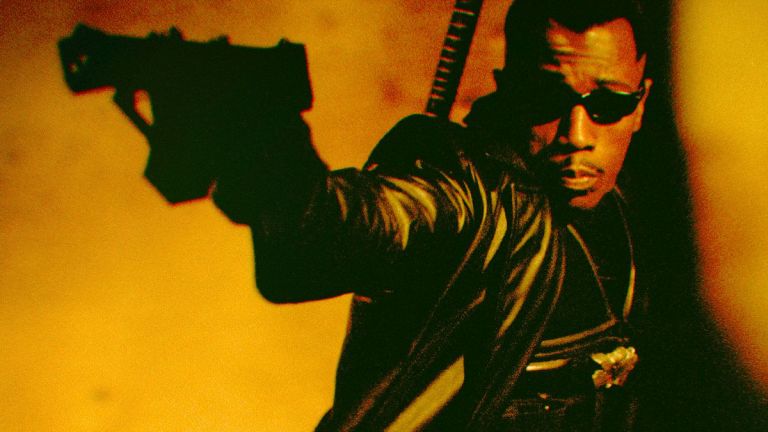 Before there were Iron Man movies or Avengers films, before Spider-Man or the X-Men became blockbusters, there was one Marvel character who stood in front of all others on the big screen: Blade. Famously brought to life by Wesley Snipes across three films, Blade cut a vampire-dusting path across multiplexes between 1998 and 2004, and heralded the modern age of superhero movies along the way.
But more importantly to a generation of moviegoers, Snipes' depiction of Blade was just badass. Clad in head-to-toe black leather and a killer pair of shades a year ahead of The Matrix, Snipes crafted a laconic and definitive image of vampire hunting coolness. Technically part vampire himself, Snipes' "Daywalker" was the rare thing in Hollywood then and (sadly) now: a Black lead in a major Hollywood franchise. In fact, to many to this day, Snipes is Blade.
Which may be why some were so surprised when Marvel Studios announced at San Diego Comic-Con in 2019 that Oscar winner Mahershala Ali would be picking up the silver katanas in a new Marvel Studios franchise. Shortly after the announcement, Snipes publicly commented on the project by saying, "I'm appreciative of getting the love and [that] I've created something that others want to carry on and maybe put their own stamp on."
Still, when Den of Geek had the chance to sit down with Snipes this week ahead of the release of Coming 2 America, we were curious if Snipes and Ali had connected in the year and a half since the announcement of Ali's casting. Here's what Snipes had to say:
"No, he hasn't called me. We haven't talked about characterizations or how he should play it or anything like that. I can't imagine that call ever coming in. That would be really strange. But we did communicate about how much we appreciate each other's work, and how I'm comfortable with saying, 'Hey man, go rock it, baby. If you got it, do it."
Then slipping on a fatherly supportive voice, Snipes adds, "It ain't gonna be easy. There's a whole lot of it that you don't know [with] them action movies. Everybody ain't cut like that. They ain't made for it. But if you got it, let's go. I got your back 1,000 percent. Let's go."
Considering Ali said in a recent interview that he grew up watching Snipes and felt he had a connection with the original Blade star, that's a bloody good vote of confidence.
Watchmen writer Stacy Osei-Kuffour is penning the script, but Marvel Studios has yet to tap a director for the film reboot. No release date has been set.
We'll have much more from our discussion with Snipes next week.