News
Wesley Snipes Suggests Patton Oswalt Lied About His Violent Blade: Trinity Conduct
Wesley Snipes has addressed comments from comedian Patton Oswalt that he behaved badly on the set of Blade: Trinity.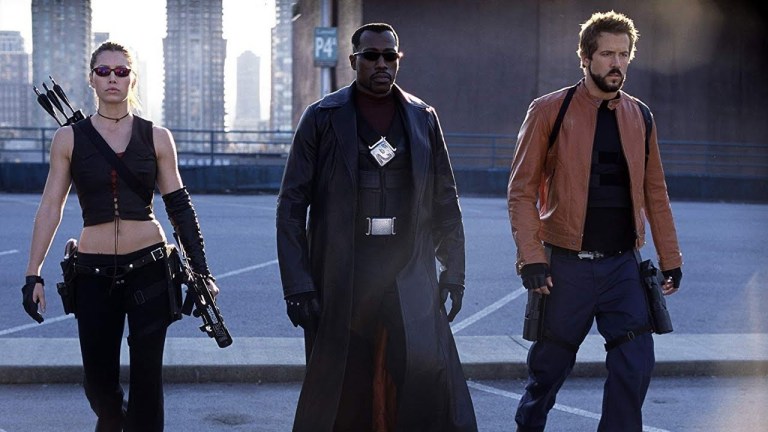 David S. Goyer's Blade: Trinity marked the end of Wesley Snipes' big screen tenure as Marvel's iconic vampire hunter. The 2004 superhero horror movie was allegedly plagued with issues during its production, and some of those reports were fuelled years ago by comedian Patton Oswalt, who starred alongside Snipes in the middling threequel. Oswalt told AV Club back in 2012 that Snipes acted strangely throughout filming on Blade: Trinity and even "tried to strangle" its director at one point.
The Guardian has raised these claims in a new interview with the 58-year-old actor, who denies them.
"Let me tell you one thing," said Snipes. "If I had tried to strangle David Goyer, you probably wouldn't be talking to me now. A black guy with muscles strangling the director of a movie is going to jail, I guarantee you."
Snipes added "Why do people believe this guy's version of this story? Answer me that. This is part of the challenges that we as African Americans face here in America – these microaggressions. The presumption that one white guy can make a statement and that statement stands as true! Why would people believe his version is true? Because they are predisposed to believing the black guy is always the problem. And all it takes is one person, Mr Oswalt, who I really don't know. I can barely remember him on the set, but it's fascinating that his statement alone was enough to make people go: 'Yeah, you know Snipes has got a problem.'"
He went on to remind interviewer Simon Hattenstone that he was one of the executive producers of Blade: Trinity, and that he had contractual director approval on the film. "I was not just the actor for hire. I had au-thor-i-ty to say, to dictate, to decide. This was a hard concept for a lot of people to wrap their heads around."
Oswalt previously described Snipes as "just fucking crazy in a hilarious way" during filming on Blade: Trinity, and claimed that Snipes wouldn't come out of his trailer. "He would smoke weed all day. Which is fine with me, because I had all these DVDs that I wanted to catch up on."
After the alleged strangling incident, Oswalt said that he and Goyer went out drinking at a strip club, where the director attempted to hire a gang of bikers to protect him from Snipes on set.
"David says to them, 'I'll pay for all your drinks if you show up to set tomorrow and pretend to be my security.' Wesley freaked out and went back to his trailer. And the next day, Wesley sat down with David and was like, 'I think you need to quit. You're detrimental to this movie.' And David was like, 'Why don't you quit? We've got all your close-ups, and we could shoot the rest with your stand-in.' And that freaked Wesley out so much that, for the rest of the production, he would only communicate with the director through Post-it notes. And he would sign each Post-it note 'From Blade.'"
Make of all this what you will.
In 2012, Marvel regained the Blade film rights. The central role has been recast, and Moonlight and Green Book star Mahershala Ali will now play the character in an upcoming MCU reboot.