News
Transformers: Earthspark New Trailer Debuts Grimlock and Reveals Return Date
The newest Transformers animated series has been renewed for season two and we've got an exclusive trailer for what's coming next.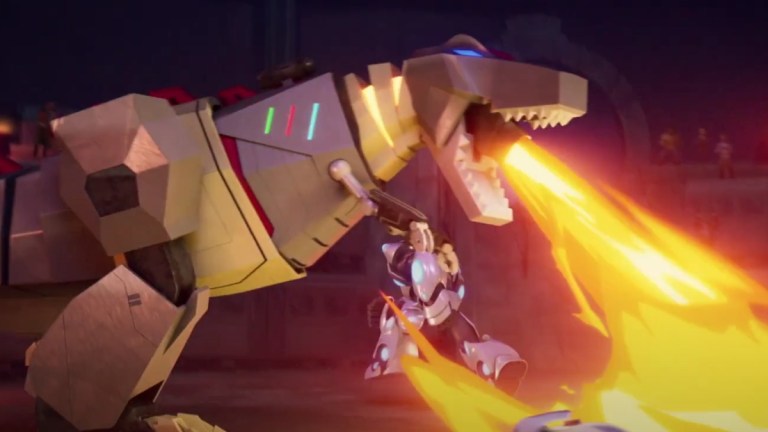 In the world of Transformers, it's always been a fact that there's more than meets the eye. That's especially true for Transformers: EarthSpark, which has given longtime fans and new viewers fresh takes on the classic Autobots and Decepticons. The strategy has clearly paid off, as it's just been announced that the series has been renewed for a second season of episodes!
To coincide with that announcement, we've got an exclusive trailer for the next batch of season one episodes which promise even more new takes on old Transformers favorites. Watch it below.
He, Grimlock, and he here! That's right, everyone's favorite Dinobot is back in EarthSpark! But why is he attacking the good guys? Hopefully we won't have to wait too long to hear the lovable big guy speak, since he's voiced by none other than industry legend Keith David! Grimlock's look sticks fairly close to his original G1 design, a smart move since that's easily the most classic and beloved version of the character. It's almost like the original toy was animated!
The trailer also gives us new looks at Tarantulas (voiced by Alfie Alan) and Breakdown (voiced by Roger Craig Smith.) Both of these bots feature new looks that still callback back to their original designs. Decepitcon Breakdown seemingly being friends with Bumblebee is an interesting touch, reminding viewers the lines between Autobot and Decepticon aren't as divided as they once were in the story of EarthSpark. The inclusion of Tarantulas is sure to excite longtime Beast Wars: Transformers fans, since he was a prominent villain in that series. No word on whether he'll take on a sinister role in EarthSpark, but it wouldn't be surprising. The inclusion of a Beast Wars character also makes for nice tie-in to the upcoming Transformers: Rise of the Beasts film, which will prominently feature several Beast Wars characters.
For more hints at what's to come in Transformers: EarthSpark, we've got a summary of the next eight episodes of season one!
The Terrans continue to uncover their powers while they learn to protect themselves against G.H.O.S.T. Twitch, Thrash and the rest of the Malto family will continue to learn what it means to be a Transformers robot, what it means to be human and ultimately what it means to be a family.
"The highly anticipated series Transformers: Earthspark premiered with a strong launch on Paramount+, ranking as one of the  top five most-watched Kids & Family series," said Tanya Giles, chief programming officer of Paramount Streaming in a statement. "In partnership with Hasbro, eOne and our studio partner Nickelodeon, we're thrilled to continue telling the story of the Malto family and the new generation of Transformers robots."
Transformers: Earthspark Return Date
Transformers: EarthSpark is set to return to Paramount+ on Friday, March 3, 2023. If you don't have the service, the series will make its debut on Nickelodeon on Friday, February 3 at 7:30PM ET/PT, and you can catch up from the beginning with episodes airing every week.