News
Will the New Teenage Mutant Ninja Turtles Movie Be a Reboot?
SNL's Colin Jost and brother Casey Jost will write the next Teenage Mutant Ninja Turtles movie, but mystery surrounds its status as a sequel or reboot.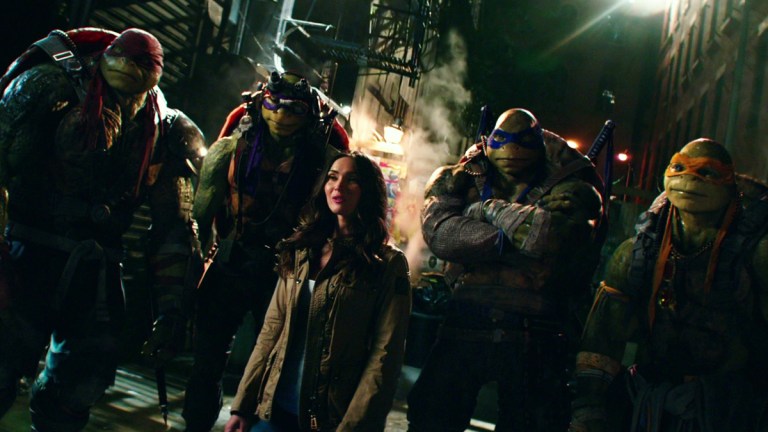 In a story likely to evoke a bit of déjà vu, yet another Teenage Mutant Ninja Turtles movie is reportedly in the works, with SNL Weekend Update co-anchor Colin Jost set to co-write the script with brother Casey Jost, awaiting a yet-to-be tapped director. However, news on this particular project arrives a mere five years after the franchise's last live-action iteration released its sequel and presumed swan song, 2016's Teenage Mutant Ninja Turtles: Out of the Shadows, leaving a possibility that the new movie might just be a threequel. Moreover, like its predecessor, the mysterious movie project will be a production of Paramount Pictures and the very same producers, notably the auteur of onscreen explosions himself, Michael Bay. So, are we getting a new iteration of the Turtles or not?
While the new Teenage Mutant Ninja Turtles movie project, as reported by Deadline, has a tight lid securing indicative details such as its plot, the hiring of the Jost brothers—comedy writers and complete newcomers to the action genre—seemingly hints a levity-leaning script; a prospective tonal shift that would boost the notion of it being a reboot. Indeed, the screenwriting personnel for director Jonathan Liebesman's 2014 Turtles movie had action-focused screenwriters in Mission: Impossible – Ghost Protocol's André Nemec & Josh Appelbaum and Snow White and the Huntsman's Evan Daugherty. Likewise, director Dave Green's 2016 sequel, Out of the Shadows, had Nemec and Appelbaum return to co-write with franchise co-creator Peter Laird. However, the new project's reported producer lineup of Michael Bay, Andrew Form, Brad Fuller, Scott Mednick and Galen Walker is, without exception, a full-on reunion of those last two films, which boosts the notion of a threequel.
Therefore, the question that should be asked is if there is an audience for a continuation of the films launched by 2014's Teenage Mutant Ninja Turtles. The film certainly came to the table with iconoclastic intentions, showcasing renditions of foursome Leonardo, Raphael, Michelangelo and Donatello that were redesigned, to borrow their parlance, radically. The look of the reptilian ninjas was altered in their physical appearance, especially with faces that bore eerily human animations—as facilitated by motion capture technology applied to the actors portraying them—and their traditionally minimal sartorial preferences saw the addition of chaotic, scrap-made accessories and armor suggestive of their sewer-dwelling digs. However, the film itself was a paradigmatic product of Bay's Platinum Dunes company, and therefore manifested as an onscreen attempt to give the Turtles the big screen Transformers treatment of a high-impact, CGI-imbued popcorn flick.
The formula yielded a cinematic offering that, akin to the Transformers films, reaped rich box office rewards in spite of widespread critical nonchalance. Auspiciously, the Turtles' 2014 film grossed around $191 million domestic and $293 million internationally, with an overall tally of $485 million. It was a score that even far-surpassed the $201 million global gross of the esteemed, beloved and culture-impacting 1990 Teenage Mutant Ninja Turtles movie—even accounting for inflation, which only upped the original's tally to $364 million in 2014 dollars. While it may not have made the same kind of widespread impact as the 1990 movie, it did have a ubiquitous presence, especially in the toy aisles, which were flooded with new Turtles merchandise across myriad style forms. Thus, the 2014 movie was a certified hit that naturally put on tap a sequel, which quickly arrived less than two years later.
Unfortunately, the redefined novelty of Transformer-ized Teenage Mutant Ninja Turtles might have already worn out its welcome with moviegoers by the time Out of the Shadows hit in 2016, since the franchise's constantly frenetic onscreen approach created a dynamic in which the plot plays second fiddle to the expensive onslaught of action; a dynamic not only duplicated in the sequel, but intensified. Despite the sequel's attempt to tap the well of nostalgia by reviving beloved, campy concepts from the classic cartoon series—notably a rogues gallery that saw Shredder joined this time around by squishy other-dimensional brain creature Krang, mad scientist Baxter Stockman and mutated thugs Bebop and Rocksteady—the sequel, like its predecessor, was widely dismissed as a fun, but forgettable affair. This notion was reflected at the box office, where Out of the Shadows only managed to gross around $82 million domestic and $163.5 million internationally for a global tally of $245.6 million—nearly half of said predecessor and a dramatically expedited example of the law of diminishing returns.
Thusly, followers of Hollywood inside baseball have long dismissed the idea of a third entry from Platinum Dunes' Teenage Mutant Ninja Turtles onscreen spectacles, and rumors of another reboot have permeated ever since. Additionally, Raphael actor Alan Ritchson has since thrown serious shade on the allegedly-torturous process of the two films and their insultingly low pay. The notion of imminent downgrading is now exacerbated by intrinsically altered circumstances for the industry in a post-pandemic world. Pertinent to that point, we will more than likely see significant belt-tightening by Paramount going forward for this new movie, which should stand in stark contrast to the respective $125 million and $135 million budgets of the 2014 and 2016 movies. That idea, in its own right, puts significant weight on the notion of this project being a reboot, rather than a continuation. After all, even the template-setting Transformers movies themselves have since tempered their once grandiose designs, as evidenced by 2018's Bumblebee, which served as a cold-intro spinoff to a rebooted cinematic continuity, and bore a conservatively budgeted $135 million compared to the $217 million allocated for 2017's Transformers: The Last Knight. It's therefore reasonable to assume that Paramount has similar designs for the Turtles this time around.
Of course, nothing has been confirmed about the status of the new Teenage Mutant Ninja Turtles movie as of yet, and Paramount could still surprise everyone with the announcement of an unlikely (and seriously risky) threequel to an iteration of the franchise that seemingly already ran its course. However, we do know that the movie will be complemented by a member of its Nickelodeon-owned property family, since a new animated Turtles series also happens to be in the works, having been announced last year, this one produced by Seth Rogen's Point Grey. Consequently, expect a new barrage of all things TMNT soon enough.