News
V-Wars and October Faction Canceled by Netflix
Netflix has nixed two of its recent monster genre TV shows, V-Wars and October Faction.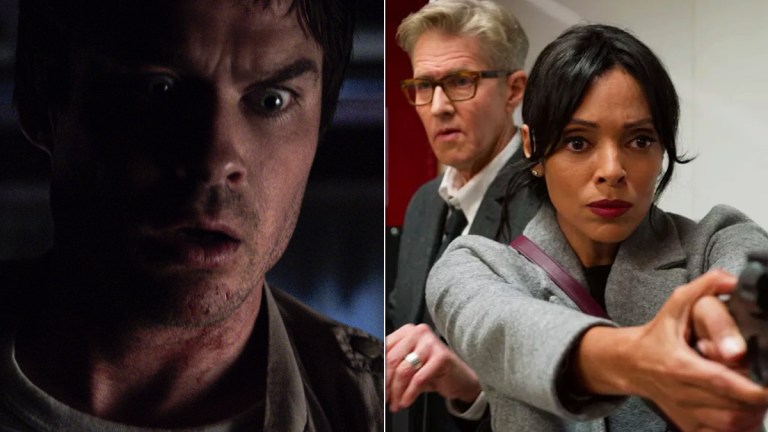 Netflix's latest cancelations have instigated an armistice for V-Wars and a break-up for October Faction.
The two monster genre television shows, each one an adaptation of an IDW comic book title, have been officially canceled in one fell swoop by the streaming giant, according to THR. The move occurs shortly after Netflix issued a second season renewal for its other IDW adaptation, the formerly-beleaguered Locke & Key. It's a move that (and here comes the inevitable reference to the elephant in the global room,) was clearly made in light of a shifting industry schedule landscape ravaged by the coronavirus, leading to more focused priorities for the formerly spendthrift streamer.
V-Wars is arguably the more surprising of the two cancelations, seeing as the sci-fi/horror series—which operated under the purview of showrunners William Laurin and Glenn Davis—was seemingly designed to cater to a built-in fanbase, tapping Ian Somerhalder, former star of The CW's longtime franchise-spawning hit, The Vampire Diaries, as its headliner for a new series about… well, a world with vampires. However, in contrast to that series, this particular take on the mythology manifested more as an outbreak epic, the kind of thing that's a little too close to home at the moment. Somerhalder (who also executive-produced,) starred as Luther Swann, a doctor on the front lines of a vampire disease, also dealing with the additional drama of having his best friend, Michael Fayner (Adrian Holmes), becoming a bloodsucker himself.
October Faction, on the other hand, was a monster genre series that saw Damian Kindler (of Krypton and Sleepy Hollow,) adapt the IDW comic title of Steve Niles. Its premise seemed to borrow elements of the monster genre series of a generation, The CW's soon-to-conclude Supernatural, combining them with a family dynamic, focused by a bit of ancestral family history connected to an old estate that felt a bit like the aforementioned Locke & Key. Indeed, the series starred Tamara Taylor and J.C. MacKenzie as married monster hunters recently retired from a secret professional organization. Joined by their cynically precocious teen children, played by Aurora Burghart and Gabriel Darku, the couple move back to the husband's quaint hometown in the wake of the apparent death of his father; a move that injects the entire family into a monster-teeming mystery.
However, with Netflix having premiered V-Wars and October Faction on December 5, 2019 and January 23, 2020, respectively, it seems that neither was able to conjure an audience sizable enough (at least within the always-opaque parameters of Netflix's mysterious metrics,) to warrant renewals, especially in the wake of the currently uncertain circumstances. Indeed, Netflix—once reputed as a greenlight-happy hub of not-ready-for-primetime renegade content—already seemed to be engaging in unprecedented austerity measures in 2019. The first quarter of 2020 alone already saw cancelations for shows such as Messiah, AJ and the Queen, Spinning Out and Soundtrack; a list that these two once-promising genre offerings now join.