Features
The Witcher: Yennefer and Ciri's Relationship Celebrates an Alternative Version of Motherhood
Through Yennefer and Ciri, The Witcher season 3 reminds us that motherhood isn't a one-size-fits-all experience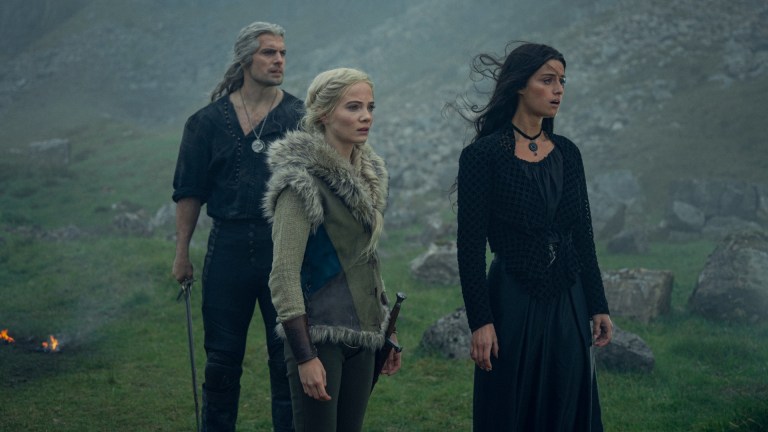 This article contains spoilers for The Witcher season 3.
Found family has been an important part of The Witcher's story since Geralt (Henry Cavill) officially accepted Ciri (Freya Allan) as his "Child Surprise" at the end of season 1 and took her to Kaer Morhen to train in season 2, but season 3 is where this dynamic really shines. Not only does season 3 continue to feature Geralt growing into his role as a father-figure to Ciri, but the show also celebrates an alternative version of motherhood through Yennefer's (Anya Chalotra) relationship with the young princess/Witcher-in-training.
In season 1, Yennefer made the choice to give up her ability to have biological children in order to receive the enchantments that many mages do to keep them looking young and beautiful for decades. After growing up bullied for her looks, she made this choice to finally attain the power and status that she had yearned for for so long. But after years of loneliness, she came to regret her choice and sought to find a magical way to have a child of her own.
While I've never had the opportunity to give up my fertility for near eternal power and youth, I have been confronted with decisions on motherhood that I thought I still had at least a decade to make. When I was 23, I was diagnosed with a number of conditions that can cause infertility and impact a person's ability to have children. The first was Endometriosis, a condition where lining similar to the lining of the uterus grows throughout the body, causing adhesions and bleeding where these growths occur. The second was the discovery that I have a "unicorn" uterus, which basically means that my uterus didn't fully form. The third was a tentative diagnosis of adenomyosis, a condition where the uterine lining grows into the uterus. I say tentative because the only way to definitively diagnose adenomyosis is to have a biopsy of the uterus done after having the organ totally removed.
Before these diagnoses, I always told myself that I had plenty of time to decide whether or not I want to have kids of my own. But after learning that I have not one but three conditions that could affect my fertility, it suddenly felt like I had to decide then and there what I wanted my future to look like. I didn't want to have the same regrets as Yennefer when I was finally ready to have kids, so I started to look into the cost of egg freezing and surrogacy in case I decide to get a hysterectomy or am forced to because of Endometriosis adhesions. But for someone who works as a freelancer, barely has health insurance, has thousands of dollars of student loan debt, and no family money to count on, neither seem like a viable option for me anytime soon.
As much as I have tried to remind myself that it's totally fine to not have kids of my own, it's hard to not feel like a failure when you can't do the one thing society expects of you as a woman. Yennefer's journey in The Witcher hits different when you're able to intimately recognize the pain and yearning she goes through before she joins Geralt and Ciri's little family at the end of season 2.
But that's why Yennefer and Ciri's relationship is so important to see in season 3. It's a reminder that motherhood encompasses so much more than just the ability to have kids of your own. Yennefer didn't set out to become a maternal figure for Ciri – she agrees to train Ciri because she feels terrible for her role in Voleth Meir's release and almost turning Ciri over to her. She realizes how important Ciri is not only to Geralt, whom she still cares greatly about, but to the future of the Continent, so she puts aside her selfish past and learns how to be the teacher, mentor, and mother-figure that Ciri needs.
During a press junket, Anya Chalotra told Den of Geek her thoughts on Yennefer and Ciri's relationship, saying "You know, they're at very different stages of their lives but they help each other a lot to come to terms with a lot that's happened in their life and move forward in the best way. I feel like she's now in a more selfless place and she's really starting to think about how she can change the world as opposed to elements, tweaks in her life that make her feel good."
Freya Allan also shared Ciri's perspective on their relationship, saying "I like that you kind of see that although Ciri definitely tests Yennefer, she also does really hold on to a lot of the things that Yennefer has told her and I think she really kind of does really like look up to Yennefer. I think it was amazing having Yennefer kind of go 'no, this is who I am' and show her show her that."
Yennefer didn't give birth to Ciri, nor did she raise her from childhood, but that doesn't mean she's any less of a mother to Ciri than Pavetta (Gaia Mondadori) or Calanthe (Jodhi May) were. Yennefer has only been in Ciri's life for a brief time, but their relationship proves that motherhood isn't some one-size-fits-all kind of thing.
Yennefer's choice to give up her fertility for power was a valid choice and one she should have been allowed to make, but it's also nice to see that she has been able to change her mind and find an alternative path to motherhood through her relationship to Ciri. It's a reminder that I'm not a failure or less of a woman for not being able to have kids of my own and that I still have the option to become a mother if I choose to. Like Yennefer, I've struggled to accept the limits of my body and the lack of choice and control that comes with it. But her relationship with Ciri has also helped me see that sometimes life gives us exactly what we are looking for when we least expect it.