Features
The Witcher: Nightmare of the Wolf Trailer Presents a Snarkier Monster Hunter
In exploring the story of a young Vesemir, The Witcher: Nightmare of the Wolf gives us more swashbuckling and less brooding.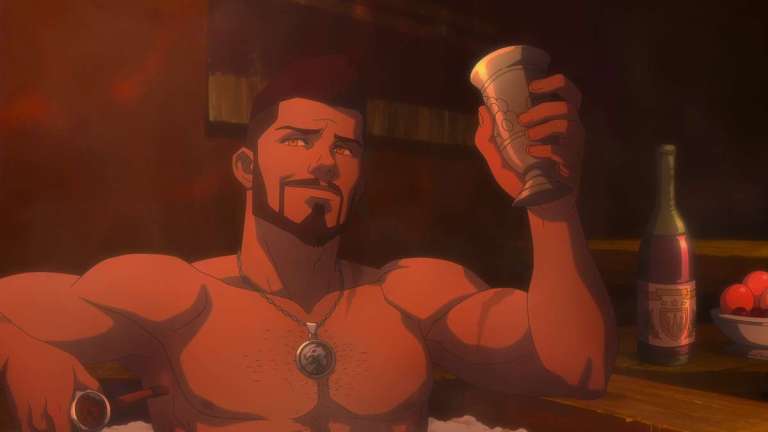 The Witcher has made no secret of the fact that the magically enhanced monster hunters are a dying breed. It should therefore come as no surprise that Vesemir, mentor to Geralt and the main character of the upcoming Netflix anime The Witcher: Nightmare of the Wolf, conversely lived his life with wry humor during more booming times than those of his brooding successor in the live action series. In fact, the latest trailer for the anime presents a young and witty witcher of a bygone age along with the companions we can expect to meet.
Voiced by Theo James (Castlevania), Vesemir appears in the trailer for The Witcher: Nightmare of the Wolf as a shrewd slayer-for-hire, not overly concerned with the low opinion normal humans have for those of his profession. While a certain moral code has always been embedded in The Witcher stories, it's also true that "every deal has a price," as Vesemir says in the promo. The monster hunter can be seen interacting with the sorceress Tetra, voiced by Laura Pulver (Sherlock), who is descended from one of the Continent's first mages, according to press materials.
Netflix also announced that Graham McTavish (Outlander) would voice Deglan, the witcher leader who mentored Vesemir as a child of surprise, as Vesemir later did with Geralt and as Geralt will apparently do with Ciri in The Witcher season 2. We can see that the monster hunters are much more plentiful in Kaer Morhen, the keep where witchers are trained, and this makes sense since the anime begins before the fall of that great fortress and the decline of the profession.
Mary McDonnell (Battlestar Galactica) will voice Lady Zerbst, a noblewoman who supports the witchers on the king's council, providing another reason why Vesemir might appear more happy-go-lucky in the trailer for The Witcher: Nightmare of the Wolf. While the series will no doubt give viewers plenty of dark tales of evil monsters and foreshadow the fall of Kaer Morhen, the trailer certainly frames a more adventurous storytelling style.
After all, the official description of The Witcher: Nightmare of the Wolf describes Vesemir as "a swashbuckling young witcher who escaped a life of poverty to slay monsters for coin." However, it won't be all fun and games, since "when a strange new monster begins terrorizing a politically-fraught kingdom, Vesemir finds himself on a frightening adventure that forces him to confront the demons of his past."
Lauren Schmidt Hissrich, the showrunner for the live action series, also produced The Witcher: Nightmare of the Wolf along with writer Beau DeMayo, and Kwang Il Han of South Korean animation production house Studio Mir (The Legend of Korra) directed the anime. The series will drop on Netflix on August 23, 2021.