Reviews
The White Lotus Season 2 Episode 4 Review: In the Sandbox
At the halfway point, The White Lotus season 2 may be a little too horny for its own good.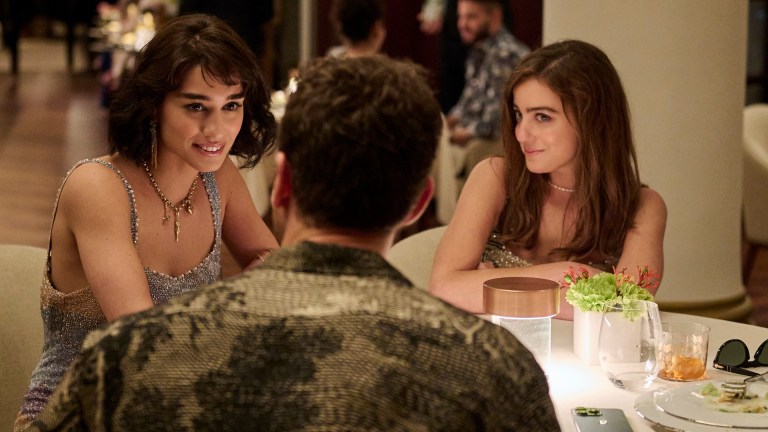 This The White Lotus review contains spoilers.
The White Lotus Season 2 Episode 4
When most of us go on vacation, we want to experience the sights and sounds of a new environment. We want to take in and learn about the diversity of people living in different countries, or we want to grasp the cultural trademarks of a region. Most of the time these things are done in the company of friends or loved ones, and this social aspect of the trip helps to enhance the experience into something that will be remembered fondly for years to come. 
If we were all like the characters in the second season of The White Lotus, though, none of these things would be all that vital. Receiving oral sex from a prostitute or hiding a near-affair from our spouse would be of the utmost value. As we reach the midway point of Mike White's unique social satire, it's clear to see these characters are hornier than multi-pimpled teenagers sitting in math class. Everyone needs a piece of somebody else, and while it makes for some humorous scenarios and awkward conversations, the lack of ingenuity in the storytelling this season is starting to pale in comparison to the show's brilliant first act in the summer of 2021. 
You would think someone would be concerned about something else besides getting aroused or meeting their new lover in the Sicilian sun, but they quite literally aren't. Harper (Aubrey Plaza) is pissed off at Ethan (Will Sharpe) in the wake of the latter's cover-up of the previous night's infidelities spurred on by Cameron's (Theo James) threesome with Lucia and Mia (Simona Tabasco and Beatrice Grannò). Dom (Michael Imperioli) is a itching to get back in the saddle and cop a feel of a the female body in the flesh after vowing to get over his sex addiction.
We see him sitting in the disgusting loneliness of his hotel room, confined to the harsh restrictions of internet porn while his son Albie (Adam DiMarco) gets a blowjob next door. Tanya (Jennifer Coolidge) looks for some companionship from a local group of queer partygoers in the wake of Greg's (Jon Gries) sabatical, but even she is guaranteed some sexual excitement at the suggestion of her new friends. And Portia decides she is more interested in the advances of a steamy British import, Jack (Leo Woodall), than continuing to pursue her wishy-washy interactions with Albie.
Did you catch all of that? Or did it all seem to mix together in a potpourri of eroticism? When you're watching all of these storylines play out individually, they have a decent amount of merit, and they all have something to say about the way these heterosexual couples feed into each other's worst instincts. But when taken as a group effort, the direction this season of the show is going right now as we hit the back-nine is a little underwhelming.
The first season was a marvelous mash-up of commentary on the ways wealthy people treat service workers, the struggle teenagers battle to find their purpose, the disgusting nature of American imperialism, and the ways homophobia is rooted in jealousy, amongst so many other fascinating topics.
This season's theme has tunnel-vision, and it looks eerily like a high school sophomore's internet search history. The dearth of variety in the storytelling and character work is often redeemed by the sheer entertainment factor that spoon-feeds the audience on a minute-by-minute basis. The wit of the writing is still something that is rarely matched in any other show currently on television at the moment. 
Scenes like Mia giving hotel-pianist Giuseppe (Federico Scribani) a potentially-lethal overdose of a prescription drug instead of viagra or Bert (F. Murray Abraham) asking Dom if he's envious of Albie's venereal adventures in Italy are sure to make even the most hardened comedic fans chuckle in an empty room. But line-delivery and quality of jokes is not what makes a drama legendary. With only three episodes left in the second season, The White Lotus has put itself in a position where the climax might be mitigated by a lack of tangible build-up.
New episodes of The White Lotus season 2 premiere Sundays at 9 p.m. ET on HBO and HBO Max.