Features
The Walking Dead: World Beyond Stars Talk Growing Up With Zombies
Alexa Mansour and Aliyah Royale discuss what it means to step into one of TV's most popular franchises with The Walking Dead: World Beyond.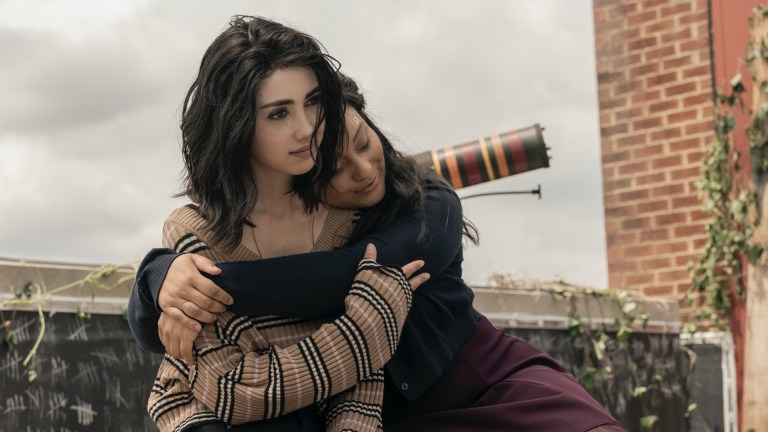 To a certain generation of TV-watchers, zombies are an inevitability. AMC's The Walking Dead, based on Robert Kirkman's comics of the same name, first premiered a decade ago. It was quickly followed up by its spinoff cousin Fear the Walking Dead and other zombie shows like Z Nation, iZombie, and Daybreak.
Now the latest zombie effort in The Walking Dead universe, The Walking Dead: World Beyond is set to pay homage to the zombie-watching youth, let's call them Generation Z (that's not taken already, right?). World Beyond is a coming-of-age tale about a group of four teenagers who must find themselves amid the zombie apocalypse. Alexa Mansour and Aliyah Royale lead the quartet as the fundamentally different but unshakably close sister duo: Hope and Iris Bennett.
Just like their characters, Mansour and Royale have grown up with The Walking Dead universe as an unavoidable fact of life.
"They would have 'Freaky Friday' nights on AMC, and I would watch all the scary movies with my dad. So when Walking Dead came out, I became obsessed and then the nightmares started and I had to stop," Mansour says.
Hope and Iris, however, aren't afforded the opportunity to stop watching The Walking Dead universe as they're deep into it. Alongside Elton Ortiz (Nicolas Cantu) and Silas Plaskett (Hal Sumpston), the pair take off from their relatively safe Campus Colony home in Nebraska to travel the walker-filled country in search of their long-lost father.
We caught up with Royale and Mansour to talk about that journey, what it means to be a part of the Walking Dead franchise, and why walkers are now called "empties."
A big theme of this show is experiencing the world through the eyes of young people who barely remember a world without zombies in it. With that in mind, do you guys remember a world before The Walking Dead? How old were you when the series premiered and what has your history with it been like?
Aliyah Royale: It was actually something that my two older brothers were obsessed with. That Christmas, the calendar that they got was The Walking Dead themed. They followed the show the whole way through, so to find out that their little sister is now on it has been insane. I grew up knowing that there is this incredible show with these creatures that just terrify everyone, but that actually has an incredible storyline as well. But I was always too afraid to watch it! Walkers freak me out.
Alexa Mansour: I was a little older, I think I might have been like 12 or 13 years old, and I watched it the second that it came out. They would have 'Freaky Friday' nights on AMC, and I would watch all the scary movies with my dad. So when Walking Dead came out, I became obsessed and then the nightmares started and I had to stop. I would look forward to seeing Walking Dead at Universal Studios Horror Nights every single year, I was obsessed with it.
Aliyah Royale: That was the one I avoided, the one maze!
What's it feel like to be a part of this enormous franchise now?
Alexa Mansour: Crazy. It's just like, it has such a loyal fan base. This show is so many people's worlds. Even when we were at New York Comic Con and they're asking us questions about stuff that we wouldn't even know. They'd read the comics religiously and all this stuff, and they're so loyal to this show that it's like, man, I really don't want to disappoint any of these people.
Aliyah Royale: Yeah, you're definitely walking into a fan base that is already so invested, at least 10 years worth of invested, in these stories, plus what the comic books gave us. So, I remember just walking onto that stage at New York Comic Con and being overwhelmed by the love in the room and the excitement. I think there was just this hope that was like, we are starting a new story. We're starting a new chapter with these new characters. It's also the hope of finding what happens with Rick, what do these three rings on the helicopter mean? Our show just gives so many answers to these people and giving them that opportunity is really awesome.
You guys play sisters on the show. What was it like when you first met each other, and how do you go about building up chemistry?
Alexa Mansour: I didn't know if she was going to be my sister. I met her at the very, very, very last audition where I had to read with all the possible Iris's. The person I thought that booked the show was not her, and I was not excited about the person because she was being very mean at the casting. But then I get to Virginia and I see Aliyah. Aliyah calls me, she's like, 'hey, I'm your sister!'
Aliyah Royale: She was like, "thank God!" We both have this witty, sarcastic nature to us, this language that only we speak, especially when everybody else is involved or around us. You can just tell that the relationship is so genuine. That relationship is there onscreen and offscreen.
One thing that your showrunner, Matthew (Negrete), mentioned was that he sees that one of the big themes of the show being trauma and how people overcome it, how do you play with that a bit with your characters? How are they working to overcome their traumas?
Alexa Mansour: I think Hope definitely tries to overcome her trauma by not even thinking about it. She masks all of her inner guilt and inner shame with rebelling against everyone and everything, just constantly getting in trouble. It isn't until later in the season and throughout the season that she actually starts to try and face it head on and forgive herself for everything that's happened.
Aliyah Royale: "The night the sky fell", which is what we call the official moment of the apocalypse hitting, we did not know what we were doing. We were kids. We were what, like five, six? But a lot of things happened that night. Hope and Iris lost people that meant everything to them. I think from that moment, whereas Hope is like, "You know what? eff this, I'm living for me now," Iris came out of that experience more like, "I was afraid and that night I just lived in fear. For the rest of my life, I am going to make up for that by being everything I can to whoever needs me to be." That's who Iris was in this college campus community that they started to live in. It isn't until she decides to go on the road with her sister and figure out who we actually want to be, and not just who we were forced to be after that night, that we turned into some really bad-ass young adult women. Watching that journey is really incredible.
Speaking of that journey – you guys start off in Nebraska, in Omaha, and then head off on an actual physical journey across the United States. I imagine that means you worked outside a lot. What's that like filming out in the elements? And are you ever surprised how much Virginia can resemble the rest of the country, depending on where they're traveling?
Aliyah Royale: Virginia is a special beast. I remember it was like 107 degrees, and it's raining, and there is lightning in the sky. I'm like, "wait a minute, since when does summer have lightning storms?" Only in the South could I have seen something like that. It was crazy, especially being in those leather jackets, they're very heavy and keeping our weapons on us. It was insane. Virginia is different.
Alexa Mansour: We got to the point that we tried to put on cooling vests that you would have to charge and fill up. If you didn't do it long enough, then all they did was make even hotter because they had nothing cold in them. Then having boots and stuff and you're trying to run through dirt. You got things chasing you, and you have like 50 pounds worth of bags on you. It was crazy. Then by the time we wrapped, it was what, like 10 degrees?
Aliyah Royale: Yeah, the day would start in the hundreds and by nightfall we'd be in the twenties.
Another interesting aspect of this show is that AMC has already announced that it's going for two seasons, 10 episodes each. What is it like working on a show that you know has an expiration date for them? How does it inform your performances?
Aliyah Royale: For me it doesn't. I still take the character day by day, episode by episode. I'm not looking forward in terms of "I hope Iris becomes this or hope her story ends like this." No, moment by moment I'm playing this person and I want to live as that person. All I'm here for is to enjoy the ride. Playing this character has been the opportunity of a lifetime, however long or short I get to do it. It's a blessing regardless.
Alexa Mansour: Yeah, it's been so incredible to be a part of a production like this. I think regardless of whether it's two seasons, 10 seasons, one season, half the season, we're going to give it our all and do the best that we can.
What are you most excited for people to see once this season premieres?
Aliyah Royale: I love the "empties" (zombies) on our show. They get very creative with the way that they've decayed. There are these empties in Boston covered in all this moss. They've got nature growing all over them and they're still sitting in these seats that they were in the night the sky fell. It looks so cool, 10 years later, this is how they've developed. They're still slightly slowly moving. You can see their eyes moving, but they can't actually move because of all the nature that's entangling them in these seats. Just the way that our special effects team went to work on these empties, it's next level.
Alexa Mansour: The empties were insane. I remember getting freaked out a couple of times by seeing how realistic they looked. But this show proves how tough kids can be. I'm so excited for people to see how badass this whole team of kids is because we're so used to seeing the adults on the show.
The Walking Dead: World Beyond premieres at 10 p.m. ET, Oct. 4 on AMC.