News
The Walking Dead Season 11 Opening Puts A Fan Favorite in Danger
AMC has leaked the first four minutes of The Walking Dead season 11 and Carol is not having a great day at the office.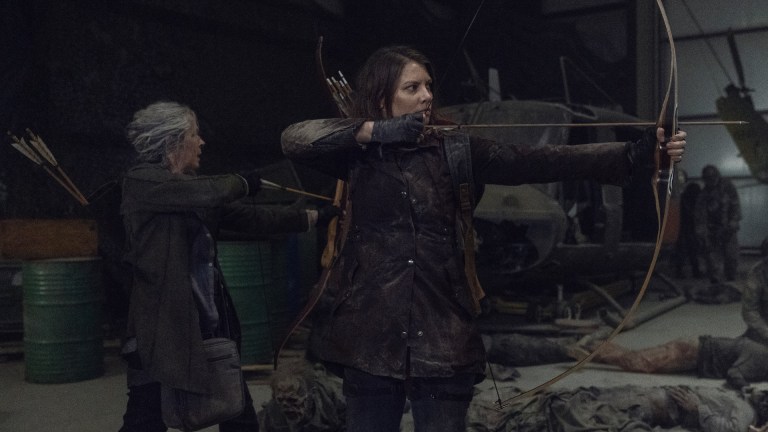 Much of the marketing material for The Walking Dead season 11 has revolved around hunger. After two wars in quick succession (first against The Saviors and then against The Whisperers), the Hilltop and Kingdom are gone while Alexandria is a blighted shell of itself. Simply put: people are hungry. And some of our favorite Walking Dead characters like Carol, Daryl, Maggie, and Rosita have to do something about it. 
Today, in the final installment of its "11 Weeks Until the Season 11 of The Walking Dead" promotion, AMC unveiled the opening scene of The Walking Dead season 11 premiere, "Acheron Part I." As promised, the opener finds most of our Alexandria main characters engaged in a food-finding mission. 
What's slightly less than expected, however, is how dangerous said mission is. The Walking Dead has contained more than a decade of in-universe storytelling. And yet, despite how adept our characters have become at survival, the world seems to grow only more dangerous. Check out the opening scene below (which includes a very close call for Carol) and see what we mean.
There is quite a bit to unpack here. But let's start with the fact that apparently walkers live a fairly sedentary lifestyle. One of the more unrealistic parts of The Walking Dead's approach to zombies is just how long the shambling vessels of rotting flesh last (particularly in the hot Mid-Atlantic summers). As we see here, however, most zombies are perfectly content to nap the day away unless disturbed from external stimuli.
Unfortunately that stimulus eventually arrives in the form of a single drop of blood for Daryl. What once was an aircraft hangar doubling as a zombie tomb is now a full-on death trap. Carol, Rosita, Maggie, Lydia, Magna, and Kelly are all on the ground recovering food. Meanwhile, Daryl, Jerry, and Alden are up top operating a system of pulleys to receive said food.
The reason for all of the women being put into harm's way makes sense once the dead "wake up." Not only are the women of this universe perfectly capable zombie killers, but they're also presumably lighter than their male counterparts when it comes time to be pulled back up via the food pulley system.
Unfortunately, things look pretty bleak for Carol at clip's end. She'll almost certainly extricate herself from the situation because that's kind of Carol's whole deal. But keep in mind that around this point in the comic's run, comic writer Robert Kirkman killed off one of the series main characters via a mundane and accidental zombie bite just to drive home that the dangerous randomness of a world populated by the dead still persists.
Of course, Carol is still slated to get her own spinoff alongside Daryl, but one can't help but notice that she doesn't make an appearance in the other season 11 episode 1 clip released by AMC…
The Walking Dead season 11 premiere will air Sunday, Aug. 22 at 9 p.m. ET on AMC. The episode is available to stream on AMC+ now.