Features
The Walking Dead: World Beyond's Ending Still In Place, Still Doesn't Include Rick Grimes
The Walking Dead: World Beyond showrunner Matt Negrete teases three distinct new worlds for the show's second season. And none of them will feature Rick Grimes. Promise!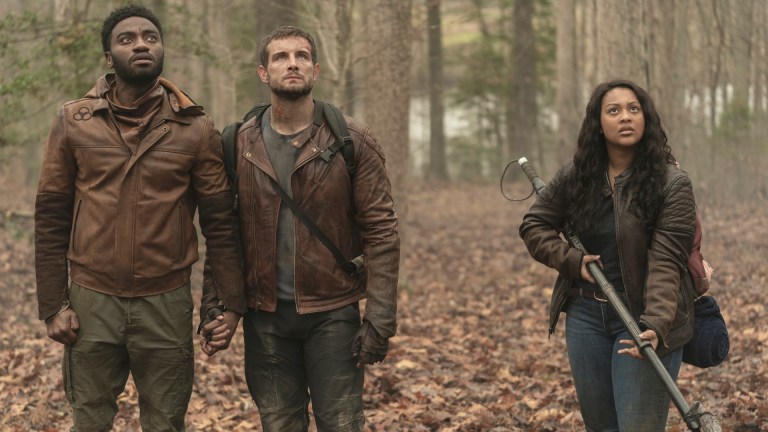 The Walking Dead's second spinoff, The Walking Dead: World Beyond, promised…well, a world beyond the usual TWD storytelling possibilities.
In that regard, the AMC series about four precocious youths 10 years into the zombie post-apocalypse mostly delivered. Season 1 of the show, which premiered last October after a COVID delay, picked up in Nebraska at the Campus Colony of Omaha before heading out on a cross-country adventure. In the process, the show formally introduced the Civic Republic, and its military arm (the CRM) that seems set to become a major antagonist for The Walking Dead franchise for years to come.
Despite bringing exciting new antagonistic toys for The Walking Dead's sandbox to play with, World Beyond is somewhat unusual compared to its companion series. While The Walking Dead is finally set to conclude with its 11th and final season beginning on Aug. 22 and first spinoff Fear the Walking Dead is still going strong seven seasons in, World Beyond was designed to be a shorter experience. With only two seasons of 10 episodes each ordered, World Beyond had a rare opportunity to consider the end before the beginning
"The first thing we did was ask 'who are our characters, where do we want them to end up, and how do we want the story to end?'" World Beyond showrunner Matt Negrete tells Den of Geek. "It was really great to have that opportunity, to know the ending and write backwards to that.
Negrete, TWD producer Scott Gimple, and the show's ensemble cast featuring Julia Ormond, Alexa Mansour, Aliyah Royale, Nicolas Cantu, Hal Cumpston, Annet Mahendru, and more all recently discussed what it meant to be halfway through their journey during the show's 2021 San Diego Comic-Con@Home panel on July 24.
Shortly after that, we caught up with Negrete to tease the show's next and final batch of 10 episodes. There are still many twists and turns to come in World Beyond's back half…just don't expect a certain Kentucky sheriff to be among them.
Den of Geek: Where did you get those CRM (Civic Republic Military) flags that you had displayed during the Comic-Con panel?
Matt Negrete: Oh, man. That was so much fun. My plan was to just be on screen from my production office in Richmond, Virginia with a production calendar behind me. And then Amy Beth Barnes, my producer, she's like, "You got to jazz-up your background a little bit." She contacted the art department and lo and behold, I had these two awesome CRM flags that are going to be featured in season two. You couldn't really see them, but there was also this really cool pitcher and glass set that had the CRM three rings on them.
During Comic-Con, (Walking Dead czar) Scott (Gimple) mentioned there would be three very different and distinct worlds this season. Could you expound upon that at all?
I don't want to give too much away, or else I may go missing in the dead of night. I'll say that there are three very distinct worlds that couldn't be more different, but they're also tied together through the story of the season. Because these worlds are so distinct, it really gave us some really interesting opportunities, in terms of writing, but also for our art department to really go to town and bring these worlds to life. And they each have their own palate – their own feel.
There's actually a fourth world that we'll see in (season two episode one), that is even different from those other three. We saw the campus colony of Omaha in season one. But for the most part, it was our group traveling cross country in campsites. And there was some beautiful scenery, but there was a lot of woods. There's some river stuff. But in terms of actually creating these new worlds, this is a first for our show. I'm really excited for people to check it out.
Something that's unique about this show in comparison to other Walking Dead properties is that you always planned to do a two-season run. Now that you're halfway through, has anything changed about the back half since you started writing and shooting it?
In terms of what we knew about the ending, I would say we knew quite a bit. Scott (Gimple) and I, when we got into talking about what the show was going to be, it was always going to be writing towards an ending. The first thing we did was ask "who are our characters, where do we want them to end up, and how do we want the story to end?" It was really great to have that opportunity, to know the ending and write backwards to that.
But that said, it does change all the time. For example, the character of Percy that we introduced in episode five last season was not going to stick around originally. I thought that Ted Sutherland, who's one of our new series regulars this season, did such a great job that we kept him around and brought him back. So those things change. I'll say something else that was not planned was bringing the character of Will on. We were batting around versions where Will was going to be on a gurney in Dr. Lyla's lab early in season one. The more we thought about it, it just felt very nihilistic. The series is about hope, not the character necessarily, but about there being hope in the world still. I'm so glad now that we have Jelani Alladin on as a series regular for season two.
So you're always discovering things along the way. If you ignore those things that are working to stay on the same track you've been plotting for a while, then you just miss these great opportunities. I guess in a way, that also applies to the journey of the characters throughout season one and season two.
You've previously said that Fear the Walking Dead takes place many years before World Beyond. And then Walking Dead is just a little bit ahead. Could you place the events of season two World Beyond a little bit within The Walking Dead continuity?
We're definitely post-time jump season nine of Walking Dead. Basically what we're saying on our show is that we're 10 years in. And I could be wrong on this, but I think that Walking Dead is probably a couple of years ahead of us. Fear is maybe around six years, give or take, behind us. So that's kind of roughly where we fit in. The big thing for us was that we're 10 years in now, and they're celebrating this event called Monument Day (in the pilot). That was sort of our benchmark in terms of having a place in time to set this show. So we're somewhere in the middle of both of the other shows, I'll say that much.
During Comic-Con, Scott Gimple definitively mentioned "not Rick Grimes" as things to look forward to in World Beyond. Does the Rick Grimes line of questioning as it relates to World Beyond ever get tiring? What is your sense of the show's position and purpose in the larger TWD universe?
The show was always meant to exist on its own. At the same time, obviously, we do exist in this greater universe, where there are connections. We've seen that connection through the entity that is the CRM. We've seen them on Walking Dead, and we've seen that on Fear. And I feel like it's an honor and privilege to be able to feature them as our big villain in our series.
There are always going to be these connection points. And a lot of people are speculating, like, "Oh yeah, we're going to do some big Rick Grimes reveal." I'll just say that that was never the intention. I think that for us, again, it's just telling a story that makes sense for our characters. It's not to say that there aren't going to be hints of certain things, universe-wise, that may play into references to other shows. But for me it's really about keeping the big picture in mind.
What are you most excited for people to see once season two premieres?
I'm excited for them to see the expanding worlds. Again, the core of season one is about following this group of six cross country. So season one is a much more intimate show than what season two is going to be. There are still going to be very personal stories but the world is expanding. And we have this larger cast. We also have a ton of recurring guest stars that I can't wait for people to see. We're really going to be ratcheting things up: in terms of action, in terms of stakes, in terms of scope.
The stakes that these characters are going to be facing, both personally, but also physically in the world, are huge. It really is the future of the world in a lot of ways on the line. What happens on this show could definitely have potentially ramifications on some of the other shows as well. It's going to be a season that builds and builds as it goes with a lot of twists and turns. I can't wait to see how the audience responds to some of those twists. I'll say that much.
The Walking Dead: World Beyond season 2 premieres Sunday, October 3 at 10 p.m. ET on AMC.