Features
The Staircase: Every TV Show About The Michael Peterson Case
Curious to know more about the accident and/or murder at the center of HBO's The Staircase? Well you're in luck as it's one of the most well-covered incidents on true crime television.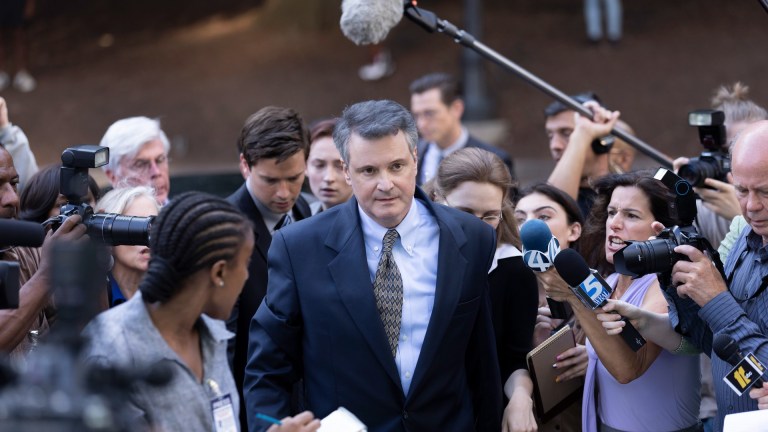 Truth be told, the human species has always been interested in the dark subject that we now call "true crime." In the Western mythological canon, the very first story after the creation of man and the Garden of Eden is literally that of a fratricide.
Still, you may have noticed of late that pop culture's obsession with crimes, those who commit them, and how they are punished has intensified of late. If you want to pinpoint a recent moment in the 21st century where our fascination with true crime intensified, you can probably do a lot worse than 2004's The Staircase.
The Staircase (titled Soupçons or "Suspicions" in its director's native French) is a multi-part true crime docuseries that helped paved the way for so many of the other true crime docs we see today. The project began when French filmmaker Jean-Xavier de Lestrade learned of a curious case in North Carolina in which novelist Michael Peterson was convicted of murdering his wife Kathleen Peterson.
Peterson was adamant that his wife fell down the rickety stairs in their old home to her doom while police and prosecutors were adamant that Michael beat her to death with a blunt object. The dichotomy between the two claims and the ultimately unknowable nature of what really happened that October 2001 night led de Lestrade to believe that this situation would provide a fascinating look into the American justice system.
And of course, he was right. The Staircase aired eight well-received episodes during its first run in 2004 then came back for episodes 9-10 in 2013 and 11-13 in 2018. The project now lives on Netflix as a monument to the powers of true crime documentary filmmaking. And HBO Max just released its own drama series based on the saga called The Staircase this year.
What's interesting about the Michael Peterson case, however, is that de Lestrade is far from the only documentarian whose attention it captured. Just about every true crime anthology series in the U.S., big and small, has decided to take a crack at articulating just what went on here. If HBO Max's The Staircase has piqued your interest in this two-decade old tragedy then you might want to hear what some other projects had to say about it.
With that in mind, we have gathered every single TV show we could find that has covered the Michael Peterson case. We are including only TV programs on this list, not the many podcasts who have tried their hand at it. One other thing to note is that unfortunately many of this TV episodes aired on relatively obscure series that will be hard to find streaming outside of the U.S. But keep an eye out for them anyway!
Dominick Dunne's Power, Privilege, and Justice
Season 4 Episode 6 "Murder, He Wrote"
Air Date: March 3, 2004
Where to Stream (US): Google Play (Purchase), Amazon (Purchase)
Where to Stream (UK): Nowhere
As far as we can tell Dominick Dunne's Power, Privilege, and Justice was the first U.S. true crime series to get its hands on the Michael Peterson case. This series, which first aired on Court TV (now truTV, was hosted by investigative journalist Dominick Dunne. Though Dunne died in 2009, his 9-season series covered true crime cases that involved the rich and privileged…like say, a successful novelist who was married to an even more successful businesswoman.
The New Detectives
Season 9 Episode 15 "Written in Blood"
Air Date: Aug. 14, 2004
Where to Stream (US): Tubi, Pluto TV
Where to Stream (UK): Nowhere
Unlike Dominick Dunne's series, which takes hour-long deep dives into one case, The New Detectives is more of a true crime grab bag. From 1996 to 2004, new episodes of this series tackled two-three cases per episode from a forensic science perspective. The episode that covers the Peterson case, "Written in Blood", does so from the perspective of a blood splatter analyst. That will prove to be controversial later one when Peterson's case is granted a retrial due to questionable blood splatter analysis.
Soupçons (The Staircase)
Episodes 1 – 13
Air Date: Oct. 7, 2004 – June 8, 2018
Where to Stream (US): Netflix
Where to Stream (UK): Netflix
Though The Staircase is actually the third series to cover the Peterson case, it is unquestionably the most well-known. de Lestrade embeds himself within Peterson's defense team, which creates for some great footage and drama but also raises ethical questions as to whether the documentary is capturing the full story.
American Justice
Season 4 Episode 13 "Blood on the Staircase"
Air Date: Sept. 10, 2005
Where to Stream (US): Nowhere
Where to Stream (UK): Nowhere
American Justice aired for 13 years on A&E and was hosted by Bill Kurtis. In that time it produced more than 250 episodes about high profile cases, placing it second only to the G.O.A.T. Forensic Files (more on that in a bit). The show's exploration of the Michael Peterson case comes in season 4, just a few episodes after an episode on the similarly named and equally as fascinating Scott Peterson trial. Though American Justice is hard to find in the streaming world, old episodes are currently being rerun on A&E's sister network The Biography Channel under the name Notorious.
Cold Case
Season 3 Episode 13 "Debut"
Air Date: Jan. 29, 2006
Where to Stream (US): HBO Max, The Roku Channel
Where to Stream (UK): Nowhere
Like other crime dramas of its ilk (Law & Order, CSI, etc.), Cold Case mostly tells fictional stories but certainly isn't above dramatizing a real event. Such is the case with the season 3 episode "Debut." This hour is loosely inspired by the Michael Peterson case, albeit with some big details changed. The would-be murderous husband here is an art dealer, not a novelist, and the previous staircase crime he committed was long far longer ago that Peterson's purported first crime. Still, this episode is a solid enough Easter egg hunt for those familiar with the case.
Forensic Files
Season 11 Episode 22 "A Novel Idea"
Air Date: Dec. 13, 2006
Where to Stream (US): Peacock, The Roku Channel, Redbox, Pluto, Plex, Freevee
Where to Stream (UK): Nowhere
Forensic Files is the king of all "oh let's leave this on in the background and accidentally watch 40 episodes" TV series. Over the span of more than 400 installments, this medical and forensic science program tells seemingly definitive versions of high profile cases in just 22 minutes. The show's Michael Peterson episode, "A Novel Idea," is typically great but also quite outdated. Viewers will understand why a conviction of Michael Peterson was inevitable but will be left out of the loop on some important info like the prosecutors' homophobic appeals to the jury and the faulty blood splatter analysis.
True Crime with Aphrodite Jones
Season 1 Episode 3 "The Staircase Killer"
Air Date: March 25, 2010
Where to Stream (US): Fubo, ID (Cable)
Where to Stream (UK): Nowhere
By 2010, the Michael Peterson case was already a well-worn topic. Still, newer true crime series felt an understandable need to pay homage to the case that captivated so many. Investigation Discovery's True Crime with Aphrodite ran for six seasons through 2016 and the Peterson ordeal was the third thing the show ever covered only after the Scott Peterson and O.J. Simpson trials.
The Devil You Know
Season 2 Episode 4 "Stairway to Hell"
Air Date: Oct. 1, 2011
Where to Stream (US): Freevee
Where to Stream (UK): Freevee
Not to be confused with the 2019 series of the same name. The Devil You Know was a news program that first premiered in 2011 on Investigation Discovery. Like its ID sister Aphrodite Jones, this show decided to catch up on The Staircase of it all early on, getting to it in the show's second season.
Dateline NBC
Season 21 Episode 41 "Reversal of Fortune"
Air Date: May 31, 2013
Season 25 Episode 27 "Down the Back Staircase"
Air Date: April 7, 2017
Where to Stream (US): Peacock, Fubo
Where to Stream (UK): Nowhere
In the U.S., was a crime actually committed if it didn't end up on Dateline? This long-running NBC program has been cataloguing all manner of murder, mayhem, and mishaps every Friday night since the '90s. Befitting of its outsized status as a true crime heavy hitter, the Michael Peterson case popped up on Dateline twice – first in 2013 and then again in 2017. If you want to best understand what happened that October 2001 night but don't want to sink 13 hours into The Staircase, these two episodes of Dateline are probably your best bet.
The Staircase
Season 1
Air Date: May 5, 2022 – TBD
Where to Stream (US): HBO Max
Where to Stream (UK): Sky Atlantic
HBO Max's The Staircase is the latest series to tackle the Michael Peterson case and the first to actually dramatize it. To find out how the whole thing ends, watch the original documentary or keep tuning into this one each Thursday.