News
The Ren & Stimpy Show Gets Rebooted at Comedy Central
Ren and Stimpy are coming back to television for a "reimagination" at Comedy Central.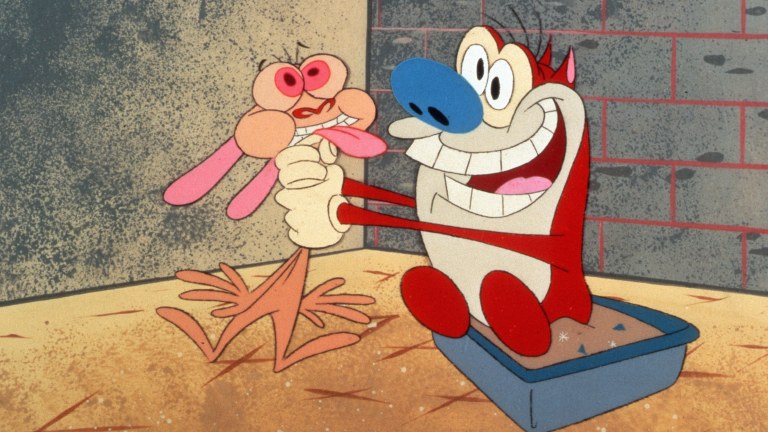 Happy, happy, joy, joy? Eh sure, why not: happy, happy, joy, joy!
Comedy Central today announced that it is rebooting iconic '90s animated series The Ren & Stimpy Show. Details are scarce on what exactly a rebooted Ren & Stimpy Show will entail, but Comedy Central describes it as a "reimagination" with a new creative team. 
"We are excited to reinvent this iconic franchise with a new creative team and our partners at the Nickelodeon Animation Studio," said Chris McCarthy, President of ViacomCBS Entertainment & Youth Group. "Ren & Stimpy joins our rapidly expanding roster of adult animation including South Park, Beavis and Butt-Head, and Clone High as we continue to reimagine our treasure chest of beloved IP for new generations."
The Ren & Stimpy Show first premiered on Nickelodeon in 1991. As created and run by John Kricfalusi, the show was far more controversial and edgy than the network's usual fare. The Ren & Stimpy Show premiered as the first batch of "Nicktoons" alongside Rugrats and Doug, but it was the only show of the three to regularly engage in gross-out humor, sexual innuendo, and other adult concepts. Many of the show's episodes were censored or simply never aired. 
The series followed the adventures of Ren Höek, an easily agitated chihuahua and Stimpson J. "Stimpy" Cat, a friendly, though dimwitted feline. Any given episode would feature Ren and Stimpy in absurd situations while also presenting other bizarre vignettes with characters like Powdered Toast Man and Mr. and Mrs. Pipe. Original creator Kricfalusi was fired after the show's second season and was the subject of a 2018 Buzzfeed article documenting instances of sexual harassment and a 2020 documentary chronicling the show's dysfuncitonal production.
The Ren & Stimpy Show has already been rebooted once as Ren & Stimpy "Adult Party Cartoon" on Spike TV. Ren and Stimpy have also been the subject of several video games and comic books.
Comedy Central's rebooting of The Ren & Stimpy Show comes at a time where many networks and content producers are looking to animation to fill a gap in programming schedules due to the coronavirus pandemic. Comedy Central was able to nab The Ren & Stimpy Show since ViacomCBS owns both Comedy Central and Nickelodeon.
The Ren & Stimpy Show reboot joins Beavis and Butt-Head and Clone High as animated properties getting new starts at ViacomCBS. Beavis and Butt-Head is slated to premiere on Comedy Central while Clone High is currently in search for a network or streaming home.