News
Beavis and Butt-Head Readies Return to TV on Comedy Central
Comedy Central is reviving '90s animated staple Beavis and Butt-Head with a deal that might yield spinoffs.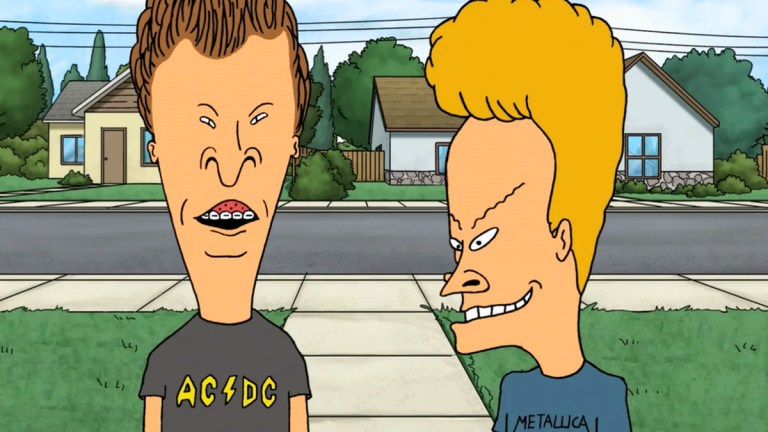 Beavis and Butt-Head may be the epitome of unapologetically un-PC 1990s-era coarseness, but the animated franchise, a former staple of MTV, is set to make a comeback (albeit its second comeback in a decade), this time on the cable television platform of Comedy Central.
Mike Judge, the Emmy-winning creator of the animated franchise, has finalized an expansive deal with Comedy Central to "reimagine" Beavis and Butt-Head with a new series, which officially includes a two-season order, along with spinoffs and specials. Judge will return to write, produce and reprise his voice role for both title characters. Indicatively, the new series will see the obtuse titular teen twosome, whose antics charmed the show's original contemporaneous Gen-X audience, enter "a whole new Gen-Z world." Thus, as Judge states with brevity of the revival, "It seemed like the time was right to get stupid again."
As the official description for the Comedy Central revival series explains of its approach:
"Beavis and Butt-Head quickly became a force in pop culture and started a television revolution with its pure, unadulterated, satirical commentary on youth and adolescence. Centered around two teenage couch potatoes, "Beavis" and "Butt-Head," the unprecedented concept immediately became part of the vernacular in a way no other adult animated series had before. Known for tackling social issues including teen obesity, workers' rights and media trends, the show connected with an entire generation, laying claim as one of the most innovative series in the modern-day zeitgeist."
The new show's concept might be seen as vexing, since the Beavis and Butt-Head franchise is undoubtedly a product of a very different time, having debuted in 1992 in the form of crude recurring shorts on MTV's bygone animation showcase, Liquid Television. The popularity of those segments quickly led to the launch of the twosome's classic 1993-1997 spinoff series; a television showcase of absurdly sophomoric guilty-pleasure pursuits and pranks (many of which might not gel with said Gen-Z world,) in a suburban Texas setting. Indeed, the franchise's popularity spawned a merchandising blitz for anything imaginable, even comic books and video games. Also, in a complete tonal departure, the series would spin off beloved animated series Daria, having debuted the character of Daria Morgendorffer, who was initially depicted as an acerbic, typically-unimpressed high-school classmate of the twosome.
Despite controversial rumblings from morality watchdog groups, which labelled it a bad influence, the franchise remained wildly popular for several years, and even spawned the 1996 theatrically-released feature, Beavis and Butt-Head Do America, which topped the U.S. box office in its debut, going on to gross $63.1 million in its domestic-only release. Additionally, the television series was briefly revived on MTV back in late-2011 for a single-season outing.
For creator Mike Judge, his return to Beavis and Butt-Head (this time guaranteed for a sizable period,) is a major homecoming. While he's fielded numerous high-profile animated and live-action projects—the 1999 meme-spawning cult classic, Office Space, the frighteningly prescient dystopic 2006 comedy, Idiocracy, and co-created HBO's 2014-2019 sitcom, Silicon Valley—Judge is proven to possess an ability to convey deceptively smart satire through seemingly stupid concepts; something that could end up translating effectively with this franchise revival.
Additionally, while Beavis and Butt-Head's shift from MTV to Comedy Central may not be a major migration, since it keeps the franchise under the ViacomCBS Inc. corporate umbrella, it does represent a major format departure: namely the likely excision of the famous music video segments. Indeed, the original Beavis and Butt-Head filled time between its plot-driven acts with segments in which the twosome sit on their couch and comment during MTV-provided music videos, hilariously giving them the Mystery Science Theater 3000 treatment. Such a concept has long been an obstacle for the show's home video and DVD releases, since those music videos represent licensed content. However, the move will place the twosome on the same cable platform as a venerable (also-1990s-spawned) animated satire series in South Park.
Regardless, we'll keep you updated on Comedy Central's Beavis and Butt-Head endeavors as the news arrives.