News
The Midnight Gospel Netflix Release Date, Trailer, Story Details and More
Adventure Time creator Pendleton Ward and podcaster Duncan Trussell bring their new animated series to Netflix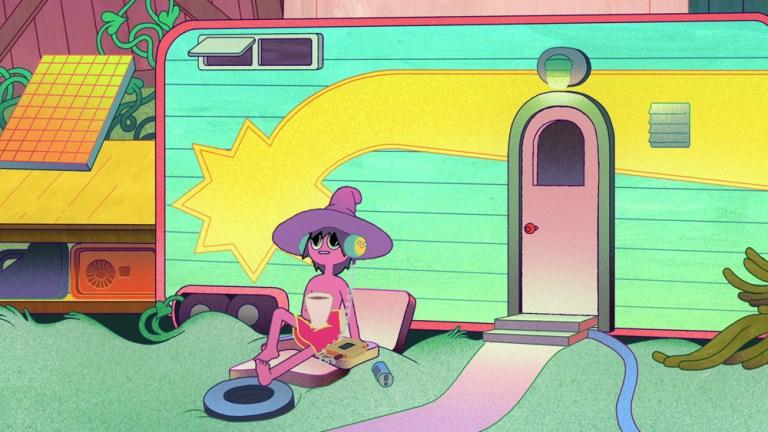 April will bring us a brand-new psychedelic animated series from Pendleton Ward and Duncan Trussell. From what we've seen of it so far, the new Netflix project, called The Midnight Gospel, is going to make Ward's acclaimed series Adventure Time look like a very sober walk in the part in comparison!
The series has been in the works for a while, as Trussell explains:
"Years ago I got an email from Pendleton Ward, the creator of Adventure Time, telling me he enjoyed my podcast The Duncan Trussell Family Hour. We soon became friends and Pendleton eventually came to me with an idea of how to do an animated version of my podcast. He said: 'It's like we replace the dialogue of Indiana Jones with podcast conversations.'
"This was the beginning of The Midnight Gospel, a show about Clancy, a slacker 'spacecaster' who lives in another dimension called The Chromatic Ribbon. This is a place where simulation farmers use powerful bio-computers to simulate universes where they harvest technology. Because Clancy isn't taking care of his universe simulator, all the planets within it are going through their own unique apocalypse, and the beings living in these other worlds are the guests Clancy interviews for his Space-Cast 'The Midnight Gospel.'"
The Midnight Gospel Trailer
Here's a big trailer to sink your teeth into, ahead of the series' debut…
The Midnight Gospel Release Date
The Midnight Gospel will be streaming on Netflix from April 20 …420 – yes, they did that.
The Midnight Gospel Story Details
Here's an official synopsis of the series from Netflix:
"The Midnight Gospel is the story of Clancy, a spacecaster with a malfunctioning multiverse simulator who leaves the comfort of his extra-dimensional home on the Chromatic Ribbon to interview beings living in other worlds."
The series is part of an expanded deal between Netflix and Big Mouth animation studio, Titmouse.
"When Netflix asked if we wanted to go steady, we were thrilled. When we asked if it could be an open relationship, they said, 'Yeah, of course. It's the 21st century, kid. That's the only way we'll have it.' Now we are friends with benefits and I couldn't be more stoked," said Titmouse president Chris Prynoski. "This new and exciting relationship will help quench our relentless thirst for producing animated cartoons. Excuse me, I'm gonna go carve NF+TM on a tree now."
Titmouse is also the studio behind Venture Bros and Metalocalypse.
"Titmouse has been at the forefront of the evolving animation industry and is the creative force behind an impressive variety of projects, including our very own Big Mouth and The Midnight Gospel," said Mike Moon, Head of adult animation for Netflix. "We're thrilled to expand our collaboration with Chris, Shannon, and the entire team at Titmouse as we continue to develop and produce bold original animation together."