News
The Mandalorian Season 2 Details Reveal Larger Story and Higher Stakes
Jon Favreau teases that everything will be bigger in the upcoming second season of Disney+'s The Mandalorian.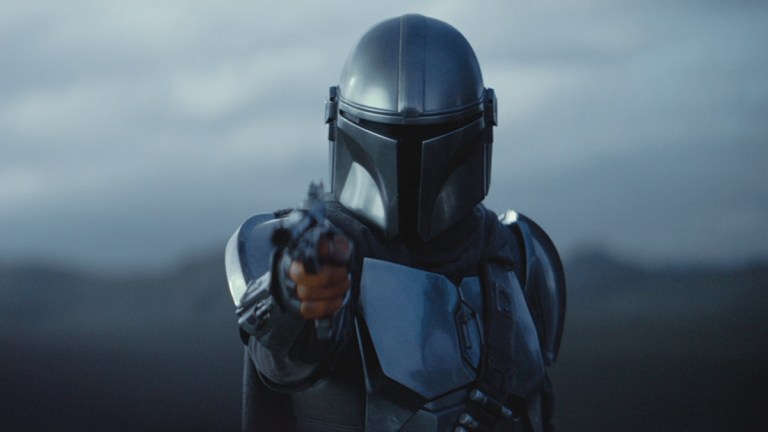 The Mandalorian Season 2 is arriving in the Disney+ streaming star system imminently, having fortuitously dodged the blaster shot of COVID complications. Auspiciously enough, the hit Star Wars series will return in a form that's bigger in every conceivable way—at least that's what series creator Jon Favreau, executive producer Dave Filoni and the cast are teasing.
The series, which premiered back in November 2019 while draped in mystery as the first proper live-action television series of the Star Wars franchise, became a pop culture phenomenon for a number of reasons, the most prominent of which was the "aw" inspiring presence of a miniature hearts-stealing hidden weapon in The Child, a.k.a. Baby Yoda. Yet, besides the ongoing threat of Moff Gideon and his post-Imperial forces, and the galaxy's array of scum and villainy, The Mandalorian Season 2 also has to contend with the dreaded threat of a sophomore slump. However, the details divulged in EW's cover story on the upcoming frame might just quell fears about the latter.
Favreau doesn't mince words about the ambitions of The Mandalorian's second season, highlighting grandiose designs in its serial showcase of the canonical Star Wars galaxy. He explains:
"The new season is about introducing a larger story in the world. The stories become less isolated, yet each episode has its own flavor, and hopefully we're bringing a lot more scope to the show."
The larger scale of Season 2 is attributed to the budget allocated to the series by Disney (reportedly $100 million for Season 1), since funds that previously went to start-up costs were this time utilized for what actually ended up onscreen. Adding to the notion, Filoni (also the visionary behind animated hits Star Wars: The Clone Wars and Star Wars Rebels,) further teases that "Everything gets bigger, the stakes get higher, but also the personal story between the Child and the Mandalorian develops in a way I think people will enjoy."
The larger story that Favreau describes seems to suggest that The Mandalorian will broaden its narrative focus after an inaugural season mostly focused on the stoic gun-slinging exploits of star Pedro Pascal's eponymous Force-child-babysitting bounty hunter (otherwise known as Din Djarin). In fact, it appears that other characters—both established and new—are set to take center stage in some Season 2 episodes. Indeed, using a certain popular quasi-medieval HBO series as an example, Favreau wants to explore in depth the arcs of these characters and their relation to the wider Star Wars cinematic continuity, stating:
"As we introduce other characters, there are opportunities to follow different storylines. The world was really captivated by Game of Thrones and how that evolved as the characters followed different storylines—that's very appealing to me as an audience member."
Plot-wise, The Mandalorian Season 2 will further focus on the machinations of Moff Gideon (Giancarlo Esposito), who—wielding remnant forces of the Empire and the legendary Darksaber—has filled a rather sizable power vacuum in the galaxy during its setting in the early post-Imperial years after Return of the Jedi. Indeed, as we learned in Season 1 and its climactic battle, said machinations very much involve the still-mysterious nature of Baby Yoda and his Force powers, resulting in an ongoing search for the 50-year-old infant in Season 2 that will become dramatically intensified. Consequently, Djarin's voluntary endeavor to keep Baby Yoda safe will become increasingly dangerous, possibly leading him to a personal impasse about his own motivations. As Pascal explains of his character's Season 2 arc:
"We start very directly after the first [season] and he's going into very dangerous territory. He is very much a passenger to the experience in unexpected ways — not knowing what's to come, not knowing how much or how best to protect the Child. We don't know how far he will go to do that, and they're finding new ways to push the envelope." He adds, "On a moment-to-moment basis, he's discovering that question: 'What do you want?' That isn't clear to him, or to me." At which point Filoni provocatively chimes in, adding, "We think we know how the characters are going to react, and it can be surprising how they do react."
Compounding this ambiguity, Esposito himself teases that Moff Gideon's upcoming clashes with the Mandalorian will bear a seductive aspect with regard to the latter's increasing ambivalence. Thusly, while the epic clash between the two in Season 1's finale clearly delineated a good/evil dynamic, the actor also hints that we'll soon see different aspects of Gideon, whose motivations might not be as malevolent as they appeared. As Esposito states of reprising the role for which he earned an "Outstanding Guest Actor in a Drama Series" Emmy nomination:
"I'll be going toe-to-toe with Mando. It's an iconic battle. I want to disarm him mentally as well. Who knows? Maybe there's an opportunity to get him to fight some battles for me. You may think I'm a villain, but I'm trying to harness some energy and some powers for a path that could be best for all. You'll get to see him be somewhat diplomatic and more of a manipulator."
Most intriguingly, however, Esposito also teases (arguably spoils,) that Gideon will have direct interactions with Baby Yoda, seemingly hinting that Season 2 could see a custody change at some point. However, such a development won't likely occur without another major showdown, and the teased toe-to-toe second confrontation with the Mandalorian will see the 62-year-old Esposito in a comfortable place with his character's swagger and his now-signature weapon, the Darksaber. Also, since we witnessed his modified TIE Fighter get wrecked, he'll be back with a newer (presumably more-menacing) "larger vehicle" of a ride this time around. He lauds of returning to the role, "It's so exciting for me to be in a show where I can wear a cape and own it, and where I can have a lightsaber and really own it."
Additionally, the returning characters of rebel-turned-mercenary Cara Dune (Gina Carano) and Greef Karga (Carl Weathers) will come into The Mandalorian Season 2 as part of a more tight-knit unit with our titular hero, having bonded over a shared enemy in Gideon, after their more initially self-centered positions in Season 1. Indeed, Weathers hints that a close friendship will blossom between Dune and Karga, with his character now "on a quest to be more legitimate," resulting in a dynamic with Dune in which they "almost finish each other's sentences." However, he also hints that Karga (who we first met as the shady leader of the Bounty Hunters' Guild,) is still the rogue we first met, and that he remains unsure if there's "something in the back of his mind that isn't more self-involved."
Of course, The Mandalorian Season 2 is also set to introduce a new crop of characters, with reports having pointed to the casting of Michael Biehn and Timothy Olyphant for mystery roles, and some familiar names from The Clone Wars/Rebels animated arena set to manifest in live-action form with Rosario Dawson as Ahsoka Tano, Katee Sackhoff as Bo-Katan Kryze and Temuera Morrison (who played Jango Fett in Star Wars: Attack of the Clones, and his cloned offspring Republic Army forces in Revenge of the Sith), as a mystery character (possibly Captain Rex). However, and there's a big "however" here, cast member Carano—while not at liberty to confirm specifics—states of the casting reports that "some of them are true, some are not true."
Regardless, The Mandalorian Season 2 will once again show Disney+ viewers the way when it premieres on the platform on Friday, October 30.