News
Star Wars: The Mandalorian Season 2 Casts Timothy Olyphant as Sheriff in Boba Fett Armor
Timothy Olyphant has been cast in The Mandalorian season 2 and he's reportedly playing minor Star Wars character Cobb Vanth!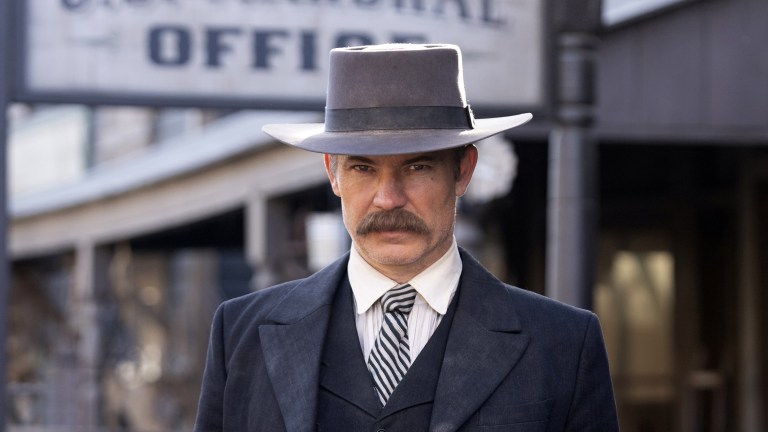 Timothy Olyphant is joining the star-studded cast of The Mandalorian season 2 in a role that, if the reports are true, will definitely surprise fans of the show and the Star Wars universe. While THR was the first outlet to report that Olyphant had been cast in the second season, it's Slashfilm that has the scoop on who the actor is playing on the show. It's probably not who you expect.
Stream your Star Wars favorites on Disney+ with a FREE TRIAL, on us!
According to Slashfilm, Olyphant is set to play Cobb Vanth, a self-appointed sheriff living in a Tatooine settlement called Freetown. The minor character was first introduced in three brief interludes in the Aftermath novels written by Chuck Wendig. His story is told by three different narrators, who recount how Vanth protected Freetown from gangs and cut a deal with the Tusken Raiders to protect his settlement.
Formerly a slave who freed himself at some point during the Original Trilogy, Vanth acquires a chest full of old Mandalorian armor from Jawa scavengers. It's strongly hinted that this armor is, in fact, Boba's old armor, all that remained of the bounty hunter after he was swallowed whole by the sarlacc in Return of the Jedi. Slashfilm says that Olyphant did indeed shoot scenes in Boba Fett's old armor, suggesting that it's the sheriff who made a cameo in the season 1 episode "The Gunslinger" and not Fett himself.
If it's actually Vanth wearing the Mandalorian armor and not Boba Fett, what does this mean for the fan-favorite bounty hunter, who is also reportedly set to appear on The Mandalorian season 2? Previous reports have suggested that Fett's part on the show is a small one, with Attack of the Clones actor Temuera Morrison set to play the role since Boba is a clone of his original Prequel character Jango Fett. Could Boba Fett's return on the show simply be a flashback set before Return of the Jedi? The fact that Vanth is now wearing his armor could mean that Boba actually did die inside the sarlacc all those years ago and that the cameo in "The Gunslinger" was a red herring all along.
With season 2 already chock-full of big-time cameos — Rosario Dawson is set to play Ahsoka Tano and Katee Sackhoff will reprise her role as Bo-Katan Kryze — this potential Boba Fett twist could be a breath of fresh air and an interesting way to subvert expectations. Vanth is one of the more interesting minor characters to pop up in the Expanded Universe in the last few years, so it's exciting that his story might get fleshed out a bit more in live-action.
Best of all, space western sheriff is a role Olyphant was born to play. He's already played two high-profile TV lawmen on Deadwood and Justified. I don't know about you, but I'd love to see Olyphant's Vanth team up with Mando to take down a Tatootine war lord or something.
We'll keep you updated as we learn more. The Mandalorian season 2 premieres in October on Disney+.