News
The Last Kingdom Renewed for Season 5
It's official: Uhtred and the gang will ride again in a fifth season of Netflix historical action drama The Last Kingdom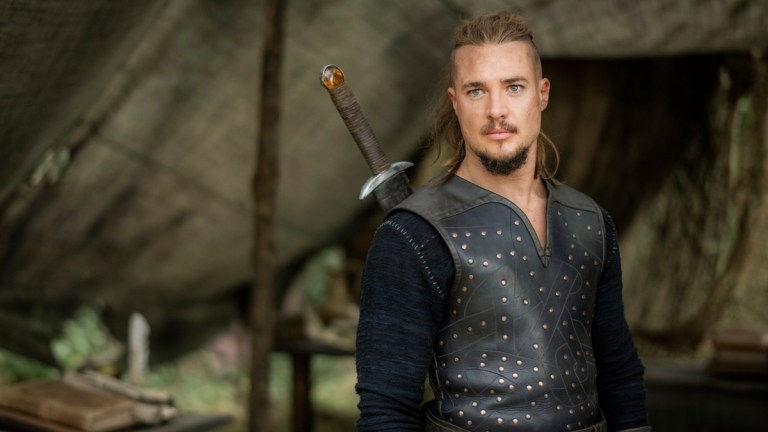 Warning: contains spoilers for The Last Kingdom season 4
Praise the gods of Asgard! The Last Kingdom has been officially renewed for season five. 10 brand new episodes will be on their way to Netflix, based on the next two books in Bernard Cornwell's Saxon Stories saga.
As is fitting as most of their lord and master/mortal enemy, Uhtred was the one to announce the good news to the cast. In the video below shared on the official @TheLastKingdom Twitter account, see Alexander Dreymon letting his fellow castmembers know that the series would ride again. Cue much whooping and a song about a party bus.
Ever the pro, Dreymon was quick to maintain the season four cliffhanger by questioning whether Eliza Butterworth would be joining the rest of the gang on the season five party bus after her character Queen Aelswith was poisoned by the scheming Lord Aethelhelm in the season four finale. Will she survive or will she join her husband by the lord's side up in paradise?
So far, each season of The Last Kingdom has adapted two of Bernard Cornwell's Saxon Stories books. Next up are books nine and ten, Warriors of the Storm (published in 2015) and The Flame Bearers (published in 2016).
For the non-spoiler-phobic, here's an outline of each:
Warriors of the Storm
A fragile peace is about to be broken…
King Alfred's son Edward and formidable daughter, Æthelflaed, rule Wessex, Mercia and East Anglia. But all around the restless Northmen, eyeing the rich lands and wealthy churches, are mounting raids.
Uhtred of Bebbanburg, the kingdoms' greatest warrior, controls northern Mercia from the strongly fortified city of Chester. But forces are rising up against him. Northmen allied to the Irish, led by the fierce warrior Ragnall Ivarson, are soon joined by the Northumbrians, and their strength could prove overwhelming. Despite the gathering threat, both Edward and Æthelflaed are reluctant to move out of the safety of their fortifications. But with Uhtred's own daughter married to Ivarson's brother, who can be trusted?
In the struggle between family and loyalty, between personal ambition and political commitment, there will be no easy path. But a man with a warrior's courage may be able to find it. Such a man is Uhtred, and this may be his finest hour.
The Flame Bearers
Britain is in a state of uneasy peace. Northumbria's Viking ruler, Sigtryggr, and Mercia's Saxon Queen Aethelflaed have agreed a truce. And so England's greatest warrior, Uhtred of Bebbanburg, at last has the chance to take back the home his traitorous uncle stole from him so many years ago – and which his scheming cousin still occupies.
But fate is inexorable and the enemies Uhtred has made and the oaths he has sworn combine to distract him from his dream of recapturing Bebbanburg. New enemies enter into the fight for England's kingdoms: the redoubtable Constantin of Scotland seizes an opportunity for conquest and leads his armies south. Britain's precarious peace threatens to turn into a war of annihilation.
But Uhtred is determined that nothing, neither the new enemies nor the old foes who combine against him, will keep him from his birth right. He is the Lord of Bebbanburg, but he will need all the skills he has learned in a lifetime of war to make his dream come true.
There's no return date set as yet for the new season, and with the global Covid-19 pandemic continuing to disrupt production on most new drama, fans can expect a long wait before this one is filmed and ready to arrive on screens. Even late 2021 would seem a very early estimation, but at least it's on its way. To Valhalla!