Features
The Last Kingdom: Who's the Father of Aethelflaed's Daughter Aelfwynn?
Millie Brady's Aethelflaed had a love affair with a Viking warrior after marrying the cruel Aethelred of Mercia…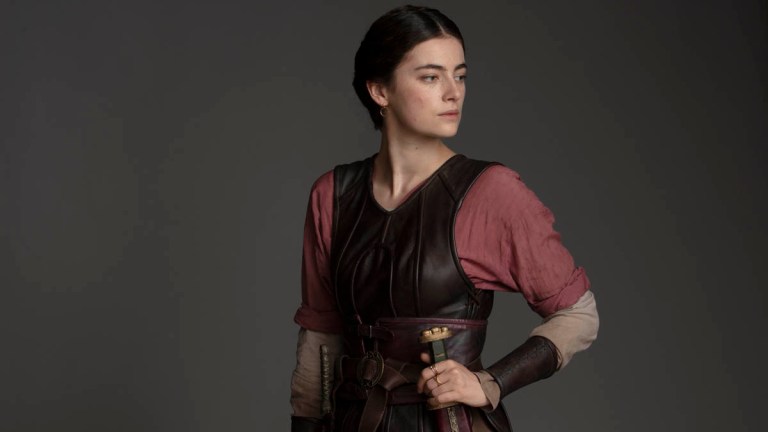 When it came to the true parentage of Aethelflaed of Mercia's daughter Aelfwynn, The Last Kingdom tore up the history books and introduced some Danish blood into the royal line…
When Aethelflaed (Millie Brady) was a teenager, her parents betrothed her to the self-styled king of Mercia, Lord Aethelred (Toby Regbo). The match was intended to mirror that between her parents – King Alfred of Wessex and Lady Aelswith of Mercia (David Dawson and Eliza Butterworth) – and shore up the political alliance between the two kingdoms in pursuit of Alfred's ultimate dream of a single united England.
A cruel husband
On their wedding night, Aethelred proved himself a cruel husband who physically and sexually abused his young wife. Aethelflaed's sense of royal duty and the political importance of the Wessex-Mercian alliance kept her from fleeing, and she vowed that whatever she had to suffer, her husband would not break her.
Soon after the wedding, Aethelred was called upon by Alfred to join him in fighting the threat of Danish invasion from two Viking brothers Sigefrid and Erik. Reluctantly, he went to battle, but his jealous possessiveness made him take Aethelflaed with him, rather than leaving her safely at the palace. When Aethelred fell for a Viking ploy that left the Saxon camps unguarded, the Danes raided and kidnapped Aethelflaed to hold her ransom as the King's daughter.
Kidnapped by Danes
Aethelred only cared about his wife's kidnapping in so far as it would reflect badly on him and cost him money. Negotiations for the ransom went badly, and Alfred was left with the anguished choice between paying an exorbitant price to rescue his beloved daughter, leaving Wessex broke and opening the door to future kidnaps, or letting the Danes parade her around the country to be abused.
Held at the fortress of Beamfleot by Haesten, Sigefrid and Erik, Aethelflaed was threatened with sexual assault, but successfully defended herself against Haesten's attack, using an improvised weapon of a bucket of piss. Erik fought Haesten, banning him from further attempts to attack their prisoner.
Love and a Danish pup
Over time, Erik – the gentler and cleverer of the two brothers – showed Aethelflaed protection and kindness and the two fell in love. They had sex and planned to escape the fortress and marry. When Uhtred, son of Uhtred infiltrated the fortress to rescue Aethelflaed, he discovered their plans and while sympathetic, told them it was folly and that no daughter of Alfred could ever marry a Pagan.
The attempted rescue was discovered, and a fight broke out between Erik and his brutish brother Sigefrid as the fortress was stormed. Sigefrid learned that Erik was planning to give up their dream of ruling England for the love of Aethelflaed. Sigefrid caged Aethelflaed and killed Erik, but escaping her bonds, Aethelflaed killed Sigefrid with a sword, just as her husband arrived to see it.
Back on the Mercian throne at Aethelred's side, Aethelflaed was pregnant, with rumours that she'd been left with a "Danish pup" by Erik the warrior Dane.
A bargaining chip
When her daughter Aelfwynn was born, Aethelred ignored the child, knowing that Erik was her true father, not him. He plotted to have both his wife and her daughter killed. On his deathbed, he told Aethelflaed that Aelfwynn's colouring was too fair to be Mercian and that she was not his, but later, repentant, he agreed to protect her from being married off after his death.
King Edward later attempted to use his niece Aelfwynn (Helena Albright), still only a child, as a bargaining piece in negotiations between Wessex and Mercia, and betrothed her against Aethelflaed's wishes to the kingdom's next ruler.