News
The House of Games Wheelie Luggage is Finally Up For Grabs!
And you don't even need to be a celebrity on the show to win it.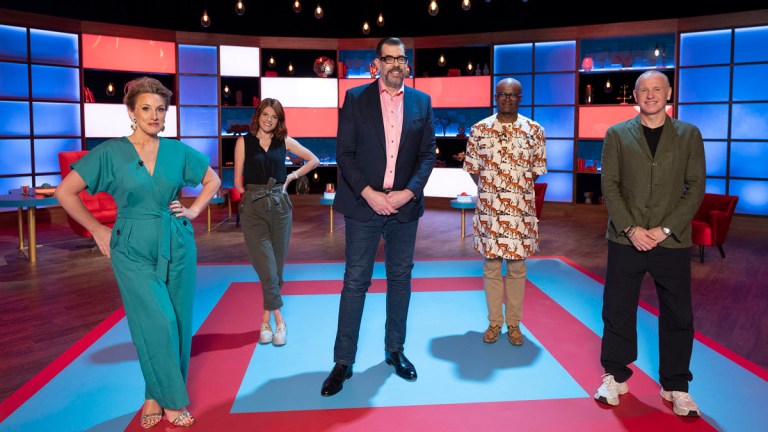 Forget the Countdown teapot or the Pointless Trophy. The most coveted prize on UK television has four wheels, an extendable handle and a quiff.
Since October 2019, Richard Osman's House of Games has occasionally offered a wheelie suitcase among its selection of kitsch branded prizes. For context – whichever celebrity contestant wins that day's episode has a choice of five rewards decorated with the face of host and creator Richard Osman. The prizes range from the glamorous (a decanter) to the practical (gardening gloves) to the playful (a dartboard) to the esoteric (an amulet, mystical powers unspecified, but ask Richard Herring).
The greatest of these, and by far the most popular, is the wheelie suitcase. In the 430 or so episodes since its first appearance in October 2019, the luggage has been chosen by celebrity contestants 60 times out of a possible 86*. In other words, the baggage reclaim at Edinburgh airport around the time of the Fringe Festival is chock-a-block with them.
*All statistics courtesy of stats genius Daniel Markhurst
Who's won one? Everybody who matters in the world of celebrity. We're talking Taskmaster's Alex Horne, Blue Peter's Valerie Singleton (won by Rose Matafeo and kindly donated), Barry from EastEnders (aka Shaun Williamson, who gave his to Mina Anwar), musician and Strictly winner Jay McGuinness (who gave his to University Challenge legend Bobby Seagull), Michelle Gayle (donated by Maisie Adams). All the greats.
The House of Games wheelie luggage is the ultimate travel flex. Not only does it mark out its user as a famous, but a famous who correctly guessed the total number of golf balls sold in the UK in 2020.
These suitcases are not for sale. Short of having one made (as actor Ingrid Oliver's pal did as a wedding gift when she made Richard Osman an honest man in December 2022), befriending a BBC Radio DJ and staying hopeful was the only option of the non-celebrity. Until now.
As part of the Telly Treasures Giveaway for Comic Relief, anybody can enter free-of-charge (donations gratefully received) to be in with a chance of winning a House of Games suitcase. Just fill in the online form before midnight on the 18th of March 2023, donate something if you can, and you'll be in with a chance.
The suitcase is just the tip of the Telly Treasures iceberg. 24 certified BBC props are up for grabs, including Jodie Whittaker's navy blue rainbow T-shirt from Doctor Who, as worn from Series 13 onwards.
Inside No. 9 fans can enjoy use of an ambiguous rodent mascot head from Series 6 episode 'The Referee's a W***er', while Luther connoisseurs can get their cosplay spot-on with Idris Elba's actual coat and tie from the show.
Additionally, there's a cushion that Tom Hardy and Chris Evans have sat next to while reading kids' books on CBeebies Bedtime Stories, a pair of earrings as worn by Pam St Clement aka Pat Butcher in soap EastEnders, a cloak from cult reality hit The Traitors (useful for Halloween) plus props from Killing Eve, Motherland, SAS Rogue Heroes and many more. See all the details here.
Red Nose Day 2023 is on Friday the 17th of March.