Features
The Good Omens Season 2 Credits Are An Easter Egg-a-Palooza
As Neil Gaiman puts it, the season two Good Omens intro has "more Easter eggs than in a fancy Easter egg shop the week before Easter"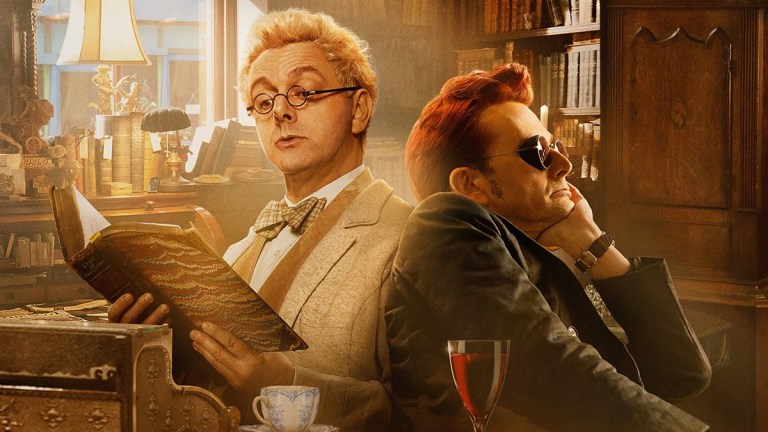 WARNING: potential and confirmed minor spoilers for Good Omens season two
A host of new teasers – keeping our interest piqued ahead of season 2 beginning on 28th July – arrived on the anniversary of Good Omens' original release date, when viewers first fell in love with the adaptation of Neil Gaiman and Terry Pratchett's apocalyptic 1990 novel of the same name. 
The series has earned a hugely loyal and enthusiastic fanbase, in particular thanks to the excellent on-screen chemistry in the love story between Michael Sheen as the angel Aziraphale and David Tennant as the demon Crowley.
So, brace yourselves, Good Omens fans – this is not a drill: here are the official opening credits for series two:
We also have a brand-new poster:
Which builds on some similar details in a poster released earlier in May (more on that later):
Neil Gaiman confirmed that the new intro has "more Easter eggs than in a fancy Easter egg shop the week before Easter", so let's take a look at what's been spotted so far in this details-packed title sequence:
Series 2's First Episode is Called 'The Arrival':
This was backed up by Neil Gaiman referring to the opening credits reveal as the "S2 Episode 1 title sequence".
This 'Arrival' Appears To Be Turning Up in a Cardboard Box
Way, way back in 2021, when the second series of Good Omens was first confirmed, Neil Gaiman's Instagram post hinted at a "cardboard box". Not only does this turn up in the middle of the most recent poster, with a big "This Way Up" symbol:
The title sequence also appears to feature what many fans believe is a naked Angel Gabriel (who is played by Mad Men's Jon Hamm) carrying the same box:
He's also spotted (still naked…) with the box in an upstairs window above the coffee shop mentioned at last year's New York Comic Con Q&A:
And someone appears to be putting the box on their head in fright later on in the credits when World War Two planes are flying overhead:
One theory is that, after the events of series one, Gabriel is fired from heaven and moves in, possibly with Aziraphale:
Some fans suggested this theory was also supported by the three feathers in the poster, perhaps hinting at a bit of a 'three's a crowd' vibe in series two:
Pay Attention to the Names on the Tombstones
The most eagle-eyed of fans spotted three tombstones inscribed with mentions of Beelzebub, Adam, Jane Austen and Every Day, all of which relate to other clues and plot details:
We discovered last year that Anna Maxwell Martin couldn't return to reprise her role as Beelzebub and so was recast as Shelley Conn, so this could simply be a reference to that.
Gaiman was happy to confirm this didn't refer to the young Adam from series one and the book, but that "the one at the beginning of Good Omens S1 died a long time ago, though."
This isn't the first hint to Jane Austen featuring in series two – there are also copies of her books in the recent promo poster (more on that later).
The term 'Every day' is also included in the tagline for the recent poster, above, quoting the lyrics to the Buddy Holly song Everyday: "Everyday, it's a-gettin' closer".
Love Is (Quite Literally) In The Air for Aziraphale And Crowley
A great many Good Omens fans are enthusiastic in the extreme about shipping Aziraphale and Crowley, and the trailer gives plenty of hints that the two might be getting closer in series two. This includes them cosying up on the roof above the book shop while heart-shaped rocks or missiles rain down:
Fans were quick to spot that hearts also featured in an earlier series two promo image, with Aziraphale and Crowley's wings forming a heart behind them.
But that's not all – some fans are speculating that two figures spotted in a far-off window during the credits might be the two ethereal beings sharing a smooch:
Other Sneaky Details Hint At New Characters, Locations, Foes and Even Disguises
Everywhere you look, the series two opening credits hint at more plot details, and while the series one intro did reveal plenty about the plot, nothing is guaranteed – as evidenced by a van-full of [red] herrings popping up in the new title sequence.
But details noticed so far include giant spiders, a Stairway to Heaven poster, potentially Moses (or Jesus) and both the sound and appearance of goats which then burst into flames. Aziraphale and Crowley are seen dancing in space by a plane marked with 'The Kingdom Airways', and there are signs for The Ladies of Camelot, Wings For Victory and "the parousia" (a Greek term for 'a coming' or 'a presence').
We already know that both former satanic nuns Maggie Service and Nina Sosanya are returning to Good Omens as new characters – running a record store and coffee shop called "Give Me Coffee or Give Me Death", respectively, nearby to Aziraphale's bookshop – and we see the coffee shop and a mountain of records in the new credits:
We also discovered last year that Quelin Sepulveda will play a new angel called Muriel, sent to spy on Aziraphale and Crowley, and her distinctive white policeman costume was spotted, as well as a sneaky angel figure keeping an eye on them through a window:
Some fans also theorised they'd spotted Crowley and Aziraphale disguised as an old woman and a lamp:
The Opening And Closing Credits Will Change Every Episode
The designer of the title sequence, Peter Anderson, has confirmed the cinema scene in the intro will change each week to suit the episode, and Gaiman also told fans the closing title music would be different – and "remarkable" – each time:
Hidden Details in The New Posters
A hive-mind of fans dissected the new posters across social media, and one user put their findings in this handy Tumblr post, which Neil Gaiman re-shared, hopefully hinting that they're mostly on the money. The details spotted include significant books (including Jane Austen novels), references to 'The Resurrectionist' and Terry Pratchett's hat and scarf:
And Finally, The Sheen-Tennant Argument Is Settled
Fans of Staged will remember David Tennant and Michael Sheen sharing a running joke about whose name should appear first in the promo material for their joint projects. And, while in series one Sheen's name came first, the series two intro appears to feature Tennant first:
Good Omens series two arrives on Amazon Prime Video on July 28th 2023