Features
The Gallows Pole True Story – a Legendary UK Crime So Big It Almost Toppled the Economy
This Is England's Shane Meadows puts Yorkshire's 18th century Cragg Vale Coiners gang on screen in a riotous new BBC historical drama.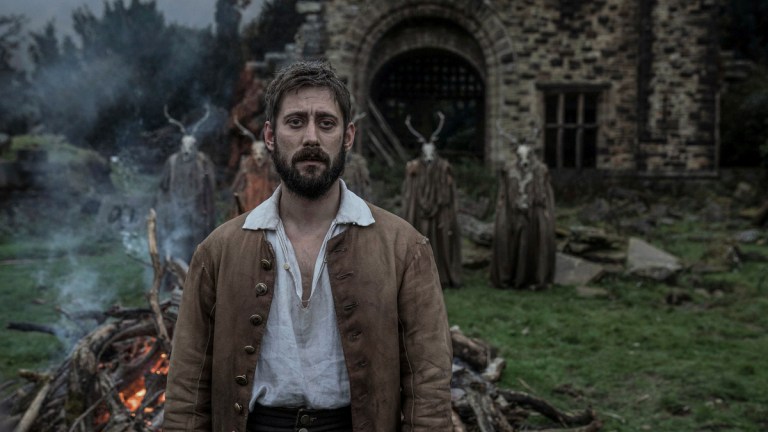 Visit Heptonstall graveyard in West Yorkshire and you can expect to see four things: Happy Valley fans, tourists, pens and coins. The former are there to visit the fictional gravesite of Catherine Cawood's daughter Becky from the BBC thriller, while the tourists are in the habit of leaving the latter – pens on the grave of American poet Sylvia Plath, and coins on the grave of legendary local figure "King" David Hartley.
"There's never usually more than 20p on David Hartley's grave," says Jennifer Reid, a ballad historian who plays pub landlady Barb in a new BBC drama about the famed Yorkshireman. "But when I visited during filming I knew people from London had been up, because there was about £4.50 on there!"
Coins and the London/Yorkshire wealth divide are fundamental to The Gallows Pole, a three-part historical series from filmmaker Shane Meadows (This is England, The Virtues). It's the real-life story of an impoverished 18th century community cut off from its textiles livelihood by the burgeoning Industrial Revolution, and ignored by the Crown.
Ignored that is, until the locals began a counterfeiting operation that flooded the valley with cash and drew the attention of His Majesty's Customs and Excise.
Inspired by Benjamin Myers' Novel
That last part isn't told in Meadows' TV drama, perhaps with the idea of later finishing the tale in a second series. Though first announced as an adaptation of Benjamin Myers' acclaimed, gristly, weird 2017 novel of the same name, Meadows' improvisational approach changed the series into a book prequel. Rather than show central character David Hartley running the coining operation once considered the biggest fraud committed in British history, The Gallows Pole shows his journey from small-time crook to community-minded forger.
Myers' book goes further into history, following David's rise and eventual fall, and the fates of his brothers William and Isaac – nicknamed the Dukes of Edinburgh and York to their older brother's "King" David.
At a screening Q&A for The Gallows Pole, Meadows remembered warning Myers, "I never do anything how it's meant to be." The raucous, semi-improvised, modern-feeling, comedic result is certainly not how historical dramas have been in the past but is perhaps how they are meant to be – using naturalism and laughter to bash down the walls between us and the past.
The Real David Hartley and the Cragg Vale Coiners
David Hartley was the head of the Cragg Vale Coiners, a gang of 18th century Yorkshire forgers who produced an estimated £3.5 million of illegal coins – the equivalent of over £650 million today. With his brothers and a group of locals, Hartley "clipped" legitimate coins around their perimeter, filed those down, and then melted, shaped and stamped the result using a counterfeit die, and sent them into circulation. The coiners operated out of the Hartleys' family home Bell House, a moorland-edging farmhouse and barn overlooking the valley.
During the 1760s, the gang was so prolific it was thought to have diminished the value of UK currency by 9%, an amount that seriously threatened to destabilize the British economy at a time when the national mint failed to meet the needs of rising commerce, which required a greater flow of coins in small denominations. The Cragg Vale Coiners produced a great many Portuguese coins, which were accepted as legal tender in England at the time.
David Hartley remains a controversial figure, considered by some a Robin Hood-style hero who rebelled against the Crown to save his community from famine, and by others a criminal gang leader with blood on his hands. A 1775-set epilogue in Myers' novel outlines his mixed reputation, as Hartley's eldest son recalls:
"Old grudges have been carried over and vendettas remembered, but most profited well enough from what the King had done for them. A martyr, some call his father now. The Martyr Hartley. A gentleman. One of their own."
Warning: historical spoilers ahead.
The real David Hartley was arrested, tried and hanged for forgery and "diminishing the coin" in April 1770. His accomplices Matthew Normanton and Robert Thomas were tried for the killing of Crown exciseman William Deighton, who was investigating the gang's criminal activity, but both were acquitted, though it is widely believed that they were guilty of the murder. Robert Thomas was later hanged for the highway robbery of Deighton.
David Hartley is buried alongside his wife Grace in the Heptonstall churchyard of Saint Thomas the Apostle, in Hebden Bridge, West Yorkshire.
End of historical Spoilers
The Gallows Pole TV Cast
Michael Socha plays the lead role of David Hartley in The Gallows Pole. He's best known for his role in BBC Three's Being Human, US fairy tale series Once Upon a Time, and of course for playing Harvey in Shane Meadows' 1983-set film This Is England and Channel 4 TV follow ups '86, '88, and '90.
Socha is joined by Downton Abbey's Sophie McShera as his former lover Grace, whom he abandoned seven years before the start of the series. Fellow This Is England actor Thomas Turgoose plays Hartley's younger brother William, with Peaky Blinders' Danny "Whizz-Bang" Samuel Edward-Cook playing their brother Isaac. The Office and The Green Knight's Ralph Ineson plays local merchant The Clothier.
The Gallows Pole starts on Wednesday the 31st of May on BBC Two at nine pm. All three episodes will be available to stream on BBC iPlayer after the first episode has aired.