News
The Flight Attendant Release Date, Cast, Trailer, and News
Kaley Cuoco is set to star in The Flight Attendant, a high-flying thriller for HBO Max.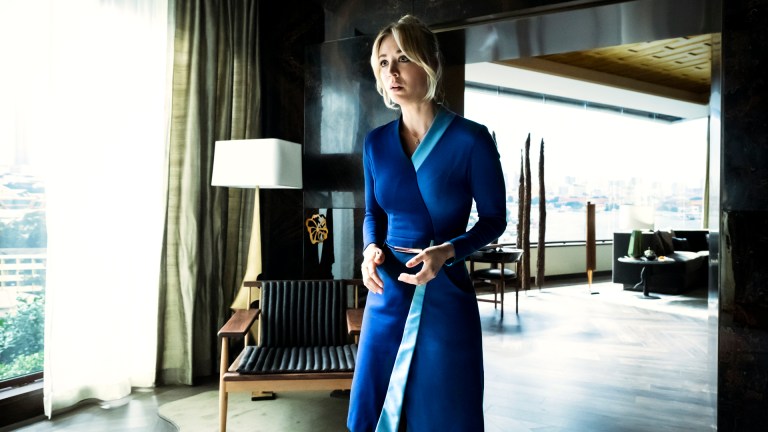 For those craving the airline experience during quarantine season, HBO Max is stepping up with a show to remind us all "ehhh, maybe you don't need to fly."
The Flight Attendant is a comedic thriller developed by Steve Yockey (Supernatural) and executive produced by Greg Berlanti (The Arrowverse…and just about everything else). Fresh off her 12-season run on The Big Bang Theory (and more importantly: concurrent with her run on Harley Quinn), Kaley Cuoco stars Cassie Bowen, a flight attendant who one day wakes up in Bangkok with a dead body lying next to her.
The Flight Attendant has been in the works since 2017 when Cuoco's production company optioned the novel of the same name by Chris Bohjalian. With Cuoco's Big responsibilities over, and WarnerMedia trying out a shiny new streaming service in HBO Max, the powers that be decided that now's the time to give it a shot.
Here is everything we know about The Flight Attendant.
The Flight Attendant Release Date
The Flight Attendant will release its first three episodes on HBO Max on Nov. 26. Yes, that is also Thanksgiving Day in the U.S., so good news for those who can't stomach family or football.
Unfortunately, HBO Max is not currently available in the U.K. but Warner company HBO has an agreement with Sky, so if the show ever makes it across the pond it will likely belong to Sky.
The Flight Attendant Trailer
The Flight Attendant seems to be going for a comedic-meets-thriller tone that is hard to describe. Thankfully, the series first trailer is able to communicate that tone rather well.
Kaley Cuoco's comedic charm is clearly put to good use here. Having said that, the trailer also doesn't shy away from the horror of her character's plight. A spooky version of Britney Spears's "Toxic" certainly helps set the mood.
The Flight Attendant Cast
Kaley Cuoco stars in the title role as flight attendant Cassie Bowden. Twelve years with The Big Bang Theory not only built up Cuoco's bank account, but also presumably helped establish a good relationship with that show's studio's parent company WarnerMedia. Cuoco serves as an executive producer here as well and also provides her voice to the titular character on HBO Max's excellent animated series Harley Quinn.
Michiel Huisman (Game of Thrones himbo Daario Naharis, The Haunting of Hill House) will play the doomed Alex Sokolov, whose dead body jumpstarts the series of unfortunate events that Cassie endures. The rest of the cast is made up of Zosia Mamet (Girls) as Annie Mouridain, T.R. Knight (Grey's Anatomy) as Davey Bowden, Michelle Gomez (Chilling Adventures of Sabrina) as Miranda Croft, Colin Woodell (The Purge) as Buckley Ware, and Rosie Perez as Megan Briscoe.