Features
The Flash: How Sue Dearbon is Shaking Things Up in Central City
Natalie Dreyfuss tells us all about bringing Sue Dearbon to life on The Flash Season 6.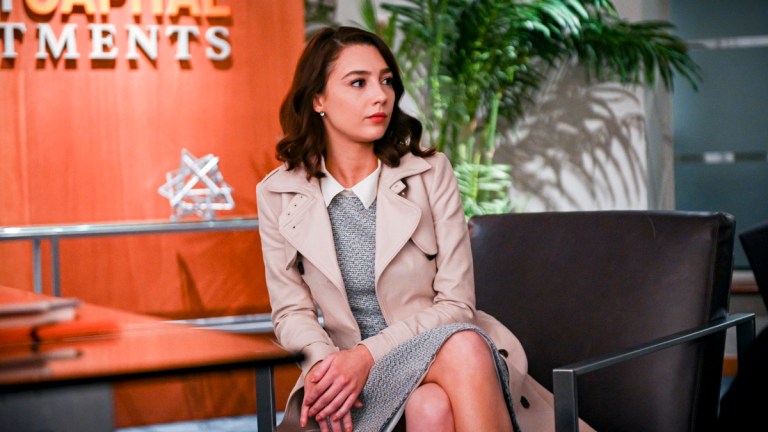 Almost three full seasons after Ralph Dibny arrived on The Flash, his future love interest Sue Dearbon finally set foot in Central City. And though her arrival was certainly long-anticipated, her presence has proven more than worth the wait.
This version of Sue is everything we could ever have asked for, bringing a fresh pop of energy to the canvas and instantly charming both Ralph and viewers everywhere. More importantly, it's been apparent from the start that Sue's narrative arc is destined to be something much meatier and more compelling than her comics story which, much as it pains me to admit it, generally just required her to love Ralph and die violently.
The Flash's version of this character has a story and an agenda of her own, none of which is erased or lessened by her obvious (and fairly adorable) connection with Ralph. Everyone wins!
Den of Geek spoke to Natalie Dreyfuss about taking on the role of such a well-known comics figure, why Ralph and Sue are so appealing together, and what we can expect from the finale of The Flash's shortened season.
"I love playing Sue," Dreyfuss says. "It feels so good to be able to play such a powerful female [character]…Her smarts and her wit and her ability to stand strong – I mean in the first episode she fights Ultra Violet. She's awesome. And I love that. She's so strong on her own. She's not leaning on anyone."
In just a handful of episodes, Sue has already become something much more than just the designated love of Ralph Dibny's life. In fact, The Flash's Sue is the furthest thing from passive. She's driving her own story and maybe inviting Ralph along if he can keep up with her (and doesn't mind her committing some petty larceny on the way).
"It's fun for me to have my own motives and my own secrets and watch them unfold for [Ralph] and watch them unfold for the fans," Dreyfuss says. "And I think she really is kind of brilliant, Sue. She's super, super smart. She's kind of one step ahead at all times, and she knows what's going on. She has her own wonderful life to her. Luckily, I feel like I really relate to her and it's not a huge departure like a lot of roles can be."
Dreyfuss is also well aware of Sue's tragic comic history, and looks forward to seeing how the character's existence in the The Flash universe will allow her character to become more complex and three-dimensional than she was on the page.
"They're not writing women as just someone's wife," she says. "They're [going to] have a complete, full, complex story for this person. What's so amazing about The Flash and its writers and producers is that they saw this as an opportunity to really build this woman's full character and make her have her own motives that have nothing to do with Ralph."
That said, it's difficult to really talk about Sue without also talking about Ralph, and the iconic romance between the two in the comics. The pair have only shared a handful of scenes together so far, but their connection and chemistry is glaringly obvious (and super cute).
Dreyfuss herself is a rather enthusiastic Sue and Ralph shipper, and is looking forward to the romance we're basically all hoping will happen.
"I want them to get together!" she declares. "You never know what's going to happen – this is The Flash. They will surprise us. So, I'm along for the ride as well with the fans, because [the story is] unraveling for me as well. I know that he's important to my future, but I don't know how. But I want them to get together!"
The opposites attract nature of their relationship is actually a big part of the couple's appeal for Dreyfuss, who describes their interactions as something of a constant chase.
"We know Ralph to have this incredible detective mind, and we know Sue to be this giant mystery," she explains. "And I think that's so fun [to play]. Things usually unravel for him pretty quickly, but this girl is just such a giant question mark, and he's like 'What is she doing?', 'Who is this?'"
"And it's driving him kind of crazy, but he's so drawn to it," Dreyfuss laughs. "And, I think, for Susan, it's really fun to be able to play that mystery for him and know that it's driving him crazy. He can't figure me out!"
Dreyfuss credits her longtime, real-life friendship with Hartley Sawyer, who plays Ralph, with making the iconic Ralph-Sue relationship feel so natural from their first scene together.
"We really do trust each other to be playful, and play off each other," she says. "[We] bring our true nature and our true friendship and connection we've had for all these years to these people."
"We've known each other for 10 years," Dreyfuss explains. "So that first day on set, talking to him and playing in those scenes [we felt like] this is so meant to be. I think the producers saw that right away. They were like, oh, yes, this is it. This is you guys. And we knew that and felt that in the room."
Sadly, The Flash Season 6 will be wrapping things up a bit earlier than previously planned, so we'll have to wait a bit to see what's next for Ralph, Sue and everyone else in Central City. Like virtually every other Arrowverse property, the show shuttered production in the face of the increasing threat from coronavirus.
Episode 19, "Success is Assured," is serving as a makeshift season finale, which will attempt to give fans both closure and something to talk about for the rest of the summer. Sue is part of that finale, and though we may not get to see the proper ending of her story this season, Dreyfuss promises that she – and the show itself – will go out on a strong note. "The whole concept is a really fun way to go out of the season," she promises. "I think fans will actually be really stoked."
Still, Dreyfuss is aware that this may not be the ideal way to close out a season, but she's confident that Sue (and everyone else) end the year strong.
"I know it wasn't expected, and it's not exactly how they would want to [end the season]," Dreyfuss admits. "But I'm really happy we have this episode. We get to see Sue's smarts and her will and some of her motives, and what she would to do get [those] motives accomplished."
"We get to see the mysteries [about her] unravel a bit more," Dreyfuss teases.