Features
Batwoman: Why Hush Came to Gotham City
Batwoman showrunner Caroline Dries tells us how Hush came to Gotham, how this new villain can co-exist with Alice, and what Season 1's early ending means.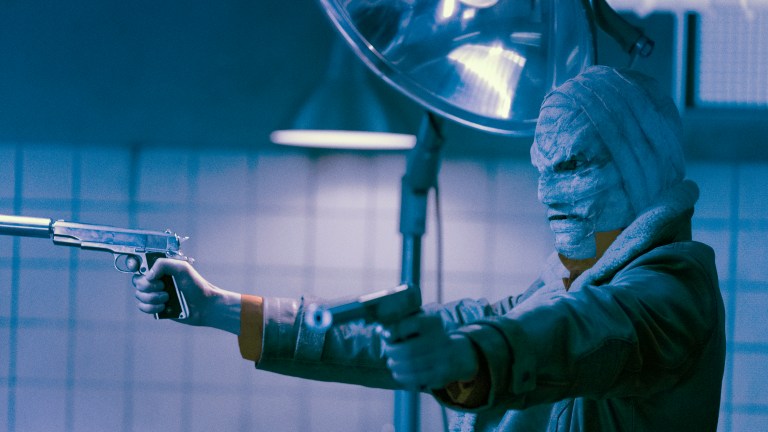 This article contains Batwoman spoilers.
Batwoman episode 19, A Secret Kept From All the Rest," represents a landmark moment for the series, as it's the first time the show has introduced a villain from her cousin Batman's rogues' gallery for Kate to face. In this installment, Gabriel Mann makes his official debut as Hush, the supervillain alter ego of real estate mogul and Bruce Wayne obsessive Tommy Elliot, complete with dramatic bandages and a truly stylish trench coat. As Tommy, he has a preexisting – and largely antagonistic – relationship with Kate, but as Hush, he's built a new, more dangerous one with Alice, as the two join forces to try and crack the code of Lucius Fox's journal. 
Den of Geek spoke to Batwoman showrunner Caroline Dries about bringing Hush to Gotham, how a new villain can co-exist in a landscape that also includes Alice, and a sneak peek at how Season 1's coronavirus-shortened run will end.
"We knew we were going to make him Hush at some point because he's such a delicious villain," Dries says. "He just has such an interesting psychosis; in that he's obsessed with Bruce Wayne. [It makes him a] good foil for Kate."
Dries is well aware of what a big moment the arrival of a Batman villain in Batwoman's universe is, both for the show in a larger sense and for its lead character, specifically.
"We chose [Hush] because he was a Batman villain and [we were] trying to come out of the gate and say, look, some people have never heard of Batwoman, but she's part of the Bat family. Batman's world is Batwoman's world."
However, Tommy Elliot himself serves as an important touchstone for Kate, as well.
"Tommy was our first villain of the week. [He first appeared in episode 3, "Down, Down, Down."] And we chose him for several reasons," Dries explains. "One, he knew Bruce Wayne was Batman. [But he was also] the perfect character to tease out Kate's choice of "Am I going to embrace this symbol of the bat? Or am I going to continue my life as Kate Kane and be a little bit normal?"
As Hush, however, his Batwoman origin story is quite a bit different than its comics counterpart. Part of that is because the introduction of any new villain in this version of Gotham must inevitably reckon with the fact that it's already got its own fairly iconic baddie in Kate's twisted sister, Alice.
The show has never been terribly interested in doing traditional villain of the week arcs for precisely this reason, and Hush's arrival really only works because the story takes the time to tie his and Alice's stories together in a way that makes sense for them both.
As "one of Gotham's most wanted," Tommy can't exactly roll out of Arkham Asylum and back to his old life. Enter Alice and her "very weird and special talent of remov[ing] people's faces and giv[ing] them new ones."
This set-up not only gives Hush an entirely new, Batwoman-specific origin story, but provides him with a reason to battle Kate that has nothing to do with her cousin, or Tommy's previous vendetta towards him. It also keeps Alice actively involved in the story, for her own completely separate reasons.
"We knew going into this season that that was going to be our biggest challenge," Dries says. "How do you not sideline Alice? And then how do you also not make her stories feel redundant?"
"The trick is to keep her dangerous," Dries explains, but also to "make sure that she's still having an emotional journey. And [then] even if she doesn't have a huge plot journey, we feel satisfied."
While Hush may be the one actually going after Batwoman and her friends in the streets of Gotham, it's still Alice pulling strings behind the scenes, fueled by her desire for "ultimate revenge" against her sister. Tommy is much more interested in acquiring a new face than he is in figuring out what sort of Bat-killing weapons lurk in the pages of Lucius Fox's journal, but for the moment he and Alice have a common goal.
"He's not going to let [Alice] out of his sight," Dries promises. "Hush needs her."
Unfortunately, we may have to wait a while to find out precisely what Alice and Hush's grand plans are in the wake of their escape from Arkham. Batwoman, like virtually every other series in the Arrowverse, saw its production season shut down early, due to the coronavirus pandemic that's currently sweeping the globe. Episode 20 will officially serve as the show's makeshift season finale, and though this installment wasn't originally intended to wrap up the season it will apparently prove quite the shock for fans.
"It leaves things in a huge cliffhanger," Dries admits. "[But], ultimately things will be fine going into Season 2. Do I wish we could have played out Season 1 as we scripted it? Of course. But in the scheme of things we got very lucky in terms of the story we were trying to tell and things that got to wrap up."
That said, Dries promises Batwoman's sophomore outing will be an exciting ride – whenever they get to film it. "Season 2 will be chock full of epic, giant surprises," she teases.
But will Mann's Hush be part of Batwoman season 2?
"We definitely want to continue using him, and he's not a character – he's not going to die, let's put it that way," Dries laughs.