Features
The Fall of the House of Usher Cast: Ruth Codd, Willa Fitzgerald, and More
From Mark Hamill to Carla Gugino, here are the actors you need to know in The Fall of the House of Usher and where you've seen them before.
The Fall of the House of Usher is Mike Flanagan's last series as part of his overall deal with Netflix, and it may just be one of his best yet. Adapting various works from Edgar Allan Poe, this show depicts the glorious rise and horrific fall of the Usher family. As with all of his projects thus far, Mike Flanagan has assembled a stacked ensemble cast full of familiar faces and relative newcomers including heavy-hitters like Mark Hamill, Mary McDonnell, and Bruce Greenwood.
Here are the actors that bring the Usher clan, their allies, and their adversaries to life.
Bruce Greenwood is Roderick Usher
The patriarch of the prestigious Usher family and CEO of Fortunato Pharmaceuticals is played by Bruce Greenwood, who you might recognize from Star Trek, Star Trek Into Darkness, The Resident, and I Know This Much is True. Greenwood has also appeared in other Mike Flanagan projects such as Doctor Sleep and Gerald's Game. Roderick Usher expects a lot out of his six children and hopes to provide for them what his father never did – the wealth and resources they need to reach their full potential as Ushers. But for all of the money and connections he's able to provide, he can't quite manage to give them the one thing they truly crave, his praise and affection.
Zach Gilford is Young Roderick Usher
Roderick Usher wasn't always the well-connected man we see in the present day. He was once a loving husband to Annabel Lee and only wanted the best for her and their children. But when a young C. Auguste Dupin comes knocking on his door with an opportunity to do something for the greater good, he struggles to reconcile the man that Annabel wants him to be and his growing ambition to go after the legacy he and Madeline have been fighting their whole lives for. Young Roderick is played by Zach Gilford, who you may recognize from the other Mike Flanagan series Midnight Mass and The Midnight Club as well as Friday Night Lights and The Purge: Anarchy.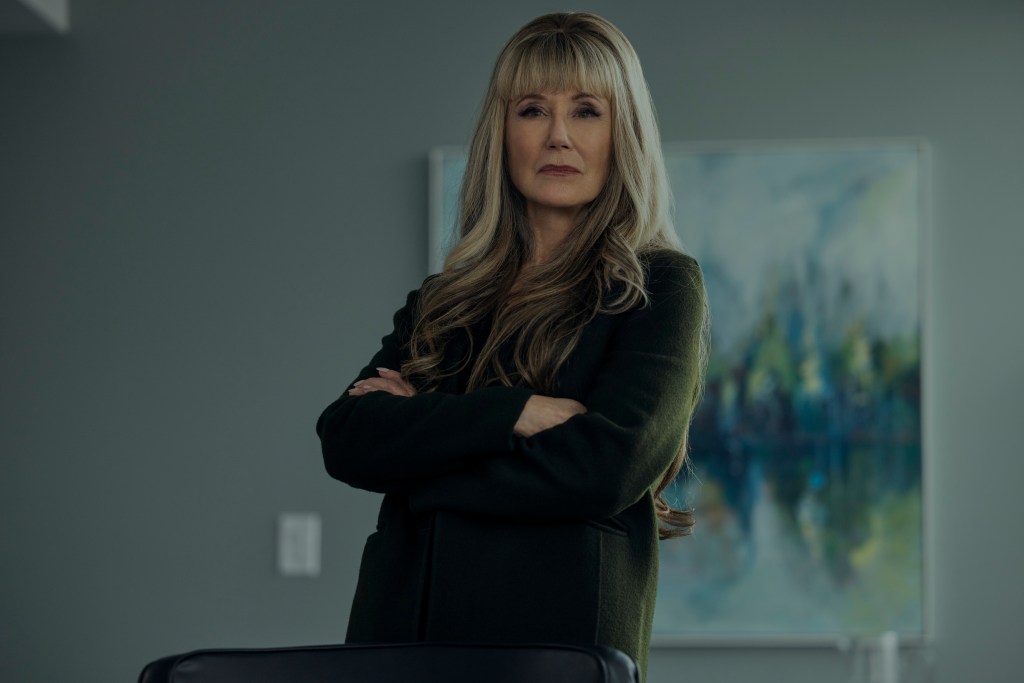 Mary McDonnell is Madeline Usher
Madeline Usher is driven, intelligent, and calculating. She loves her brother and family, and is willing to do whatever it takes to keep them safe, but never at the expense of her own goals and ambition. Madeline is played by Mary McDonnell. While this is McDonnell's first Flanagan project, you will likely recognize her from Battlestar Galactica, Donnie Darko, The Witcher: Nightmare of the Wolf, and Major Crimes.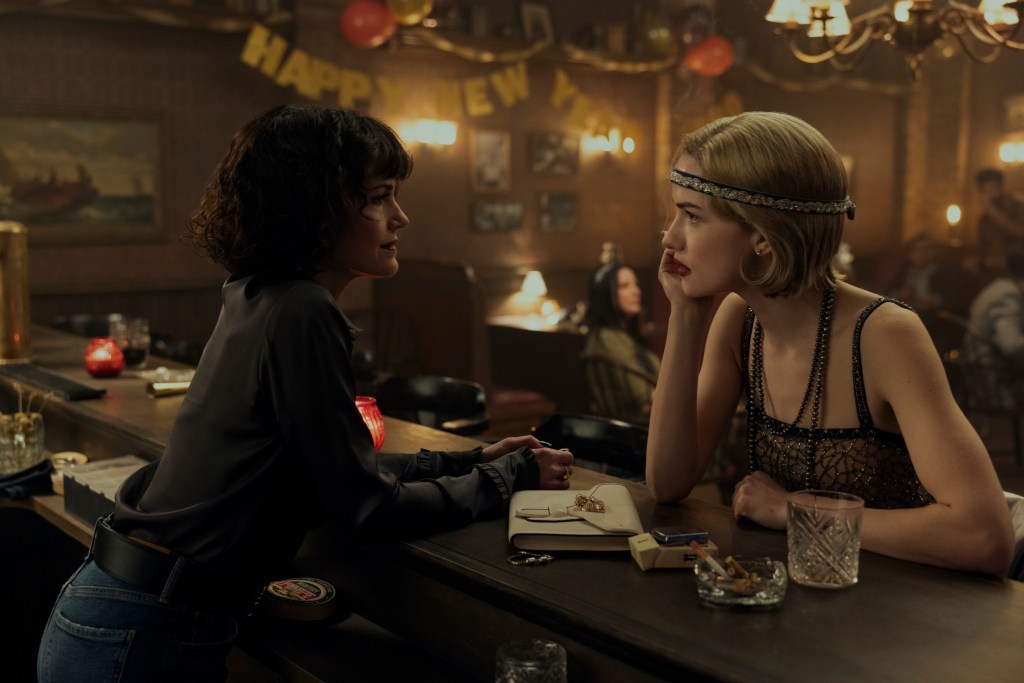 Willa Fitzgerald is Young Madeline Usher
Even in her youth, Madeline has always been the smartest of the two siblings, thinking as many steps ahead of those around her as possible. She has never felt limited by her gender or what other people think she should be doing with her life. Madeline has always seen a bright and powerful future for herself, and really wishes her brother would fall in line and see things as she does. Young Madeline is played by Willa Fitzgerald who you may recognize from Scream: The TV Series, Dare Me, Reacher (which she stars in alongside Malcolm Goodwin), and The Goldfinch.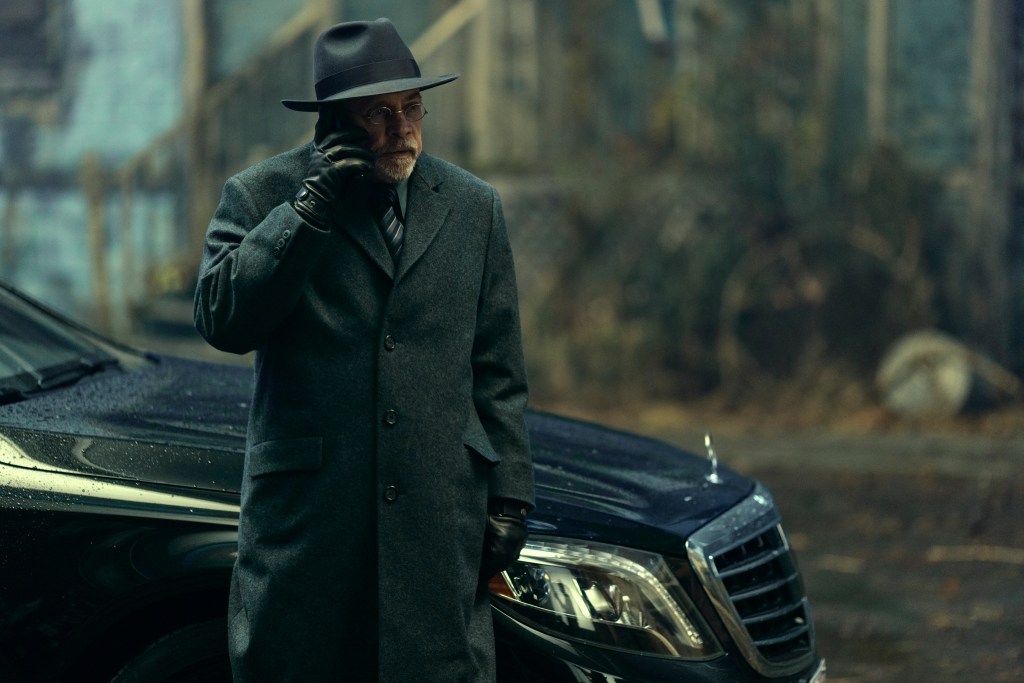 Mark Hamill is Arthur Pym
Arthur Pym is an intimidating lawyer employed by the Usher family. His influence and willingness to push the limits of the law have made the Ushers nearly invincible in the eyes of the public. The "Pym Reaper" is played by Mark Hamill, who most will know as Luke Skywalker in the Star Wars saga. Hamill has also spent his years post-Star Wars doing voice work for TV shows like The Sandman and Invincible and has become one of the most well-known voices for the Joker after voicing the infamous villain in Batman: The Animated Series.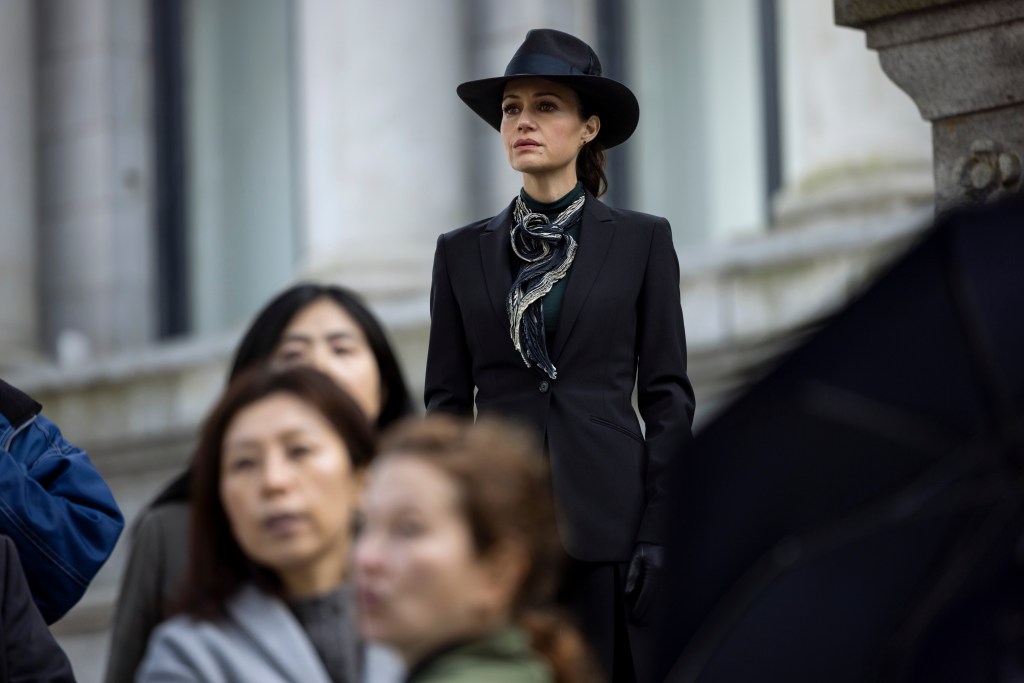 Carla Gugino is Verna
Verna is a mysterious figure from Madeline and Roderick's past. Her origins can be traced back to a very famous Poe character. Revealing too much about her character gets into spoiler territory, but what we can say is that her appearance coincides with a lot of bizarre events for the Usher clan. Carla Gugino has long been a fixture of Mike Flanagan's projects, starring in Gerald's Game, The Haunting of Hill House, and The Haunting of Bly Manor. She even has a small cameo as a judge in Midnight Mass. Other movies you may recognize Gugino from are Gunpowder Milkshake, Watchmen, San Andreas, and the original Spy Kids trilogy.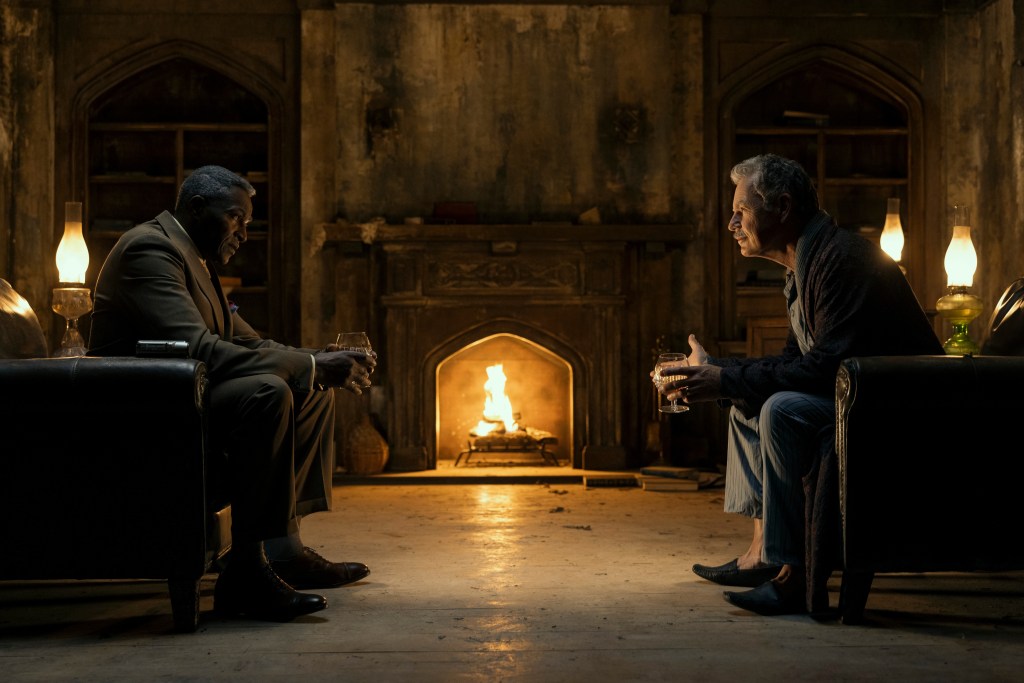 Carl Lumbly is C. Auguste Dupin
Auguste Dupin has made it his life's goal to take down the "Usher Crime Family" for exploiting their positions of power and misleading the public on the addictive qualities of their best-selling drug. Dupin has a strong sense of justice and has done his best to remain a good man despite his proximity to the Ushers. Dupin is played by Carl Lumbly, who you likely recognize from TV shows like Supergirl, The Falcon and the Winter Soldier, and Alias. Lumbly also appeared in Flanagan's sequel to The Shining, Doctor Sleep.
Malcolm Goodwin is Young C. Auguste Dupin
Even as a young investigator, Auguste Dupin has a strong desire to do good and call out corruption when he sees it. After uncovering a conspiracy within Fortunato Pharmaceuticals, Dupin tries to find someone, anyone who will help him take down the company from within – and it's not too long before he crosses paths with a young Roderick and Madeline Usher. Young Dupin is played by Malcolm Goodwin, who has starred alongside Willa Fitzgerald in Reacher and Rahul Kohli in iZombie. Goodwin has also appeared in the TV series Breakout Kings.
Henry Thomas is Frederick Usher
Frederick Usher is the eldest child, and therefore carries the heaviest weight of Roderick's expectations on his shoulders. He tries his best to do what his father expects of him as heir to Fortunato, but is woefully unequipped to handle the pressure and is often the target of his siblings' jokes. Henry Thomas has long been a collaborator on Flanagan's other projects having appeared in Ouija: Origin of Evil, Gerald's Game, The Haunting of Hill House, Doctor Sleep, The Haunting of Bly Manor, Midnight Mass, and The Midnight Club. Thomas is also well-known for playing Elliott in E.T. as a child.
Samantha Sloyan is Tamerlane Usher
Tamerlane Usher is the last child Roderick had with Annabel Lee and his firstborn daughter. Unlike her older brother, Tamerlane shares her father's ambitions and is desperate to step out of her brother's shadow and prove to Roderick that she has what it takes to succeed on her own. To do so, Tamerlane has partnered with her husband William to launch a health and wellness brand similar to Gwyneth Paltrow's Goop. Tamerlane is so laser-focused on success and impressing her father that she struggles to maintain meaningful relationships in her life. Samantha Sloyan plays Tamerlane, who you may recognize from her roles in Hush, The Haunting of Hill House, Midnight Mass, and The Midnight Club. Outside of Mike Flanagan projects, Sloyan is well-known for starring in the medical drama Grey's Anatomy.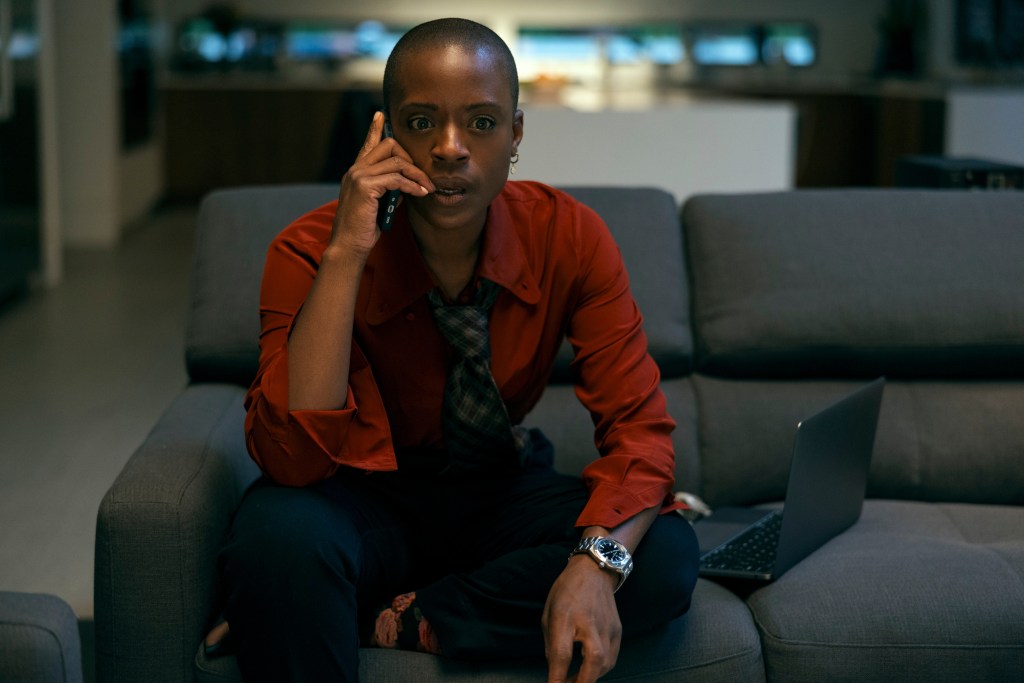 T'Nia Miller is Victorine Lafourcade
The oldest of Roderick Usher's "bastards," Victorine feels pressure to prove herself as a "real" Usher. After Roderick takes a special interest in the revolutionary heart implant she's been working on with her girlfriend and cardiologist Dr. Alessandra Ruiz, Vic pushes herself and the technology past its limits. Victorine is played by T'Nia Miller, who previously starred in The Haunting of Bly Manor. You may also recognize her from The Diplomat, Sex Education, Doctor Who, and The Peripheral.
Rahul Kohli is Napoleon "Leo" Usher
Napoleon "Leo" Usher found out about his father and his immense wealth later in life, and doesn't chase his affection like his siblings do. Leo works for a prolific video game company, and is as close to a socialite as any of the Usher children get. Instead of chasing Roderick's affection, Leo's vices are drugs, alcohol, and sex, which is becoming a problem for his long-term boyfriend Julius. Leo is played by Rahul Kohli, who has previously appeared in The Haunting of Bly Manor, Midnight Mass, and The Midnight Club. You may also recognize him from iZombie, which he starred in alongside Malcolm Goodwin.
Kate Siegel is Camille L'Espanaye
Camille L'Espanaye is a PR powerhouse who uses her cunning viciousness to keep her family looking like Gods in the public eye. Information is currency for Camille, and she spends her time collecting secrets on those closest to her. She also keeps everyone at an arm's length – it's hard to betray someone you don't let in. Camille is played by Kate Siegel, another Flanagan mainstay. Siegel has appeared in Hush, Ouija: Origin of Evil, Gerald's Game, The Haunting of Hill House, The Haunting of Bly Manor, and Midnight Mass.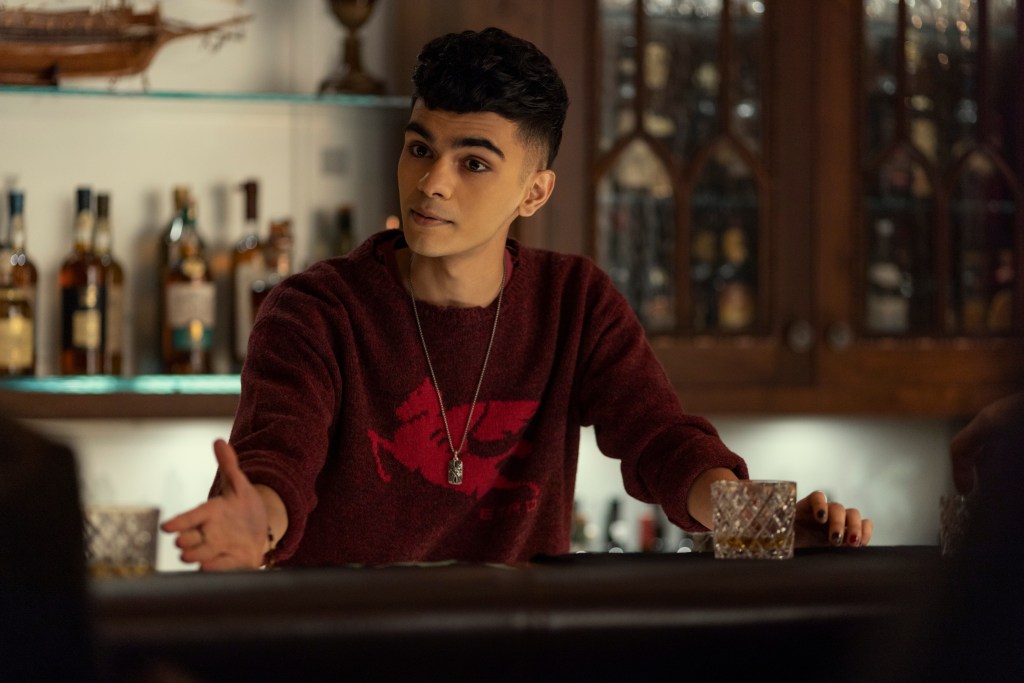 Sauriyan Sapkota is Prospero "Perry" Usher
Prospero "Perry" Usher is the youngest of the Usher children and was only recently thrust into the world of the wealthy and elite. Perry loves to make his life one giant party, but like his siblings, wants to prove to his father that he can do more than just spend his money. This is Sauriyan Sapkota's second role after appearing in The Midnight Club.
Crystal Balint is Morella "Morrie" Usher
Morella "Morrie" Usher is Frederick's wife and a loving mother to their daughter Lenore. She used to be a model and actress, but has since given up that life to devote herself to her family. Even though she seems happy raising Lenore and baking cakes that look like other things, it becomes clear that part of Morrie longs for the fun life she once had. Crystal Balint plays Morrie, who you may recognize from Midnight Mass, The Midnight Club, and Riverdale.
Kyleigh Curran is Lenore Usher
Lenore Usher is the daughter of Frederick and Morrie. Unlike many others in her family, she still has a kind and empathetic heart that would make her grandmother Annabel proud. Roderick considers her the "best" of the Ushers, even though her conscience sometimes puts her at odds with her family. The youngest Usher is played by Kyleigh Curran, who starred alongside Ewan McGregor in Doctor Sleep. She has also appeared in the Disney+ series Secrets of Sulphur Springs.
Ruth Codd is Juno Usher
Juno Usher is Roderick's second wife. Despite their glaring age difference, they seem almost happy at first glance. After an injury drove her to drugs to numb the pain, Fortunato and Roderick helped her get "clean" with their own formula. Juno is forever grateful to Roderick for changing her life, but can't help but feel like their marriage is for optics rather than love. This is Ruth Codd's second Mike Flanagan project, having previously starred in The Midnight Club.
Matt Biedel is William "Bill" T. Wilson
William "Bill" T. Wilson is a fitness instructor and influencer, as well as a loving husband to Tamerlane. Bill is willing to do anything to make his wife happy, even if that means going against his own wants and desires. Bill is played by Matt Biedel, who you probably recognize from Midnight Mass and The Midnight Club. Biedel has also appeared in Narcos: Mexico and The Umbrella Academy.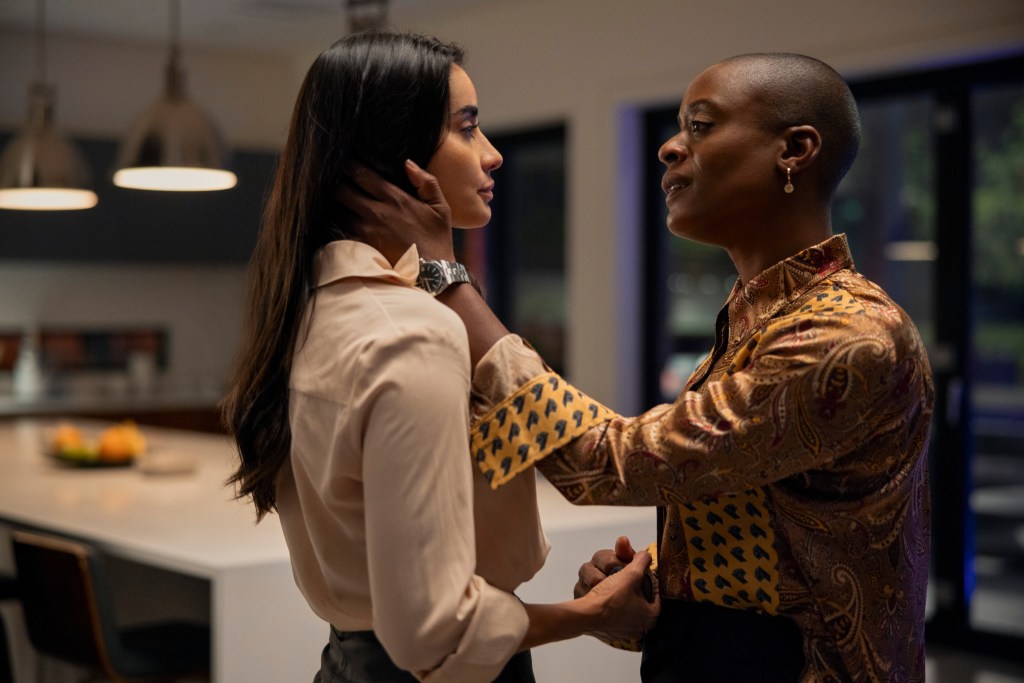 Paola Nuñez is Dr. Alessandra Ruiz
Paola Nuñez plays Dr. Alessandra Ruiz, Victorine's girlfriend and business partner. Alessandra does her best to support Vic as the pressures of their project succeeding start to get the best of her, but starts to pull away as Vic begins to cross more and more ethical boundaries. This isn't Nuñez first horror series, and you may recognize her from Netflix's Resident Evil TV series as well as The Purge TV spinoff.
Katie Parker is Annabel Lee
Annabel Lee is Roderick's first wife and the only woman he's truly loved. She always saw the best in Roderick, even when he refused to see it in himself. Annabel has a kind heart and strong conscience. The mother of Frederick and Tamerlane is brought to life by Katie Parker, who has also appeared in the Mike Flanagan projects Absentia, Oculus, The Haunting of Hill House, Doctor Sleep, The Haunting of Bly Manor, and The Midnight Club.
Igby Rigney is Toby
Igby Rigney plays Toby, one of Camille's assistants. Working with Camille requires a certain dedication to the job that many would (rightfully) say no to. This is Igby's third Flanagan project, having previously appeared in Midnight Mass and The Midnight Club. You may also recognize him from The Sex Lives of College Girls.
Aya Furukawa is Tina
Aya Furukawa plays Tina, Camille's other assistant. Toby and Tina are Camille's most trusted allies, for whatever that's worth to her. Furukawa previously appeared in The Midnight Club, Brand New Cherry Flavor, and The Baby-Sitters Club.
Michael Trucco is Rufus Griswold
Michael Trucco plays Rufus Griswold, the arrogant CEO of Fortunato that young Roderick works for. He's the last CEO in power before young Roderick and Madeline take over the company. Trucco has appeared in other Flanagan projects like Hush, Midnight Mass, and The Midnight Club. You may also recognize him from the TV shows Fairly Legal, Fire Country, and Battlestar Galactica.
Annabeth Gish is Eliza Usher
Annabeth Gish plays Eliza Usher, the mother of Roderick and Madeline. Eliza was once the secretary for Fortunato founder and CEO William Longfellow before she fell deathly ill. You'll likely recognize Gish from her roles in The Haunting of Hill House, Midnight Mass, Mayfair Witches, Succession, and Halt and Catch Fire.
Robert Longstreet is William Longfellow
Robert Longstreet plays William Longfellow, the wealthy founder of Fortunato pharmaceuticals. Longfellow is Madeline and Roderick's biological father, even though he denies their existence and access to his fortune. Longstreet has also appeared in The Haunting of Hill House, Doctor Sleep, and Midnight Mass.
All eight episodes of The Fall of the House of Usher are available to stream on Netflix now.