Features
The Boys Season 3: What to Expect
In light of the dramatic events of The Boys Season 2 finale, what can we look forward to in Season 3? We have a few guesses.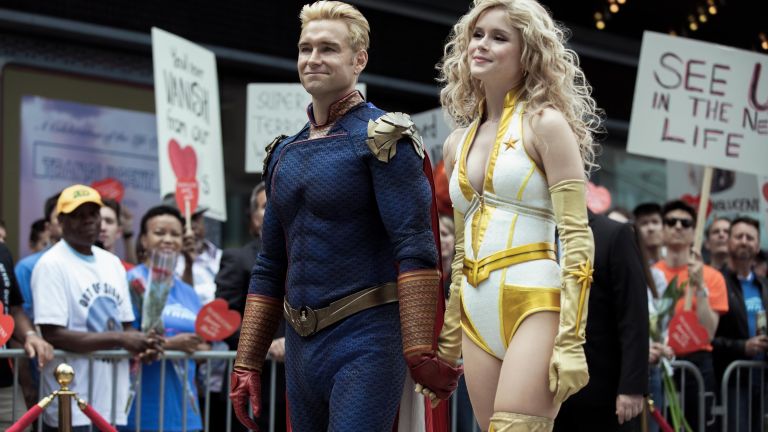 The following contains spoilers for The Boys season 2.
Amazon's dark superhero series The Boys was renewed for a third season before its second even started streaming, so even though season 2 wrapped up a great deal of story – the secret of Stormfront's identity, Becca's attempt to save her son from Homelander, and Starlight's undercover effort to bring down Vought – we all knew this wasn't the end of things. But where this bonkers show goes from here is anyone's guess – though fans know better than most that literally anything is possible.
Though the next season of The Boys is unlikely to arrive on our screens anytime soon – the realities of production in the middle of a global pandemic being what they are – we can still make a few educated guesses about what it might contain.
The Boys Get Back Together
The Boys season 2 ends with most of The Boys going their separate ways for what appears to be the foreseeable future. Hughie joins Congresswoman Victoria Neuman's office, determined to bring Vought down by legitimate means rather than vigilante methods. Mother's Milk finally gets back to his family. Frenchie and Kimiko head off an adventure of their own – one which definitely involves dancing. And Butcher will probably still be struggling to process his feelings about Becca's death for a while.
But, then again, The Boys probably won't be apart for long. The title of this show is The Boys, after all, so it seems pretty unlikely that our ragtag group of misfits will stay apart from one another for more than an episode or so. Whether that means Butcher will decide to take Malory up on her off to provide off-the-books funding to a group meant to keep an eye on the threat posed by supes, or if Hughie will get the band back together when he realizes that Congresswoman Neumann has the hidden ability to make people's heads explode, we'll have to wait and see.
A New Member of The Seven – Or Two – Arrives
As we head into season 3, there's an opening for at least one new member of superhero group The Seven. – and likely space for more than one.
Stormfront was originally brought aboard to replace the deceased Translucent, but after getting outed as a not-so-secret Nazi and badly injured by Homelander's son Ryan, she's out of the picture. And when last we saw Black Noir, he was essentially comatose after having been force-fed nuts by Maeve during her rescue of Starlight. And though A-Train has been accepted back into The Seven, The Deep has not, meaning that the group is currently down one or two heroes. Who might we see arrive to replace them?
There are more than a few supes from the original Garth Ennis and Darick Robertson comic book series that have yet to appear in the television adaptation, including former Seven members Jack from Jupiter and Mister Marathon. And, though a teen-focused The Boys spin-off has already been greenlit, that doesn't mean that we couldn't see another character join the fray from the Young Americans, the teenage superhero group of which Starlight used to be a member, such as Drummer Boy or Holy Mary.
Congresswoman Victoria Neuman's Plan is Revealed
In the final moments of The Boys season 2, we learn that Congresswoman Neuman is actually a supe herself, and capable of making people's heads explode. She's the "terrorist" who was behind the attack on D.C during the hearings about Vought and Compound V, and she killed the Church of the Collective leader Alastair Adana rather than owe him a favor for the Stormfront information his group provided.
But what does she actually want? Is her motivation merely to bring Vought down? To punish the Seven? Or actually, take the group over herself? Does she have some sort of deep-seated issues with superheroes because she secretly is one? Who knows? But, until someone – most likely Hughie now that he's gone to work with her – figures out her secret, she's going to pretty much be able to do whatever she wants, with all the power of the government behind her. (Thanks primarily to the fallout from the Stormfront situation, which has put Compound V on hold and made Vought look pretty weak in the process.)
Starlight and Hughie Deserve Some Happiness
Granted, this is as much wishful thinking as anything else, but after everything that Starlight and Hughie have been through – from lies to multiple near-death experiences – here's hoping that season 3 lets these two crazy kids be happy together for a little bit next season. Of course, happy, in this sense likely means uncomfortably awkward, given that Vought seems unlikely to let the opportunity of an All-American love story featuring their beloved sexual assault survivor heroine and a regular average dude pass them by. Hughie + Starlight 4EVA merch is almost certainly headed our way.
Plus, the idea of a super and a regular person together romantically lends itself to all sorts of interesting stories – particularly in this universe, which tends to see every relationship as a transaction, and every person as a marketing opportunity. (Just let them have some joy, show!)
Insert Your Soldier Boy Dance Jokes Here
Supernatural star Jensen Ackles is already slated to appear in season 3 as Soldier Boy, one of the original supes in The Boys universe. Whether he'll be around for a significant portion of the third season or appear in just a handful of episodes, a la Shawn Ashmore's Lamplighter in season 2, is unknown. But given Ackles' longtime relationship with The Boys showrunner Eric Kripke, it seems very unlikely that his Soldier Boy will only show up for an episode or two.
And, let's be honest, with all the turmoil facing both The Seven and Vought itself, the idea that a classic hero like Soldier Boy might somehow come out of retirement as a PR move feels very much like something this show would do.
What's Next for Butcher and Ryan?
So much of Billy Butcher's arc in The Boys' first two seasons was centered on Becca – figuring out what happened to her and then, upon discovering she was still alive, finding out where she had gone. But with his wife dead and her superpowered son Ryan handed off into what is essentially CIA custody, Butcher is now a character very much in search of a new arc.
Might that arc someday include the son of the woman he loved so much? That's anyone's guess, even if it does seem a bit like a waste to include the series' first natural-born superhero and then shunt him off to a government black ops site almost immediately. Wouldn't Becca have wanted Butcher to have some sort of hands-on presence in Ryan's life, there as both a form of protection and a reminder of the fact that he doesn't have to turn out like his biological father if he doesn't want to do so.
Sure, Butcher isn't exactly the emotionally open type, but this relationship could perhaps help us see what sort of man he was before his wife was raped and his life fell apart. At any rate, here's hoping The Boys actually spends some time really exploring Butcher's character beyond his Homelander vendetta in season 3.
Karl Urban's performance has been nuanced enough to indicate that this is a man who is likely carrying more than his fair share of emotional scars. Let's find out what they are – and what really makes him tick. Oh, and more of the dog would be pretty great, too.