News
The Boys Season 3 Casts Supernatural's Jensen Ackles as Soldier Boy
Jensen Ackles is joining The Boys Season 3 where he'll play the original superhero with an all-American bent.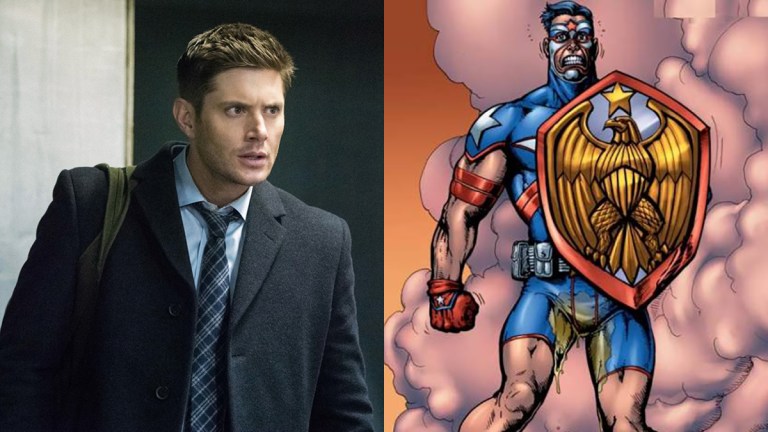 After 15 seasons of battling demons, gods, Leviathans, and a family legacy on Supernatural, Jensen Ackles will join the cast of The Boys Season 3, according to Variety. The Amazon Prime Video comic book series returns for season 2 on Sept. 4.
"I keep wondering what I'll do…. when @cw_supernatural finally ends this year," Ackles announced on Instagram. "Then it hit me." At which point in the video he's tossed a copy of The Boys by Garth Ennis and Darick Robertson, while Elvis Presley's version of the song "Soldier Boy" plays in the background.
Ackles will play Soldier Boy, the original superhero in The Boys' universe. When Soldier Boy came home from World War II in the comic books, he came back more than a hero; he was the first "super celebrity" and maintained a recognizable figure in American culture for decades.
"When I was a child, I had a crazy, impossible dream — to provide Jensen Ackles with gainful employment," The Boys showrunner Eric Kripke said in a statement. "I'm happy to say that dream has come true. Jensen is an amazing actor, an even better person, smells like warm chocolate chip cookies, and I consider him a brother. As Soldier Boy, the very first Superhero, he'll bring so much humor, pathos and danger to the role. I can't wait to be on set with him again, and bring a bit of Supernatural to The Boys."
Ackles will finish out his run as Dean Winchester on the CW's longest running drama. Before teaming up with Jared Padalecki, who co-starred as his brother for 15 seasons of Supernatural, Ackles had roles on Smallville, Dark Angel, and Dawson's Creek. He also starred in the 3D remake of My Bloody Valentine (2009) alongside Jaime King.
Ackles is not the only Supernatural cast member to join The Boys. Jeffrey Dean Morgan is also in talks for a part in season 3. The series will also add Shawn Ashmore (X-Men) as Lamplighter, the original member of The Seven who mysteriously vanished from the squad.
"Season Two finds The Boys on the run from the law, hunted by the Supes, and desperately trying to regroup and fight back against Vought," reads the official synopsis. "In hiding, Hughie (Jack Quaid), Mother's Milk (Laz Alonso), Frenchie (Tomer Capon), and Kimiko (Karen Fukuhara) try to adjust to a new normal, with Butcher (Karl Urban) nowhere to be found. Meanwhile, Starlight (Erin Moriarty) must navigate her place in The Seven as Homelander (Antony Starr) sets his sights on taking complete control. His power is threatened with the addition of Stormfront (Aya Cash), a social media-savvy new Supe, who has an agenda of her own. On top of that, the Supervillain threat takes center stage and makes waves as Vought seeks to capitalize on the nation's paranoia."
The Boys is based on the best-selling comics by Ennis and Robertson, which focuses on a group of superhero vigilantes who make it their mission to take down corrupt superheroes. The series was developed by Kripke, who writes for the series as well as serving as showrunner and executive producer along with Seth Rogen and Evan Goldberg.
The Boys will premiere the first three episodes of season 2 on Friday, Sept. 4. The five remaining episodes will be made available each Friday. The season finale will air on Oct. 9.