News
The Boys Season 3: Herogasm Will Be The TV Event of the Summer
The Boys season 3 now has an official release date and a plan to depict one of the comic's wildest arcs in Herogasm.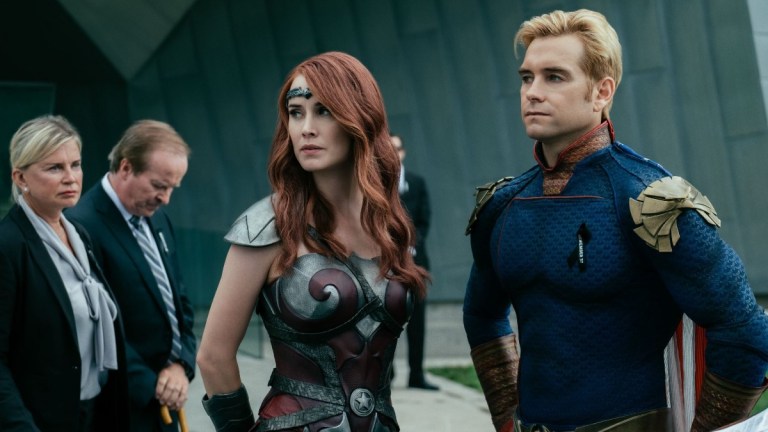 It's never a slow news day at the Vought News Network.
Today, Amazon Prime Video unleashed a Biblical torrent of tidbits surrounding the release of The Boys season 3, including a date for the season premiere, and for the long-awaited "Herogasm" installment of the series adapted from Garth Ennis's comics.
For starters, The Boys season 3 will premiere its first three episodes on Friday, June 3 (this writer's mother's birthday. Happy birthday, ma!). To celebrate the release date (and presumably my mom's birthday), Prime Video unveiled an intense little teaser featuring everyone's favorite superpowered psychopath, Homelander.
My God, just look at Homelander's face as every high-powered photo flash digs further into his soul. Not one episode has aired yet but don't let that stop you from starting the "An Emmy for Antony Starr" campaign in earnest now. In typical Prime Video fashion, new episodes of The Boys season 3 will follow weekly, culminating with the season finale on July 8. Before that finale, however, will be another big Boys event. Take a look at the full schedule below.
That's right: episode 6 on June 24 will finally bring one of The Boys' best known comic arcs to the screen with "Herogasm." For those unfamiliar with Herogasm, the title is far more literal than one might hope. Originally published as a spinoff of The Boys in 2009, Herogasm is set between the events of The Boys #30 and #31 and finds Billy Butcher's team infiltrating the Vought's annual "Herogasm" party, which is essentially a company-sponsored orgy.
While supposedly away fighting some sort of existential threat to Earth as cover, all of Vought's superhero are actually engaging in highly taboo sex acts. It's also revealed here that The Seven may have played an accidental role in 9/11. So, uh…best of luck to The Boys with that. Jensen Ackles's previously announced character Soldier Boy plays a big role in the Herogasm arc and several issues after in the comic. Episode 6 now seems like a logical spot for The Boys' Captain America parody to be introduced, but the creator of the Payback team could very well pop up before that.
Finally, Prime Video's The Boys season 3 announcement came along with another intriguing in-universe Easter egg. For those not keeping track, Prime has periodically released dispatches from the Vought-controlled world during the show's hiatus. These have mostly been music videos featuring Starlight and the like, but this latest release is the richest yet. 
The eight-minute video comes from Seven on 7 with Cameron Coleman, a punditry show on the Vought News Network. The clip is a compelling parody on right wing news network commentary to begin with but it also features a cameo from none other than our beloved Hughie Campbell (Jack Quaid).
As teased by the end of season 2, Hughie is now working for the Federal Bureau of Superhero Affairs (FBSA) alongside congresswoman Victoria Neuman. Despite Hughie's stats on superhero-related crime decreasing, his debut on cable television doesn't go too well. 
Also included in Seven on 7 are some other fascinating Vought-world details. It turns out that Vought sponsors a superhero "draft" in which super-powered hopefuls from Godolkin University are selected for lucrative contracts to defend American cities. Fingers crossed that Cleveland gets Golden Boy! The saga of Godolkin University college students will almost certainly be the subject of the first untitled Boys spinoff set at a superhero university. In fact, The Illuminerdi reported on casting breakdowns for the show in March of last year and a description for "Golden Boy" was among them. 
Following a cheery Buster Beaver ad, Seven on 7 also delves into some stories that might pop up on The Boys season 3. These include former Payback member Crimson Countess (Laurie Holden) launching a new sanctuary for chimpanzees, an open tryout for the two open slots on The Seven in the form of a reality show hosted by Starlight, and Homelander's ongoing apology tour for dating a Nazi. 
It will be a long wait for both The Boys season 3 and Herogasm. But now that VNN superstar Cameron Coleman has a full-hour show, maybe we'll get some more exciting news soon.