News
The Boys Season 3: Homelander to Become 'Homicidal Maniac'
You thought Homelander was already off the chain? You ain't seen nothing yet, as The Boys Season 3 will push the egotistical supe even further over the edge.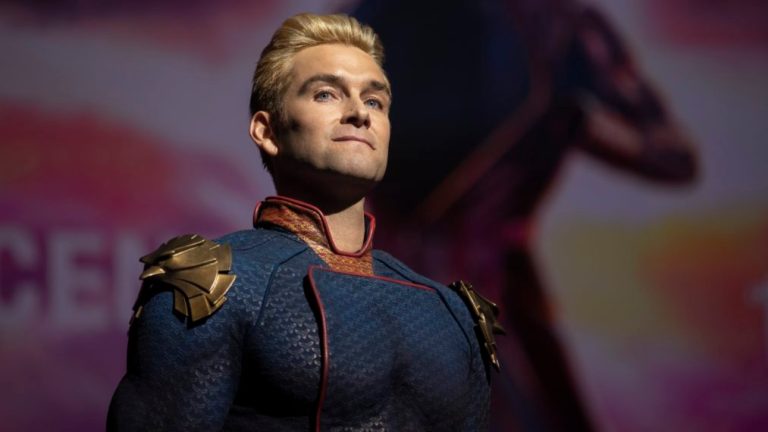 This article contains spoilers for The Boys Season 2 finale
When we last saw Homelander, he wasn't in a good place. At the end of The Boys Season 2, we parted ways with him angrily wanking over the city after his Nazi girlfriend Stormfront got her limbs lasered off by his own son. Little Ryan then chose to embrace the thorn in his side, Billy Butcher, over him. As the narcissistic leader of The Seven loudly repeated the phrase "I can do whatever I want!" we witnessed a deadly prologue for Season 3, according to Homelander actor Antony Starr.
"There are two words that Eric has said to me about Season 3," Starr told Collider. "His description for Homelander Season 3 was, 'Two words, homicidal maniac.' That's all I know."
Season 2 dropped quite a few breadcrumbs for the possibility of Homelander finally snapping and giving up even the occasional pretence of being a force for good in front of the cameras.
"I'm actually looking forward to seeing Homelander off the leash. It'll be really fun, just seeing him go unhinged and exact revenge," Starr said, noting that certain characters have larger targets on their backs. "If you look at the end of Season 2, some people should be more scared than others, for sure. William Butcher should always have an alarm bell ringing in his head, and I think some other people have firmly put themselves in the line of fire for Season 3. It should be a lot of fun."
As Homelander still seems to be damn near invincible compared to the other supes, will anyone be able to stop him from exacting his revenge? Does Homelander have many exploitable weaknesses? The Boys' showrunner, Eric Kripke, says it's a question they often revisit when they're working on a new season of the comic book adaptation.
"That's been an ongoing discussion in the writers room," Kripke noted. "At the moment there aren't many physical [weaknesses], but there's so many psychological ones that that's what we kind of lean to. Antony has said many times, and I agree, that Homelander is the weakest character in the show. So we've never really gotten into the 'How do you stop him physically?' But there are a lot of ways to stop him psychologically."
"He finds his human vulnerability so hateful and he hates that part of him and he tries to subsume it, and yet it is part of who he is," he added. "And so he hates a part of him that he can't ultimately control, and so that kind of leads to a snake's nest of psychoses. At the moment, that is his current weakness."
Homelander may well have a lingering relationship with the now-crispy Stormfront in Season 3, though actress Aya Cash has previously revealed that she only signed up to play the disruptive fascist for one season. But whether she makes an appearance on screen or not, Stormfront is very much alive after the events of the Season 2 finale.
"Yeah, she's not dead," Kripke confirmed. "What was important for us is, we felt a fate worse than death for that stumpy little Nazi was for someone who's so believed in some kind of Aryan master race to become mutilated for potentially decades or centuries. I mean, she ages very slow. So being trapped in that state felt like the right punishment for her. We call her Stumpfront now, and she richly deserves it."
The Boys stars Jack Quaid as Hughie, Laz Alonso as Mother's Milk, Tomer Capon as Frenchie, Karen Fukuhara as Kimiko, Karl Urban as Butcher, Erin Moriarty as Starlight, Antony Starr as Homelander, Dominique McElligott as Queen Maeve, Jessie T. Usher as A-Train, Chace Crawford as The Deep, Nathan Mitchell as Black Noir and Giancarlo Esposito as Stan Edgar.
Amazon has already renewed the series for a third season, and has greenlit a spinoff show, too.