News
When Will New Episodes of The Boys Season 3 Be Released?
Make sure you don't miss new episodes of The Boys Season 3 as Amazon Prime Video shifts to a weekly release date for its smash hit superhero series!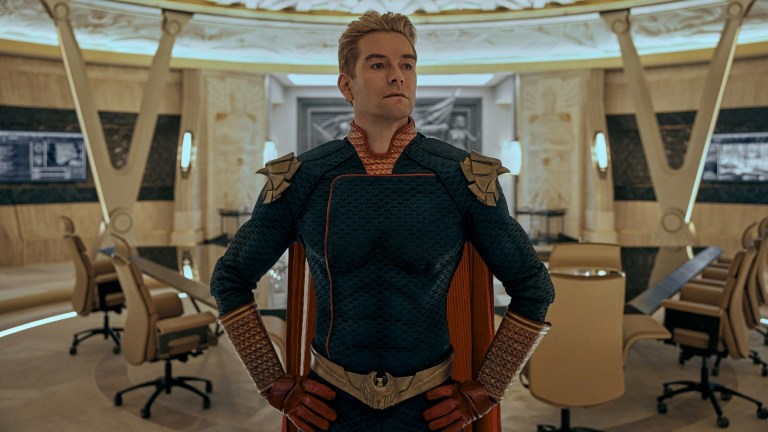 This article contains The Boys Season 3 spoilers
The Boys are back, but gone are the days when we would be able to binge a whole season of the show in one sitting! Amazon Prime Video is sticking to the same release format it used in Season 2 of its most irreverent series for the brand-new Season 3, and that means that from now on we will have to feast on each episode weekly.
Prime Video released the first three episodes of The Boys Season 3 on June 3, and there was certainly a lot to unpack. The first episode alone delivered sights never before seen on TV, including the "natural" evolution of Avengers: Endgame's iconic Ant-Man meme, and a Charlize Theron cameo that happened to be a complete coincidence after her recent MCU debut. Then, there was a broken arm heard around the world, Butcher on a violent mission fuelled by a temporary dose of Compound V, a big reveal for Black Noir, and a tragic, stomach-turning fate for The Deep's beloved friend Timothy the squid. And that's before we even address what the increasingly homicidal Homelander's been up to!
If you're ravenous for more of Season 3, we've got the details you'll need to keep up to date with the show so you don't miss an episode. The fourth installment will arrive on Friday, June 10, and should be available to stream on Prime Video first thing in the morning. If you're in the UK, that will usually mean around 8am. If you're in the US, that will be 3am ET – only the most dedicated fans of The Boys will be watching at that time!
We have a full Season 3 release schedule for you below, including the episode titles. You'll note that on June 24 The Boys will be releasing its highly anticipated episode 6, "Herogasm". If you're unfamiliar with the concept of Herogasm from the comics that the show is based on, it's an annual retreat (see: orgy) where all of Vought's superheroes meet in a remote location to do …basically whatever perverted thing they can dream up.
Season 3 Episode 4: June 10 – "Glorious Five Year Plan"
Season 3 Episode 5: June 17 – "The Last Time to Look on This World of Lies"
Season 3 Episode 6: June 24 – "Herogasm"
Season 3 Episode 7: July 1 – "Here Comes a Candle to Light You to Be"
Season 3 Episode 8: July 8 – "The Instant White-Hot Wild"
New Season 3 cast member Jensen Ackles (Soldier Boy) recently acknowledged that many fans are excited to see Herogasm, but said that when filming some of the scenes "our crew looked traumatized. You can't unsee it. That toothpaste will not go back in the tube". Meanwhile, Homelander actor Antony Starr plans to "fast-forward" through the upcoming episode's sexual depravity.
The Boys stars Karl Urban, Jack Quaid, Laz Alonso, Tomer Capone, Karen Fukuhara, Antony Starr, Erin Moriarty, Dominique McElligott, Chace Crawford, Jessie T. Usher, and Nathan Mitchell. Prime Video has yet to confirm if there will be a Season 4 of the series, but a spinoff show, set at a superhero college run by Vought International, is currently in the works.