Features
The Boys Season 3: Dawn of the 7 and Marvel Cameo Explained
The Boys season 3 begins with the long-awaited blockbuster hit of the summer. Release the Bourke Cut!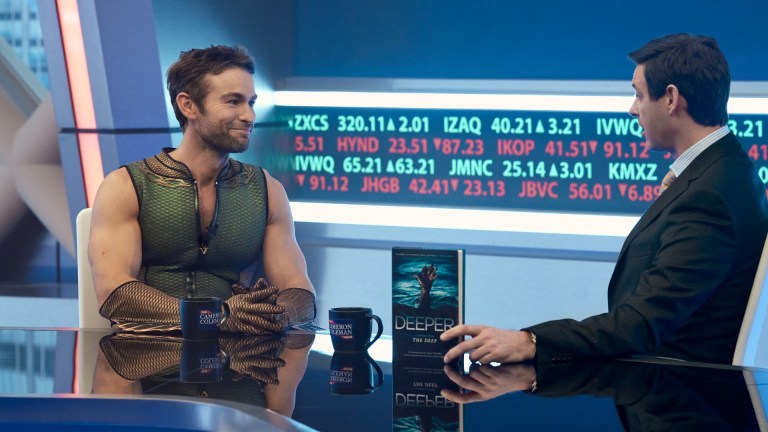 This article contains spoilers for The Boys season 3 episode 1 and Doctor Stranger in the Multiverse of Madness.
The Boys season 3 opens in a place where the show hasn't dared tread before: the cinema. After filming a whole superhero movie in season 2, The Boys now entreats viewers to the fruits of Vought International and director Adam Bourke's (P.J. Byrne's) labor in the first five minutes of season 3. And what a five minutes they are!
Dawn of the 7 is an Avengers or Justice League-style superhero teamup film starring the superpowered members of Vought's premier team. In a bit of brilliant corporate synergy, the film apparently underwent some expensive reshoots to incorporate the events of Homelander's (Antony Starr) life in season 2, namely his unfortunate romance with secret Nazi supe Stormfront (Aya Cash).
These reshoots allow The Boys to make some jokes at both the DCEU and Star Wars' expense. The fictional film was apparently part of a Snyder Cut-like movement to "release the Bourke Cut," a gag that Zack Snyder himself appears to have appreciated. Later on when Bourke is engaging in some aggressive coitus with Vought PR director Ashley Barrett (Colby Minifie) she taunts him for being a shitty director who had to have Tony Gilroy reshoot all of his shit, referring to the extensive reshoots Gilroy performed on Rogue One: A Star Wars Story.
According to The Boys' showrunner Eric Kripke, Dawn of the 7 is not only a fun Easter egg for fans, filled with shout outs to our own superhero movie-saturated movie landscape, but it serves an important purpose to the plot as a recap of season 2.
"Dawn of the 7 is a very sneaky way to reset all of the story actually," Kripke says. "It's like you see how Vought is rewriting the Stormfront story but it reminds everyone 'oh yeah Homelander and her did a thing.' And then it becomes this red carpet where everyone is being interviewed but if you listen to what they're being interviewed about it's all the exposition we need to know and the relationship conflicts we need to know."
Vought's rewriting of the "official" story is indeed quite thorough. In the real world events of The Boys season 2, Homelander was unbothered by Stormfront's ideology and had every intention of living out his days with the powerful woman who properly appreciated his god-like status. Ultimately it was up to Starlight (Erin Moriarty), Queen Maeve (Dominique McElligott), and Kimiko (Karen Fukurhara) to take down the "Nazi bitch" with an assist from Homelander's son, Ryan. In the film, however, Homelander (played by…Homelander) is all too happy to do the right thing, confronting Stormfront with all of his Seven "friends" at his side, including Black Noir and A-Train (Jessie T. Usher).
The film exists in a sort of uncanny acting valley where the real life professional actors of The Boys have to pretend to be their heroic characters who have received extensive media training but very few acting lessons.
"It's also very fun as an actor when you're given license to be hyper theatrical," Moriarty says. "Obviously we're not actors but we're celebrities so we're acting in a movie. It kind of gives you the opportunity to kind of do bad acting. I like to lean into the cheesiness of it."
Though all of Vought's superheroes play themselves in the film, Stormfront is played by none other than Charlize Theron! The Oscar-award winning South African actress has had a big year of cameos, first headlining the post-credits scene of Marvel's Doctor Strange in the Multiverse of Madness as Clea and now operating as The Boys season 3's first big surprise.
Per Theron's Dawn of the 7 "co-star" Antony Starr, the actress shot her portion of the scene in California while The Boys' production in Toronto utilized a body double. He's also grateful that the superhero amateurs had a professional involved to show them how this acting thing is done.
"I don't think Charlize Theron could be bad even when she tries to be bad. Bad luck, Charlize. She was still good."
The first three episodes of The Boys season 3 are available to stream on Prime Video now. New episodes premiere every Friday through July 8.