News
The Boys Season 2: Shawn Ashmore Revealed as The Lamplighter
Shawn Ashmore is joining the cast of The Boys season 2 as The Lamplighter, a "retired" member of The Seven.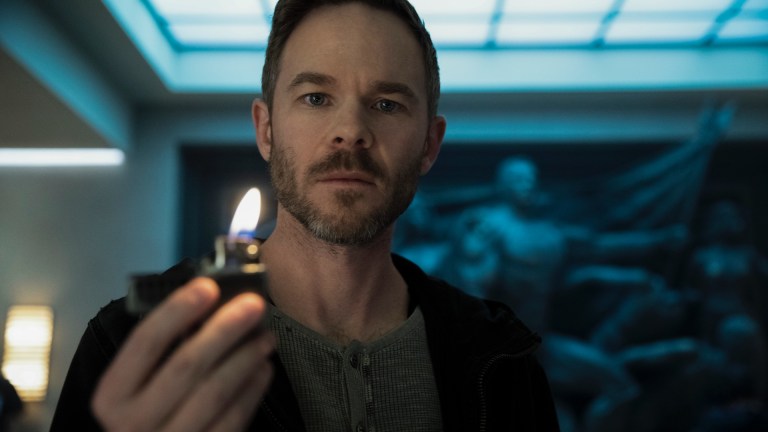 And just like that, Shawn Ashmore has completed his superhero acting journey from ice to fire.
The X-Men actor (who portrayed ice-wielding mutant Bobby Drake in X2) will be joining The Boys season 2 as fire-based superhero The Lamplighter. The announcement was accompanied by a first-look photo. We'll be darned if Ashmore doesn't look just like his X2 counterpart John Allerdyce a.k.a. Pyro. 
"We were thrilled that Shawn — who is, let's be honest, an OG superhero — wanted to play the crucial part of Lamplighter. He brings so much depth, menace, and world weary humanity to this former member of the Seven. And Shawn is a really good guy. We're grateful to have him join our bloody little family," said The Boys showrunner and executive producer Eric Kripke.
Though Ashmore is new to the cast of The Boys, the character of The Lamplighter has been a part of the show's universe since the very beginning. Lamplighter was originally a member of Vought's premiere superhero team The Seven, but had retired just prior to the first episode. This allowed Annie January a.k.a. Starlight to join the team. In reality, Lamplighter likely didn't retire but was forced off the team due to killing CIA agent Grace Mallory's (Laila Robins) grandchildren. 
Lamplighter plays a small but significant role in Garth Ennis and Darick Robertson's Boys comic series as well. He possesses a staff that grants him the power of pyrokinesis, or mastery over fire. Just as is the case in the TV series, the comic Lamplighter kills Mallory's grandchildren and is forced out of The Seven, lest there be a full-scale war between Vought and the CIA.
Lamplighter eventually returns to action in the comic and it leads to some rather…grim circumstances. The show is likely to address these as Amazon's character description of Lamplighter notes " He ties in directly to the Boys' tragic history — he's actually the reason they broke up 8 years ago. So when he enters their lives again, he dredges up painful memories, pokes at their raw nerves, and changes everything."
The Boys season 2 is set to premiere its first three episodes on September 4 on Amazon Prime. The remaining five episodes of the season will debut weekly after that. A new addition for this season is an after show called Prime Rewind: Inside the Boys to be hosted by Aisha Tyer. The first episode of that arrives on August 28 and will serve to catch viewers up on season 1. The Boys season 3 has also already been confirmed.