Reviews
The Blacklist Season 10 Episode 6 Review – Dr. Laken Perillos: Conclusion
Red's mole makes a fateful decision as The Blacklist's final season begins to sharply raise the stakes.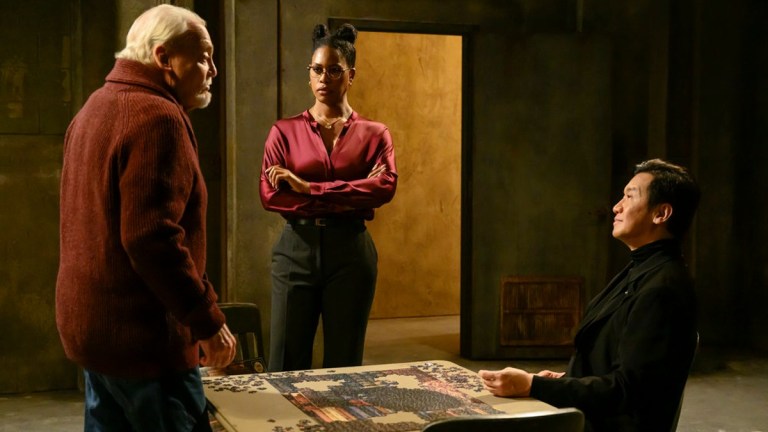 This The Blacklist review contains spoilers.
The Blacklist Season 10 Episode 6
The first time Dr. Laken Perillos (Laverne Cox) attempted to break Dembe Zuma's (Hisham Tawfiq) body and spirit on The Blacklist season 8 episode 10, her opportunity was cut short when Dembe busted out the arm of the chair that he was strapped to and escaped. Raymond Reddington (James Spader) gave himself up in exchange for Dembe's freedom just before Dembe managed to flee Dr. Laken Perillos, her Heretic's Fork and toxic jellyfish juice. Dr. Perillos took a turn torturing Red as well but was interrupted and strapped to the table herself when Dembe found the new location and rescued Red. Dembe and Red made a big mistake by letting Dr. Perillos be taken into custody by the FBI because Dr. Laken Perillos lives and hasn't forgotten the only two men she couldn't break.
When we meet Dr. Perillos again in season 10, she is behind bars helping people, specifically an inmate who is suffering from stage 4 cancer. She advocates to the warden for telehealth portals so that the women in prison can receive adequate healthcare services, and the Warden reports that a nonprofit came through with the funding and the portals are at the prison's loading dock, ready to be unboxed and put to good use. Prison redeems Dr. Perillos. Her medical training and unique skill set are being used in service to others, and the terminally ill prisoner goes as far as naming Dr. Perillos as her very own "angel."
Red's season 10 foe, Wujing (Chin Han), has other plans for the teleportals and Dr. Perillos though. With Robert Vesco's (Stacy Keach) help, Wujing arranges for the delivery of the medical devices and uses the opportunity to kill everyone on the loading dock, except Dr. Perillos whose skills he requires in his quest to end Raymond Reddington and the FBI Task Force. As a result, Dr. Perillos is ripped from her "heaven" and thrown back into the particular hell that she creates for others.
Now that Wujing has Vesco and Perillos on his team, his next task is to capture Dembe and subject him to torture in order to learn more about the Task Force members and their location. An old colleague and friend reaches out to Dembe, and it ends up being a trap, escalated by Wujing threatening to kill the daughter of Dembe's old friend. But this child is not the only innocent whose life is in jeopardy in this episode. As Dembe takes Wujing's men on a violent chase, he ends up in the home of a mother and her son. When Wujing's goons point the gun at the boy's head to get Dembe to surrender, Dembe then points his own gun…at himself. He threatens to take his own life if they hurt the child, and Dembe's goodness saves the family from further harm.
Dembe lost a lot of blood from a gunshot wound to his leg during the chase, and his suffering is not over. Once he is strapped back into Dr. Perillos' torture chair, she begins using her nerve-zapping potion and psychological trappings to try and force Dembe to talk about his friends. She uses his love for Red and his collusion with violent white people and institutions to try to turn him. But Dembe stays silent, barely uttering a sound when the pain she injects into his body becomes intense.
Dr. Perillos grows frustrated by Dembe's restraint and reveals the terrifying truth that fuels her sadism. Her medical degree and quest to find a cure for pain through studying her torture subjects came to fruition because her mother was misdiagnosed, belittled and not given adequate treatment due to the racism inherent in the medical system. A year and a half after Dr. Perillos was incarcerated, her mother died and was bereft of her daughter's care and company in her final days. This revelation is terrifying in that it shows that Dr. Perillos wants revenge, not just for getting caught and thrown behind bars, but because she was prevented from being there for her beloved mom. As a result, Dembe flatlines.
All hope is not totally lost. Vesco pauses for a coughing fit before getting in Wujing's car enroute to recruit another Blacklister–season 3's Troll Farmer, Bo Chang. The unhealthy decoy provides Vesco the opportunity to dial Red's number and leave his cell phone in the grass. Agents Malik (Anya Banerjee) and Ressler (Diego Klattenhoff) are able to track the signal, find Dembe and take him to one of Red's feed stores (a.k.a a secret mobile medical unit) where he is revived.
Vesco's actions don't go unpunished, however. Wujing's men find the phone and Wujing learns that Vesco is Red's mole. It goes bad for Vesco from there. Yet, he's not the only one on Wujing's kill-quick list. Dr. Laken Perillos is no longer needed and she is also marked for permanent disposal. This is the only serious quirk in this otherwise sturdy episode—Wujing went to great effort, expense and the loss of several of his men, in his assistance to Dr. Perillos' escape from prison. Perhaps he didn't like her emotional tactics or that she nearly killed her subject before he gave even a drop of information. But ending her life and flushing his investment doesn't seem smart.
Nevertheless, Red's tenderness when he kisses Vesco's cold forehead transforms quickly into determination and focus. Wujing killed one of two remaining friends in Red's life…and Red looks ready for a rampage.
The first nine seasons of The Blacklist are available to stream on Netflix now. New episodes air on Sundays, 10 ET/PT, on NBC.