Reviews
Teen Wolf: The Movie Review — Is There Any Bite Left?
Will Teen Wolf: The Movie satisfy the MTV series' rabid fans? Find out in our spoiler-free review...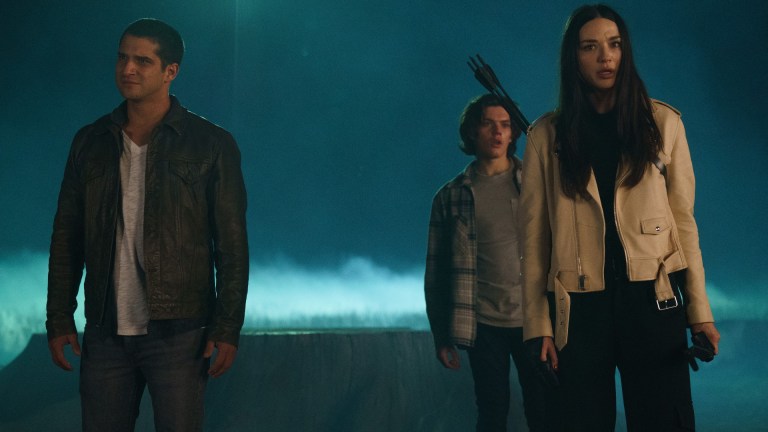 This Teen Wolf: The Movie review contains no spoilers.
Riddle me this: Is a Teen Wolf still a Teen Wolf when he becomes a full-grown "Man Wolf"?
That's essentially the premise of Teen Wolf's comeback movie which brings Tyler Posey's Scott McCall back on our screens for the first time since 2017.
Now in his mid-thirties, our not-so-Teen Wolf is still the Alpha, but Beacon Hills is no longer the place it once was. Fifteen years or so have passed since everyone last walked off together dramatically on the long-running MTV series. Jumping ahead to 2026, Scott's pack has now been scattered by the years and circumstance — as well as real-life issues offscreen too.
That's right. A lot of your faves are back, including some faces you might not be expecting, but there are a couple of key players missing, and the film does suffer a bit for it. As diehard fans will already know, Dylan O'Brien (Stiles Stilinski) and Arden Cho (Kira Yukimura) haven't returned because of scheduling conflicts and unequal pay issues, respectively. That doesn't mean the movie ignores them entirely though.
Dylan's legacy in particular comes up throughout, as it should, and that's not all either. At around two hours and twenty minutes, Teen Wolf: The Movie does its utmost to cram everything in it possibly can. Like pointy canines tearing out of your gums, this film is practically bursting at the seams with content. And honestly? It's a bit much at times.
Creator Jeff Davis is clearly aware of how important Teen Wolf is to the fans, but in his attempt to address every possible aspect of the show, things get a bit messy — and not just in a blood-and-guts sense either.
Every knowing wink and nod to the past reads like a love letter to the fans, and that's needed, of course. Teen Wolf: The Movie wouldn't exist without that diehard fanbase. And towards the end especially, some of these Easter eggs pay off in a big way with hard-hitting emotional returns. Unfortunately, there's a lot of plot to get through before that, and some of these callbacks to the show's greatest hits stall the film more than necessary.
Not only does Teen Wolf: The Movie have to establish where everyone is now and bring them all back together, Jeff's script also has to set up the Big Bad and brand new characters while still finding space for fan-fave ships and a high-stakes finale.
Ahead of release, Davis told Collider that this was "a colossal undertaking," explaining that the original cut was three hours long. "By the end of writing the movie, I kind of realized, 'Oh my god. This is basically season seven all in one movie.'"
But even with how rushed everything is, there are still some standout moments.
Everyone's favorite Kanima and banshee, Colton Haynes (Jackson Whittemore) and Holland Roden (Lydia Martin), know exactly what kind of film this is. Together, they revel in Teen Wolf's silliness, fully committing themselves to the fun absurdity of every situation their characters find themselves in.
Returning cast-mate Tyler Hoechlin also impresses, bringing a Superman-like gravitas to Derek Hale's return onscreen (which is no coincidence given his fan-favorite role as Krypton's last son in Superman & Lois). The arrival of Derek's son, Eli (Vince Mattis), also helps balance out the much-needed "Teen" quota, complete with a touching father-son relationship that helps ground the film's wilder moments. Expect to see a lot more from Vince in this franchise moving forward.
That's assuming, of course, that Vince and everyone else in this humongous cast lives to see another full moon. We won't spoil each character's survival chances here, but there's a big, life-threatening reason why the pack reunites properly now after so long, and his name is Nogitsune AKA that creepy void guy with the riddles.
Season three's Big Bad has never been more unnerving than he is here. The makeup is genuinely disturbing at points, and Aaron Hendry's approach to this role lands on just the right side between camp and menacing. Nogitsune's return also helps bring back a few faces you might be surprised to see, smartly tying in past characters who by all accounts should not be able to return.
And then there's Allison. Crystal Reed's character once played a key role in this show before her untimely death in season three's finale, and since her return was announced, fans have been clamoring to find out more.
We're not going to spoil the "how's" and "why's" of it all here, except to say that Allison Argent's return and how it all plays out will likely prove divisive. But however you might feel about it, there is something to be said for how Crystal's arc ties everything together, connecting Teen Wolf: The Movie back to its early roots on MTV.
As you might have guessed by now, this isn't a film for cubs new to the Teen Wolf franchise. But if you're a longtime fan, then you should be able to forgive the cheesy music and special effects long enough to still enjoy this earnest, often heartfelt reunion, which sends "Man-Wolf's" story in a whole new direction…
Teen Wolf: The Movie will premiere Thursday, Jan. 26 on Paramount+ in the U.S. and Friday, Jan. 27 on Paramount+ in the U.K.