News
Ted Lasso Gets Some Coaching Tips from José Mourinho In New Clip
To celebrate the premiere of Ted Lasso, Apple hosted a conversation between two coaching titans that aired during the Champions League Final.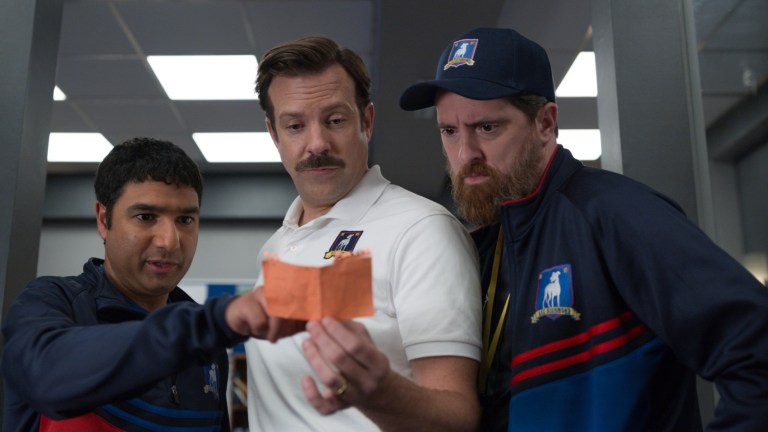 And just like that, Jason Sudeikis's coaching comedy Ted Lasso has completed the entertainment lifecycle from commercial to TV series back to commercial.
Sports streaming service DAZN and Apple have partnered to produce a short clip in which AFC Richmond football (or soccer, if you prefer) coach Ted Lasso of Apple TV+'s Ted Lasso and real life Tottenham Hotspur gaffer José Mourinho share a conversation about the beautiful game. The spot aired during the real life UEFA Champions League final between Bayern Munich and Paris Saint-German (better luck next year PSG!). You can watch the conversation below.
Ted Lasso understandably needs some advice about how to coach football given that he's only ever coached American football before. And he couldn't have picked a better teacher than Mourinho. Known as "The Special One," José Mourinho is one of the most decorated coaches in soccer history. Currently the manager of top flight English Premier League club Tottenham Hotspur, Mourinho has also coached at high profile clubs such as Chelsea, Manchester United, Real Madrid, and Inter Milan. He is helpfully able to describe the styles of each European soccer league like so:
"British football is about pace and power. Italy is defense-focused. Whereas in Spain they prefer the ticky-tack. Finally, you must learn how to handle the English press."
The clip presents an interesting conundrum in the Ted Lasso continuity, inasmuch as there is a Ted Lasso continuity. In the original commercials that Sudeikis created for NBC Sports, Ted Lasso was actually the coach of Tottenham Hotspur. Those spots aired in 2013 when Mourinho was at Chelsea. Now he's at Tottenham himself which might suggest that Ted didn't do so hot in the job.
Ted Lasso was created by Sudeikis and Bill Lawrence (Scrubs). The first three episodes of season 1 premiered on August 14 with a new episode arriving weekly every Friday. The club that Ted coaches in the show is the fictional AFC Richmond based out of Richmond, London.
"We fell in love with the area of Richmond as a place to shoot," Lawrence told Den of Geek. "That green you see in the town – all that is a beautiful suburban area. It's just a great neighborhood-y place. Right now, that area was known mostly as kind of a rugby town and didn't have their own football clubs. So we knew we could put one there without getting caught up in the, 'Oh, B.S. There's already a team there!'"
Last week Apple renewed Ted Lasso for season 2. A release date has yet to arrive for that but Ted's conversation with Mourinho serves as a fine example of what kind of coaching-related shenanigans are still on the horizon for the character and the show.