Features
Ewan McGregor Takes the Long Way Up for Apple TV+
With Disney+'s Obi-Wan series delayed, Ewan McGregor makes his streaming TV debut alongside Charley Boorman for a motorcycle trip through South America.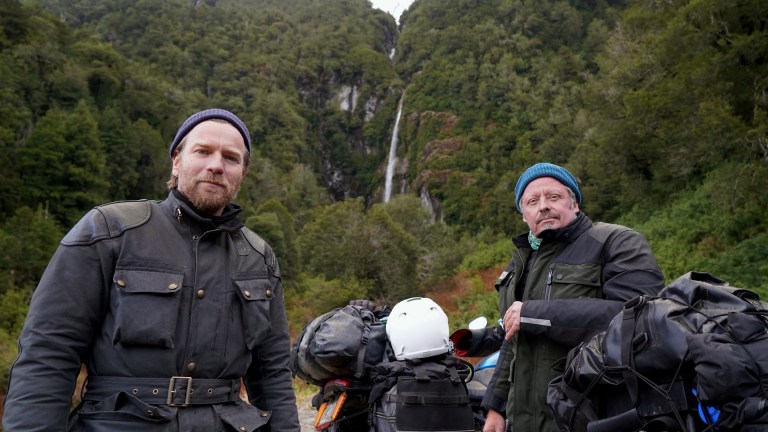 Wherever Star Wars actor Ewan McGregor goes, a certain bearded Jedi follows. In 2019, when McGregor and his travel writer friend Charley Boorman arrived in a small South American town (McGregor thinks it was in Peru) amid a long motorcycle journey, so too did a legion of fans excited to meet Obi-Wan Kenobi.
"We were in a small town and there are these long winding steps all the way up to this famous lighthouse," McGregor says. "We were going up and someone asked for an autograph. I was happy to do that. Then the same thing happened on another flight of stairs up. Then a bunch of people were arriving going, 'Oh, we didn't know where you'd be.' Turns out (our location) was on a Star Wars social media platform or site. They were always very friendly though. It was never a chore."
For now, Star Wars is in the rearview. With production on Disney+'s untitled Obi-Wan Kenobi series starring McGregor on hold for script rewrites, McGregor is ushering in another project he's passionate about: Long Way Up for Apple TV+. Long Way Up is the third installment in an accidental trilogy that McGregor and Boorman have been living out for the past decade and a half.
Beginning with 2004's Long Way Round for Sky One, McGregor and Boorman have parlayed their love of motorcycle road trips into compelling travel documentaries. Long Way Round documented the pair's attempt to travel from London to New York City on motorbikes via Europe and Asia (and an eventual plane trip to Alaska). In 2007's Long Way Down, McGregor and Boorman traveled from McGregor's native Scotland down to Cape Town in South Africa.
Now Long Way Up finds the pair navigating from the southern tip of Argentina in South America all the way up to Los Angeles. The 11-episode series marks the duo's first trip entirely in the New World, their first venture on a streaming platform, and their first journey together in quite a long time to boot. The documentary serves as a vehicle for two gearhead friends to reconnect following Boorman's devastating motorcycle accident in 2016. 
"When Charley had his accident and I found out that he'd been very badly hurt, it was like a jolt to put effort into this friendship, to not to let it drift like this," McGregor says. "Because there's something very special that Charley and I share. We're best friends but we've also been through these really extraordinary experiences together. Since then, it's just been like nothing changed. It's like being back to where we started off from."
"We were sort of starting to get itchy feet to do another trip," Boorman adds. I think once you've done a couple, it's kind of in your blood."
Another significant area in which Long Way Up differs from its two predecessors is that McGregor and Boorman have attempted to make the trip and production as environmentally-friendly as possible. The pair enlisted Harley Davidson to create prototypes of two electric bikes (since dubbed LiveWires) that would have a better chance of surviving the harsh South American climates and mileage-intensive demands of the journey.
"The idea came when we were in my garden," Boormany says. "We were having a barbecue and Ewan was staying with me at the time. Russ (Malkin) and Dave (Alexanian), who are our business partners and the two producers, came along. We were talking about (the project) and then Russ floated the idea of, 'What about maybe doing it electric?' Ewan and I looked at each other. Ewan has a big thing for that. And it kind of went from there."
Though technologically-sophisticated, the prototypes often act like…well, prototypes making Long Way Up's early episode particularly harrowing for anyone who knows the mortal terror of their phone not charging properly.
"It was tough at the beginning," McGregor says. "It was freezing cold. Our range was being hindered by that because the batteries don't charge well at night if they're in sub-zero temperatures, which they were. So, we had a lot to learn. I think after episode three, by that point in the trip, we sort of got a handle on it and it becomes a bit more manageable thereafter."
McGregor and Boorman have the entire formula for the "Long Way" trilogy down pat at this point. Just like previous installments, Long Way Up provides the pair with an opportunity to explore new territories, meet new people, and even bring an important issue or two like conservation to the fold.
"But mainly, we're just two idiots on motorbikes," McGregor says.
Long Way Up premieres its first three episodes on Sept. 18 on Apple TV+