News
Ted Lasso Season 2 Confirmed
Apple TV+ has ordered a second season of the Jason Sudeikis-starring coaching comedy Ted Lasso.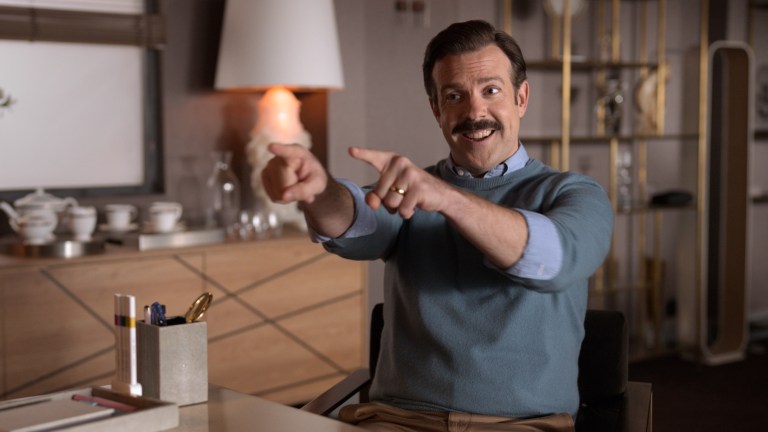 Looks like AFC Richmond gaffer Ted Lasso hasn't been sacked just yet, lads.
Apple announced today that it has renewed Ted Lasso for season 2. The comedy stars Jason Sudeikis as the titular American football coach who decides to try out becoming the other kind of football coach by picking up a job with (fictional) English Premier League soccer club AFC Richmond. 
Ted Lasso's first season premiered on August 14 with three episodes debuting on Apple TV+. The remainder of the season's 10 episodes are set to arrive every Friday, starting with episode four on August 21. Apple TV+'s description for the episode reads: "Rebecca (Hannah Waddingham) hosts the team's annual charity benefit, where Ted stages a reconciliation between Roy (Brett Goldstein) and Jamie (Phil Dunster)."
Ted Lasso is based on two commercials that Sudeikis produced and starred in for NBC Sports's coverage of the English Premier League. In the original spots, archetypical American college football coach Ted Lasso moves across the pond to coach real life EPL team Tottenham Hotspur. Suffice it to say, it does not go well.
Sudeikis adapted the concept into a TV series alongside producers Joe Kelly, Brendan Hunt, and Bill Lawrence. Lawrence (Scrubs, Whiskey Cavalier) serves as showrunner and Sudeikis retains his title role as Ted Lasso. Notably, the show deviates from the original commercials quite a bit in that this version of Lasso is an extremely positive and optimistic leader rather than just an ignorant American who thinks he can hack it in a different sport (thought he is still a little of that). Lawrence explained the show's direction to Den of Geek thusly:
"(Jason and I) both connected over loving sports movies: Hoosiers, Rudy, Rocky, Major League, Bull Durham, Cutting Edge, whatever. Everybody's got a sports movie that they dig on. And he said, 'We can make ours. And how nice would it be, much like those classic underdog stories, to do a show right now that was kind of relentlessly optimistic and hopeful?' We still put in enough twists, I think, that even if people know the genre, know the tropes, it will surprise them a little bit and have more layers. But yeah, you do know that Ted Lasso is not going to end up dead in an alley at the end of season three."
Nice to know that Lawrence has season 3 on his mind!
There is no word yet on when Ted Lasso season 2 may begin filming or what a potential release date could be. The show's first season utilized real life EPL team Crystal Palace F.C.'s stadium and training facility. The 2020-21 English Premier League season is set to start on September 12 and run through May 23, 2021, so the window to begin filming there has likely already closed.