Features
How Swimming with Sharks Found Life After Quibi
Quibi survivor Swimming with Sharks pits Diane Kruger and Kiernan Shipka in a saga of Hollywood exploitation.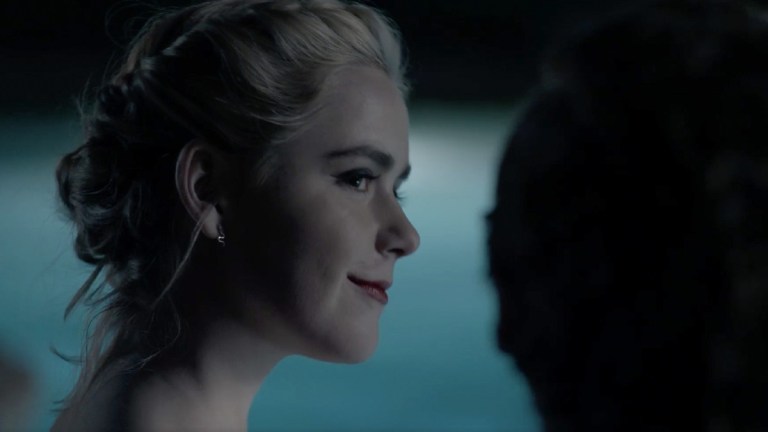 There's never a great time to learn that the corporate entity producing your TV show is calling it quits. For the folks behind Quibi's Swimming with Sharks, however, the timing of the streamer's demise was particularly less than ideal.
"We actually learned about the platform officially ending on like the third-to-last day (of shooting)," Sharks showrunner Kathleen Robertson tells Den of Geek. "I found out while at the monitor watching (the performers) act. I literally got an alert and it was from Deadline saying like 'Quibi is no longer.'"
Quibi, the now-legendary icon of streaming era hubris, launched on April 6, 2020 with the working theory that audiences preferred their content in "quick bites" (hence: "quibi"). After audiences resoundingly responded with a firm "no thanks", Quibi closed its doors on Dec. 1, 2020, leaving dozens of original TV series and movies without a home. That's when The Roku Channel swooped in to acquire the ill-fated streamer's whole catalog. 
Since mid-2021, Roku has been releasing former Quibi offerings in batches. Some Quibi titles, however, deserve a little more pomp and circumstance. Among those titles is the heavily-promoted Swimming with Sharks, set to premiere all six episodes as a Roku Original on April 15.
Swimming with Sharks features a lot of elements that a nascent streaming service might be looking for. The show is dark, funny, and sensual. It boasts the presence of two big name actresses as co-leads in Kiernan Shipka (Mad Men, Chilling Adventures of Sabrina) and Diane Kruger (National Treasure, Inglourious Basterds). It's also timely as the plot deals with the sadistic and exploitative side of the Hollywood studio system, though the series muses that some of that sadism can trickle up rather than down.
And if that weren't enough, Sharks is even based on an existing IP! Sort of. The series borrows its title from the 1994 dark comedy starring Kevin Spacey. Spacey's character was reportedly based on Scott Rudin, which has to be one of the most cursed combinations of actor and subject ever. According to Robertson, there is little shared DNA between the two projects, aside from the title and a handful of Easter eggs.
"There's a little chunk at the beginning when (one character says to another) 'You have no brain. What you think means nothing. What you feel means nothing.' That's directly from the movie. It's the only thing I really remembered that I wanted to make sure was there."
When Robertson was approached about reimagining the 1994 film, she wasn't initially sure there was anything within it that felt urgent enough to pursue. The Canadian native knows a thing or two about the '90s, having begun her career as an actress in projects like the Eugene Levy-produced sitcom Maniac Mansion then becoming well known for her work as Clare Arnold in Beverly Hills, 90210. Since the mid-2010s, however, she has added screenwriting to her repertoire, completing the Writer's Guild Showrunner's Training Program and writing several scripts. Ultimately, Robertson found the angle that made a Swimming with Sharks series not only palatable but necessary.
"The only way it felt to me it was worth doing is if it were from a female perspective," she says.
Updating Spacey's abusive movie mogul Buddy Ackerman to Fountain Pictures CEO Joyce Holt (Kruger) and Frank Whaley's naive young writer Guy to intern Lou Simms (Shipka) unlocked new dimensions in an old story. Swimming with Sharks features a gut-churning depiction of Hollywood's abusive old guard in the form of Donald Sutherland's Redmond. But for the most part, this is a female-focused venture about exploitation and getting even.
Much of Swimming with Sharks' early marketing material revels in pointing out that Lou Simms is one of Shipka's first adult acting ventures, after becoming well known for playing young Sally Draper in Mad Men and the titular teenage witch in Chilling Adventures of Sabrina. In fact, when penning a statement about the project for the press after it was announced, Robertson wrote "Nobody will ever see Kiernan Shipka as 'Don Draper's daughter' ever again."
While that may seem like writerly bravado at first, once the credits roll on episode 1, viewers will certainly understand what Robertson is getting at. We're a long way from Greendale now. According to Shipka, Lou Simms was the next logical step in finding fascinating characters to play.
"It wasn't pointed," Shipka says of taking the more adult role. "I feel like I've had a really lucky time in this business where I've never really thought about being seen in new lights and taking things for super strategic reasons. I just kind of want to do material I'm drawn to. I'm always drawn to very complex women. Doing this did feel like a step in the direction of something more adult but it was equal parts thoughtful and provocative."
Of the project's two leads, Shipka signed up first and was relieved to find out her scene partner would be Kruger. The pair share both a mutual friend in January Jones and an appetite for multi-faceted female roles.
"I find it interesting to explore women in 2022 that have managed to seemingly have it all," Kruger says. "They're in a powerful position, they've got a great job, they have a handsome husband. They have everything that I guess women want today. And yet they struggle with the things that women have had to struggle with always – how to have a family, how to have a child. The things that make us vulnerable and the things that make us women. It felt very fresh. It was interesting, a woman of my age, to explore all these things but I can really relate to that."
With all six episodes of Swimming with Sharks now available on Roku, viewers may find themselves able to relate with that as well … and not in 10-minute quick bites.