Features
Swamp Kings Reveals Netflix Sports Documentaries Are in a Difficult Place
Recent Netflix sports documentaries like Swamp Kings can't capture the full stories of their subjects for one big reason.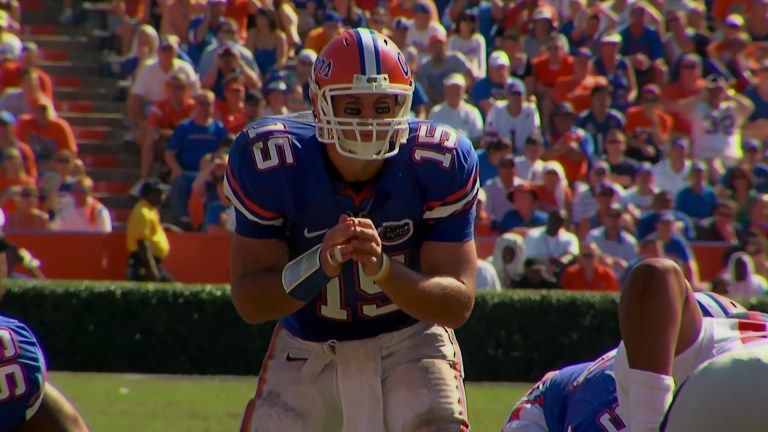 To borrow a rhetorical device from ESPN's great sports documentary series 30 for 30: What if I told you there exists the most dramatic college football team of all time?
Said football team was filled with enough off-the-wall stories and colorful characters to make any would-be documentarian salivate. These characters and their stories include: a megalomaniacal head coach who got fired from his first NFL job mid-season for feeling up an undergrad at a steakhouse named after him, a star defensive end who was arrested for a DUI just days before the NCAA Southeastern Conference Championship game, and a tight end who committed literal murder.
That team is real. It was the 2005-2010 University of Florida Gators. Now, what if I told you there is a just-released docuseries about said team … that completely omits all of the dramatic information cited above and more? That docuseries is also real.
Netflix's four-episode docuseries Untold: Swamp Kings was released on Aug. 22 and has been a steady presence in the streamer's Top Ten feature ever since (it's settled in at number seven as of the writing of this article on Sept. 5). The success of the show is unsurprising given how inherently interesting the Gators' story is, even with the most prurient bits edited out.
Featuring the likes of Urban Meyer, aforementioned head coach who is pathologically-obsessed with winning; Tim Tebow, star quarterback and messianic-like figure to many; and more, Swamp Kings is a thrilling dive into one football program's ascendance to excellence. Anyone unfamiliar with high level American college athletics, or just unfamiliar with how to Google things, may not even realize they're not being told the whole story. And therein lies the problem with Netflix's approach to sports documentary storytelling as of late.
In hindsight, ESPN's The Last Dance was both the best and worst thing to happen sports documentaries in recent years. The 10-episode series that tracked the mighty Michael Jordan's final basketball season with the Chicago Bulls was blessed with an absolute windfall of compelling videotape. Despite covering events from the mostly pre-internet era of 1997-1998, The Last Dance documentarian Jason Hehir possessed over 500 hours of all-access footage to comb through. By combining all of that stunning behind-the-scenes material with privileged interview access to virtually every major NBA figure of that era, including Jordan himself, Hehir and company were able to create one of the most definitive and exciting sports documentaries ever.
The problem is though that the entertainment industry, much like the sports industry, is a copycat world. The moment that The Last Dance aired its first episode to great fanfare amid the COVID-19 pandemic on April 19, 2020, every studio exec in the country undoubtedly shouted into their phones that they needed a Last Dance too immediately, 500 hours of footage or not. Now, some three years later, we're living in the byproduct of that copycat world and it's left a lot to be desired.
To be clear, Netflix has produced some excellent sports documentaries both before and after The Last Dance changed the game. The streamer won an Oscar for 2017's doping exploration Icarus and several other entries in its Untold series have been winners as well like the Manti Te'o doc The Girlfriend Who Didn't Exist and NBA referee corruption doc Operation Flagrant Foul. With Swamp Kings, however, it's becoming clearer that the typical Netflix streaming appetite of "more, more, more, all the time" is starting to backfire.
Several sports-centric sources around the web have attempted to catalogue the wild stuff that Swamp Kings leaves out. Here are just some of the findings:
No documentary or docuseries is ever going to capture pure, unvarnished truth. By virtue of omission for time constraints, personal taste, and style, every documentary will fall short of reality itself. Still, that doesn't mean that documentaries can't or shouldn't be judged against that reality anyway. As entertainment, Swamp Kings is perfectly fine. It's a fun watch that's cut together well. But as a documentary – you know, a thing that documents a thing – it falls woefully short.
In that way, Swamp Kings is emblematic of an inherent paradox within documentary filmmaking that has only gotten worse in the streaming era: the tension between access and perspective. As Katie Baker of The Ringer notes in her piece about Netflix's investment in football as content, when it comes to non-fiction storytelling, streamers understandably don't want to jeopardize future access.
"Putting together a documentary isn't just about finding the perfect old news clips. It's about securing participation: wrangling people and egos and reputations and hoping you don't lose sight of the plot," Baker writes. "(This isn't a new tension: In order to secure Michael Jordan's participation in The Last Dance, filmmakers extended him editorial control, a situation that Scottie Pippen railed against in his memoir.) To remain a going concern, a show like Quarterback has to be all-access enough to feel special, but not so invasive that it scares future subjects away."
Swamp Kings has access to the handful of Florida Gators that it absolutely needed access to get made, folks like: Meyer, Tebow, Brandon Spikes, Brandon Siler, and Dan Mullen. Surely, the series could have told a more complete story that included the controversial aspects of Meyer's tenure and even the details of Aaron Hernandez's murder trial, but then it probably wouldn't have garnered the participation of so many former players and coaches. Would that have been worth it? In the interest of documenting the definitive version of events, we would say yes. Netflix shareholders, however, might say no if it means Tim Tebow's participation couldn't be highlighted.
We can see that dynamic play out in other Netflix titles like NFL series Quarterback, UFC doc McGregor Forever, and PGA golf show Full Swing – the last of which will face some challenging ethical and journalistic questions in its second season thanks to the PGA golf tour's merger with the Saudi royal family-backed LIV Golf.
For what it's worth, Netflix at least acknowledges the omission of the biggest elephant in the room on its Tudum site. In revealing why Aaron Hernandez's story wasn't included executive producer Louise Norman says: "There was a lot of concern from the players right at the very beginning.… some of that was because of what they saw as the unfair reporting of the Hernandez story. But we didn't decide not to cover it because of the sensitivities… it's actually outside of our timeline … "
Additionally, Netflix actually has a separate (and pretty good) documentary about Hernandez on its severs called The Killer Inside: The Mind of Aaron Hernandez. Still, in recounting the history of the 2005-2010 Florida Gators football team, it makes little sense to exclude inarguably the most noteworthy figure. Even if Hernandez's 2013 murder of Odin Lloyd falls outside the documentary's timeline, the then-freshman tight end was a person of interest in the shooting of two men in Gainesville in 2007 – though the case was eventually closed.
But all of this just isn't about the exclusion of Aaron Hernandez or any of the other bonkers stories from the 2005-2010 era of Gators football that Swamp Kings omits. It's about the difficulty in accommodating subjects and story. The best documentaries, sports of otherwise, make the viewer feel as though they just received the best and final take on something, rendering any other documentary, book, or Wikipedia article unnecessary. In this era of ambitious production timelines and access journalism, the concept of a "definitive" documentary is becoming rarer.
All four episodes of Untold: Swamp Kings are available to stream on Netflix now.