Features
Dennis Quaid Helps Tell A Forgotten Sports Story in The Long Game
Den of Geek catches up with the director and stars of The Long Game, a film about a groundbreaking high school golf team.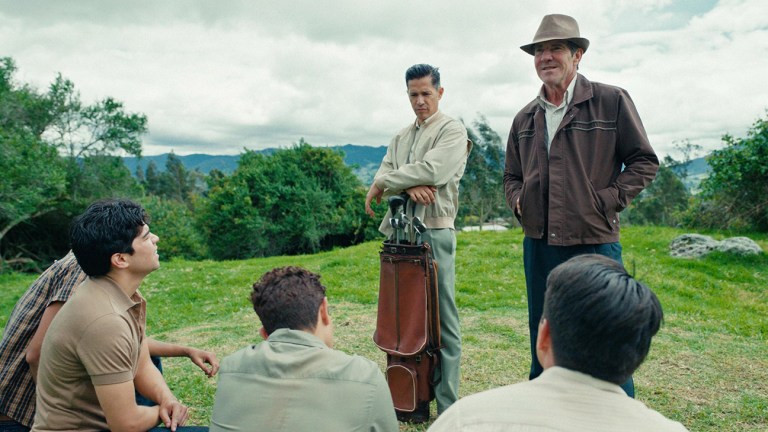 When filming The Long Game, major golf enthusiast Dennis Quaid learned something about making a golf movie the the hard way.
"You don't get to play that much golf at all," Quaid tells Den of Geek during a visit to our 2023 SXSW studio.
Directed by Julio Quintana (of Netflix's Blue Miracle, which also starred Quaid), The Long Game is based on the 2012 book Mustang Miracle by Humberto Garcia. Both the book and now the film recount the real life story of the 1955-1957 San Felipe High School Mustangs golf team in Del Rio, Texas, which made up exclusively of Mexican-American players – a first for the sport.
In a time where golf reserved for wealthy and connected white men, five young Mexican-American caddies broke major cultural barriers by assembling a team to compete against (and ultimately defeat) their white peers. Jay Hernandez (Magnum P.I.) stars as the team's teach and coach JB Peña and Quaid as his professional golfer friend and eventual assistant coach Frank Mitchell.
Despite both having grown up in Texas where the Mustangs' played, neither Quintana nor Quaid had ever heard of their story, which helped convince him it had to be told.
"These kinds of stories show me that there's probably other stories like this that we're not talking about," Quintana says. "There are touchstones that have happened throughout history. I think it's important to bring this to light and highlight the work everyone did before us."
"This is the reason they make movies," Quaid adds. "Something like this rarely comes along. And it's a perfect time to make it."
The Long Game is the first film produced under Quaid's new production company Bonniedale. Filling out the cast as the long-driving youths are Gregory Diaz IV, Miguel Angel Garcia, José Julián, Christian Gallegos, and Julian Works. Additionally, Jaina Lee Ortiz plays JB Peña's wife Lucy and none other than Cheech Marin plays golf course groundskeeper Pollo, which was particularly exciting for Cheech & Chong fans Hernandez and Quaid.
"The first day Cheech got there, we were running lines in the trailer and for about two hours I just grilled him about his life story," Hernandez says. "It was amazing how open and effusive he was."
While telling a relatively obscure story that most people, even the people involved, aren't originally familiar with, The Long Game is grounded in the usual, helpful sports movie trappings. That format is fitting given some of its stars' track records. Quaid, of course, previously starred as real life MLB pitcher Jimmy Morris in Disney's 2002 movie The Rookie. Funnily enough, his The Long Game co-star Hernandez played one of his characters high school students in that film.
"He was playing the kind of troubled guy," Quaid says of Hernandez (who also starred in sports film Friday Night Lights). "Now that's come full circle."
Now the whole crew is excited to be a part of the sports movie canon with Quintana joking that they want The Long Game to bump 1996's Tin Cup (which also featured Cheech Marin) out of the top spot on the list of golf flicks. At the end of the day, however, the sport involved doesn't matter so much for The Long Game as the feelings it intends to invoke.
"It's about all of us. It really is," Quaid says. "Time and place really gives it a lot of gravity. Like 'wow, where were we?' In the end though, I would like people to be really entertained."
The Long Game premiered March 12 at SXSW. It does not yet have a theatrical or streaming release date.