Features
Succession: Sally-Anne and the "Other" Women in Logan Roy's Life
Logan Roy's funeral features a surprising meeting of his wives and mistresses as well as a brief glimpse into his mysterious past.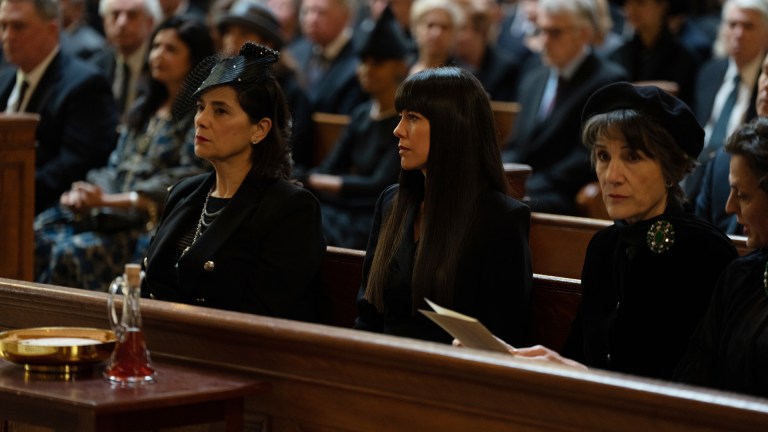 This article contains spoilers for season 4 episode 9 of Succession.
Succession's Logan Roy (Brian Cox) is well known for his complicated relationships with the women in his life, keeping them at arm's length until they are no longer useful to him. There are very few people that Logan respects in general, but even women within the inner circle of Waystar like Gerri (J. Smith Cameron) and Karolina (Dagmara Dominczyk) don't seem to be taken as seriously as they should be. As Shiv (Sarah Snook) so eloquently puts it during her eulogy at Logan's funeral, "he couldn't fit a whole woman in his head." This sentiment couldn't be more clear in one of the best scenes of the episode that saw Shiv, Kendall (Jeremy Strong), and Roman's (Kieran Culkin) mother Caroline (Harriet Walter) bring all of Logan's former wives and mistresses front and center for the ceremony.
The penultimate episode of the series "Church and State" is full of many series-great performances, but watching all of Logan's exes sitting together in solidarity to mourn the life of the man they all loved at one time or another is certainly at the top of the list. These women have every right to hate each other – Logan acted like he cared for these women, but also seemed to discard them as soon as he grew bored of them. But instead of fighting over who Logan loved more, Caroline encourages them to support one another by introducing Kerry (Zoe Winters) and Marcia (Hiam Abbass) to Sally-Anne (played by Brian Cox's wife Nicole Ansari-Cox) a.k.a her "Kerry" and declaring Logan's infidelity as "water under the bridge now."
Caroline insists that they all sit with her in the front row, despite how it may "look" to have all of Logan's wives and mistresses supporting each other so publicly. As they sit down, Kerry starts crying, and Marcia reaches out to hold her hand, a stark change from how we last saw them at the wake. Logan may not have respected these women as much as he should have while he was alive, but at least they have each other to lean on in his death.
But Logan's exes weren't the only women from his past that made an appearance during the funeral. During his eulogy, Logan's brother Ewan (James Cromwell) talked about their younger sister, Rose, who died as a child. We've known for a while that this death had an effect on Logan, but now we know why. It turns out that Rose died of polio after Logan came home from boarding school sick. It was an unfortunate accident, but he blamed himself for her death. The aunt and uncle who raised them never outright blamed Logan, but did little to discourage his harmful self-blame.
Knowing that Logan spent his entire life blaming himself for the death of his sister doesn't excuse his behavior toward women, but it does make it a little easier to have some sympathy for the man. He grew up in a time that discouraged therapy and expected men to be the protectors of women, and the first woman he was supposed to care for and protect died because of something outside of his control. It makes sense that this would lead him to avoid growing too close to any of the women he loves, including Shiv. He built his fortress of wealth to keep himself and his loved ones safe, but in doing so power became the thing he loved the most.
The Succession series finale airs Sunday, May 28 at 9 p.m. ET on HBO.