Steven Universe: Are Pearl and Bismuth Together?
A new romantic pairing may be in the works for Steven Universe!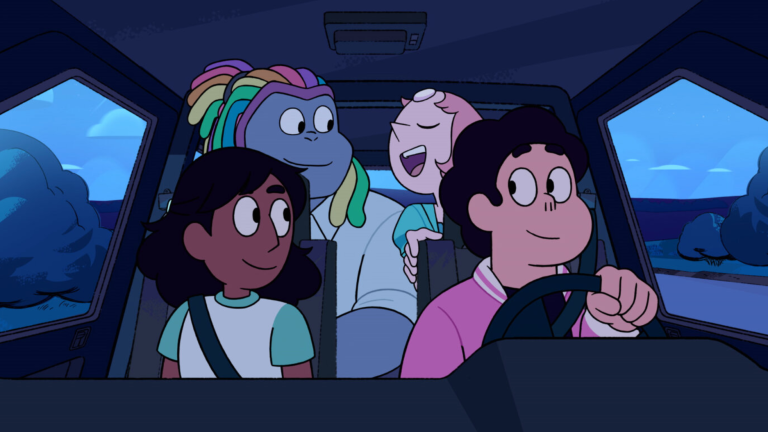 This article contains spoilers for the Steven Universe Future episode 'Bismuth Casual.'
Who knew it was possible to establish the biggest queer energy in the universe by simply holding on a shot of two characters sitting in the back seat of a car? Well, Steven Universe Future did it in its most recent episode, "Bismuth Casual," and that was only the start. 
Throughout the entire episode every indication was given that Bismuth has a crush on Pearl and by the end it seemed Pearl was receptive to it! How adorable is that? Now it should be said the episode never explicitly has one of the characters say, "I have a crush" or "I want to date them" but it's still clear as day. Take this exchange between Steven and Bismuth, as she watches Pearl skate with her friends.
"You did fine making friends, right Bismuth? – Steven
"Oh yeah, uh, it was alright." – Bismuth
"Alright? It was what you came for, wasn't it?" – Steven
"Uh, well…" – Bismuth
Then Bismuth looks longingly toward Pearl as she skates along, which causes Steven to exclaim, "wait. Pearl? Bismuth, you're here for Pearl?"
Bismuth then covers his mouth to keep him quiet; she doesn't want Pearl to hear about her crush. I guess if you wanted to be a lame stickler, you could say this is just Bismuth wanting to be friends with Pearl but look at the rest of the episode. Those opening moments aren't just an example of the favorite trope of shippers, characters looking at each other to establish romance, it's setting up something more concrete.
Pearl rolls up the arms on Bismuth's shirt and unbuttons it, all while Bismuth blushes. I mentioned queer energy earlier and there's nothing quite as beautifully lesbian as blushing over your crush rolling up the sleeves of your button up shirt. (This of course assumes Bismuth is a lesbian like Pearl. Maybe she's bi or pan!)
But that doesn't answer the question in the title of this article. Are Pearl and Bismuth together now? Well, it certainly seems so! They share a dance scene while singing a commercial jingle and hold hands. Maybe they won't instantly go and change their relationship status but at the very least Pearl realizes Bismuth's crush. Maybe they'll go on some dates! Maybe they'll fuse soon. Who knows?
It's just good to know that Pearl has finally ended up in a relationship! Not that she needs to of course, but after everything that happened with Rose Quartz all the speculation of whether she'd end up with Mystery Girl? It's great to see Pearl end up with someone as amazing as Bismuth and hey, Bismuth gets to be happy to! It's the relationship you never knew you wanted but now can't live without.