Features
Star Wars: The Mandalorian Season 3 Post-Credit Scene Moment Is Not What You Think
The Mandalorian season 3 finale features one last sweet moment for one of its Star Wars characters.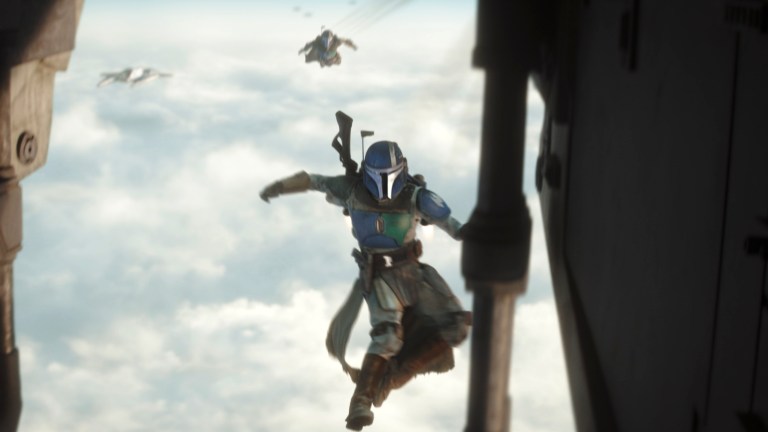 This Star Wars: The Mandalorian article contains spoilers.
The Mandalorian season 3 finale, "The Return," bucks a few of the series' trends. Yes, the final boss is once again Moff Gideon, but this time, there's no big cameo character coming to save the day just when all hope seems lost for the Mandalorians. Din, Grogu, and Bo-Katan have to defeat Gideon themselves. There's also a surprising lack of easter eggs and callbacks, unless you wanna talk mouse droids or R5 having little jets just like R2 in Attack of the Clones. "The Return" just doesn't deal in much nostalgia-bait, as reminiscent of Emperor Palpatine's own plans Moff Gideon's clone plot may seem.
Then there's the biggest twist of all: the finale doesn't have a post-credit scene. You can watch the end credits to the very end — and you should, a lot of talented people worked on this show!!! — but you won't find the usual teaser for what's next. Or even a final wink at the audience or surprise cameo. No Gideon somehow surviving once again or Boba Fett and Fennec Shand planting a flag on their next big business venture. The episode ends with Din and Grogu enjoying some peaceful rest and relaxation in their new house on Nevarro, and that's all showrunner Jon Favreau wrote!
That said, there is another moment in the final minutes of the episode that sort of works in the same way a post-credits scene would when it's revealed that IG-11 has finally returned, this time as Nevarro's new marshal! It's a fun comeback that brings closure to a storyline that was first set up in the season 3 premiere, complete with the return of Taika Watiti lending his voice to the former assassin droid turned lawman, while teasing what might be next for the character in season 4.
But how is IG back? Thanks to the droid parts Din found at the New Republic patrol base on Adelphi, the Anzellans are able to patch up IG and bring him back online, but not as the killing machine of his original programming but closer to the nanny droid that Kuiil turned him into.
"Greetings, citizens. I am IG-11, your new marshal," says our beloved droid as he makes his way through the city square introducing himself to the people of Nevarro. "I am here to serve and protect the citizenry. I am at your disposal and serve at your pleasure."
That's certainly a drastic change in attitude from the very first time we met IG on Arvala-7 and he was itching to eliminate a defenseless toddler. The fact that Grogu helps bring IG back to life by pointing out the severed IG head on Adelphi makes this bookend so much sweeter.
Does this all mean we'll be seeing IG-11 again in The Mandalorian season 4? Well, considering Din and Grogu now officially call Nevarro home, that seems like a real possibility. And since Din has a new gig freelancing for the New Republic's Carson Teva, we wouldn't be surprised if our heroes brought IG along for a mission or two.
The Mandalorian season 3 is streaming now on Disney+.