News
New Star Wars Villain Confirmed for Obi-Wan Kenobi Series
Obi-Wan Kenobi will not only face Darth Vader in the new Star Wars series, but a whole new Inquisitor, as revealed by the show's first trailer!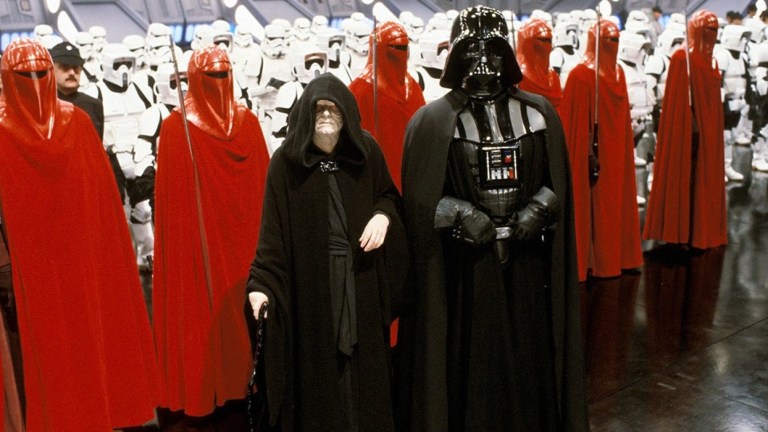 When it comes to Star Wars in 2022, there's no bigger event than the return of Ewan McGregor as Obi-Wan Kenobi. The Jedi Master stars in his own Disney+ series that picks up 10 years after the events of Revenge of the Sith. The Jedi Order has fallen, and the few knights who remain are being ruthlessly hunted down by the Empire and their dark-side-worshipping Inquisitors. Meanwhile, Obi-Wan is still in exile on Tatooine, watching over young Luke Skywalker from afar…until the time is right.
"We find Obi-Wan at the beginning of our story rather broken, and faithless, and beaten, somewhat given up," McGregor told EW. How broken? Well, according to new photos revealed by the outlet, the Jedi Master now lives in a cave… He's so beaten down that he hasn't even bothered to find himself an actual place to live. It's been a decade, Ben!
But we know something will eventually draw out Obi-Wan from his extremely humble abode so that he can embark on the mission that will see him once again cross paths with his former apprentice who has become the evil Darth Vader (Hayden Christensen). Is it possible that the reason Obi-Wan has to leave Tatooine for a spell is that the Inquisitors have found him and are now hellbent on hunting him down?
Either way, the odds are certainly stacked against the beloved Jedi Master. The show will introduce a brand new Inquisitor to the Star Wars universe: Reva, who is played by Moses Ingram (The Queen's Gambit). She is part of a trio of villains rounded out by Vader and the cruel Grand Inquisitor (Rupert Friend), who was first introduced in the Rebels animated series.
"They share a common dark-side goal," Ingram told EW about the show's supervillain triumvirate. "They're on the same team."
You can see Reva and the Grand Inquisitor in action in the trailer below (and then check out our breakdown of all of the trailer's secrets):
While we don't know much more about Ingram's character just yet — besides the fact that she will don some very cool armor while hunting down Jedi — the Inquisitorius has been around since the old Legends continuity, although they largely served a different purpose then. Under Disney canon, they are a faction of Force-sensitive hunters who serve the Emperor in his quest to rid the galaxy of Jedi. Several other Inquisitors have been introduced besides the Grand Inquisitor — there are the Fifth Brother, Seventh Sister, and Eighth Brother from Rebels; the Second Sister and Ninth Sister from Jedi: Fallen Order; and the Fourth Sister and Tenth Brother from the comics. Where Reva falls under that numbering remains to be seen — perhaps she's the Third Sister? Eleventh Sister?
Not all Inquisitors were born into the dark side or trained by the Emperor from a young age. Some were actually Jedi before Order 66. The Grand Inquisitor, for example, was once a guard at the Jedi Temple, while the Second Sister was a padawan taken prisoner by the Empire and turned to the dark side. It seems likely the show will explore Reva's past as she chases Kenobi around the galaxy, including to a new planet called Daiyu, which writer Joby Harold described to EW as "sort of having a Hong Kong feel to it…It's got a graffiti-ridden nightlife, and is kind of edgy. It's just got a different lane and a different feeling."
After the decade he's had, we wouldn't blame Obi-Wan for seeking out a death stick or two while on Daiyu…
Obi-Wan Kenobi premieres on Disney+ on May 25. It is directed by Deborah Chow from scripts by Harold. Kumail Nanjiani, Indira Varma, Rupert Friend, O'Shea Jackson Jr., Sung Kang, Simone Kessell, Benny Safdie, Maya Erskine, and Rory Ross round out the cast.
Check out the full schedule of upcoming Star Wars movies and TV series here.