Features
Star Wars: Obi-Wan Kenobi Trailer Breakdown: Luke Skywalker, Inquisitors, and Prequel Easter Eggs
The Obi-Wan Kenobi trailer packs a punch! It also features a few new characters, easter eggs, and some hints as to where this story is going...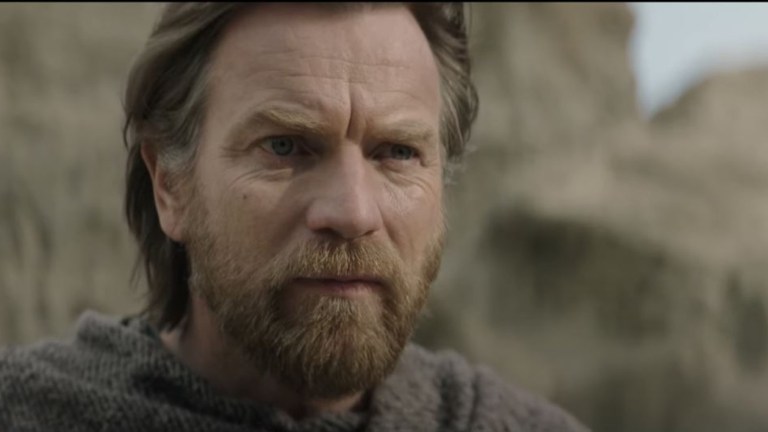 Could anyone have guessed a decade ago that we'd see Ewan McGregor back as Obi-Wan Kenobi in his very own Star Wars live-action series? When Revenge of the Sith closed the book on the Prequel Trilogy in 2005, it seemed like the actor's turn as the Jedi Master was over. But as old Ben's greatest pupil says in The Rise of Skywalker, "No one's ever really gone," especially when it comes to Disney's very nostalgic version of the galaxy far, far away.
The six-episode Obi-Wan Kenobi picks up 10 years after the Prequels. The Jedi are all but extinct, except for a few fugitives in hiding. Obi-Wan is still on Tatooine, living in exile while the Empire and the Sith reign supreme. But what's hidden can't stay hidden for long, as we see in the first trailer, which sees the old hero jumping into the action when an evil faction of Jedi hunters comes to town.
Check out the trailer below:
As you can imagine, the trailer packs quite a few surprises and easter eggs, as well as hints as to where this story might be going. Here's what we've spotted…
Obi-Wan Kenobi in Exile on Tatooine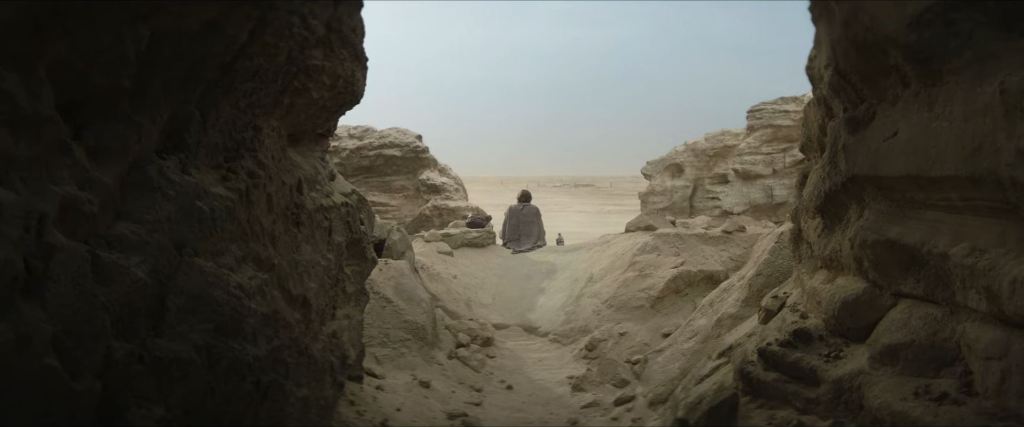 Times are tough for the titular Jedi Master. After a decade in exile, it looks like Obi-Wan lives in a cave in the outskirts of the Lars homestead, watching over young Luke Skywalker from afar. When not secretly serving as Luke's Jedi bodyguard, he rides his eopie (a species first introduced in The Phantom Menace) around the desert.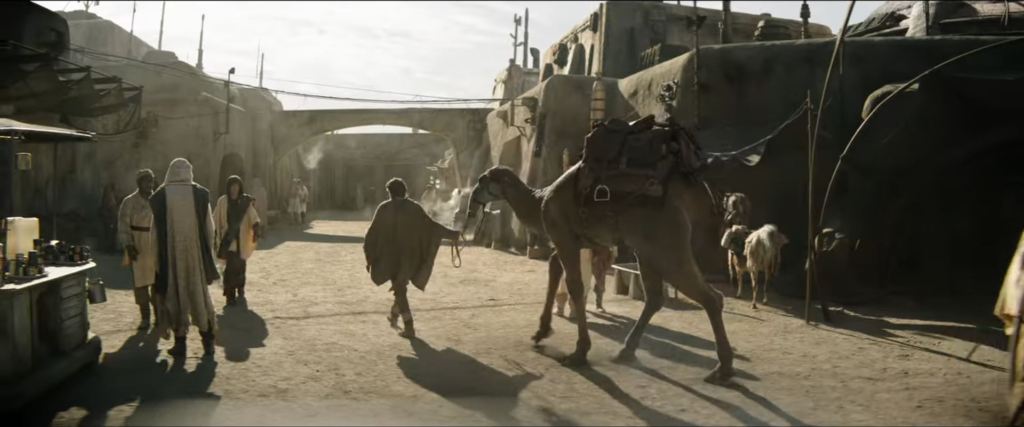 "We find Obi-Wan at the beginning of our story rather broken, and faithless, and beaten, somewhat given up," McGregor told EW. We can certainly hear the Jedi Master echoing that sentiment when he says in a voiceover, "The fight is done. We lost. Stay hidden."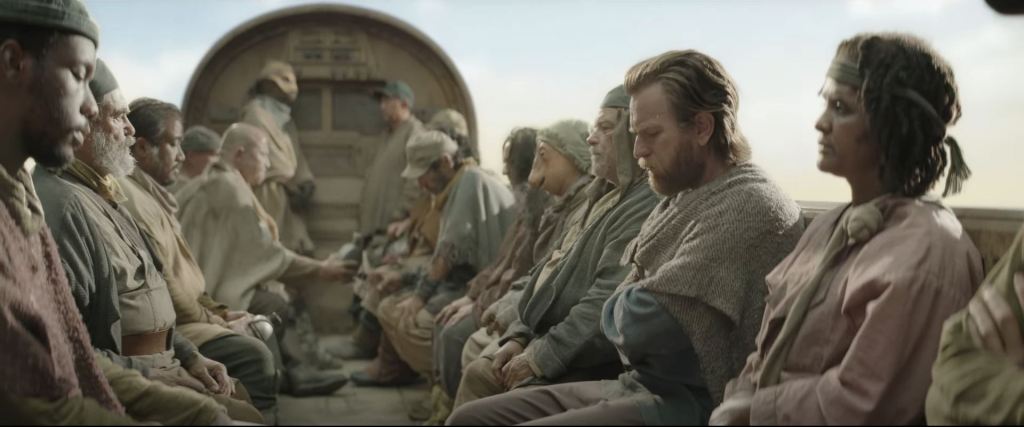 In one shot, we watch as Obi-Wan rides a hovertrain to a town in the desert. Is that the same town being terrorized by the Inquisitors in other clips from the trailer? It's possible that a run-in with these Jedi hunters is what prompts Obi-Wan to leave Tatooine for the neon-drenched city streets of the planet Daiyu, which will talk more about in a second.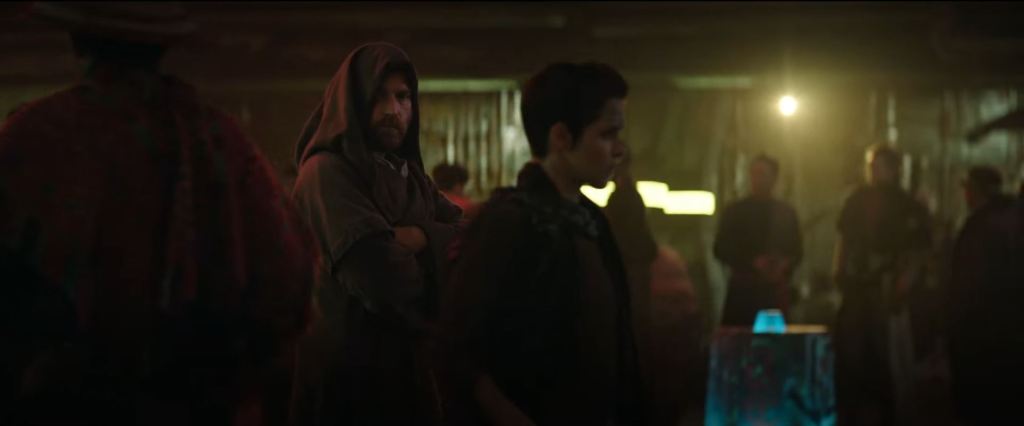 It looks like trouble follows Obi-Wan to Daiyu, where he'll come face to face with the Empire once again. Interestingly enough, we never see the Jedi using a lightsaber. Instead, he's armed with a blaster during a shootout on a rooftop. Is this his way to hide the fact that he's actually a Jedi?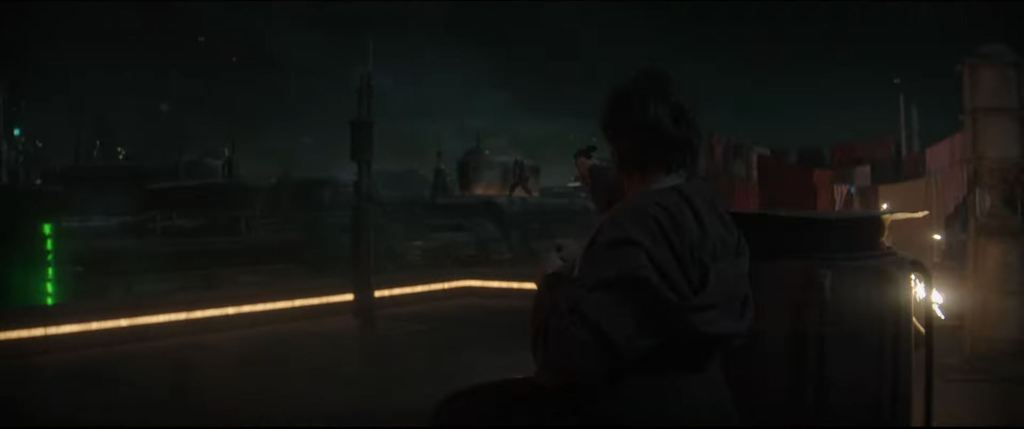 Something tells us Obi-Wan will have to pick up his lightsaber once again at some point in this series…
Young Luke Skywalker
Yes, that's a 10-year-old Luke Skywalker! Obi-Wan watches him playing on the Lars homestead, clueless to the fact that he's destined to become the Jedi hero for a new generation. Even at that age, Luke's dream is to become a pilot, and we see him pretending to fly a ship through space.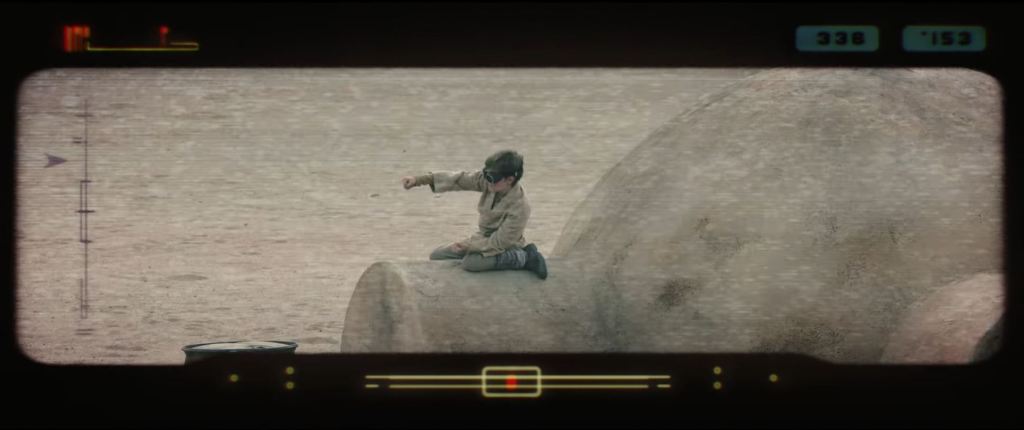 Or is that supposed to be pod racing? The way he pushes his arms forward to speed up certainly suggests the latter.
Moses Ingram as Reva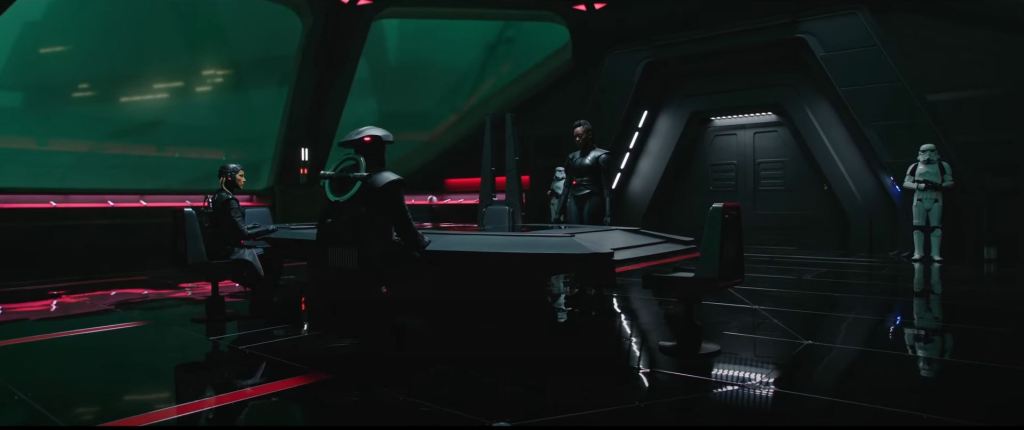 While the series will feature several Inquisitors — an order of dark-side worshipping hunters hellbent on killing what Jedi remain in the galaxy — it looks like it's Reva (aka the Third Sister) who truly takes centerstage. She's played by Moses Ingram (The Queen's Gambit).
We first see her meeting with other members of her order in Fortress Inquisitorius, but soon she's on the ground, first on Tatooine, where she seems to have lined up the people of a small town, including Luke's uncle, Owen Lars (Joel Edgerton). It almost looks like she's questioning or threatening them. Is this an early scene where she's on the hunt for Kenobi?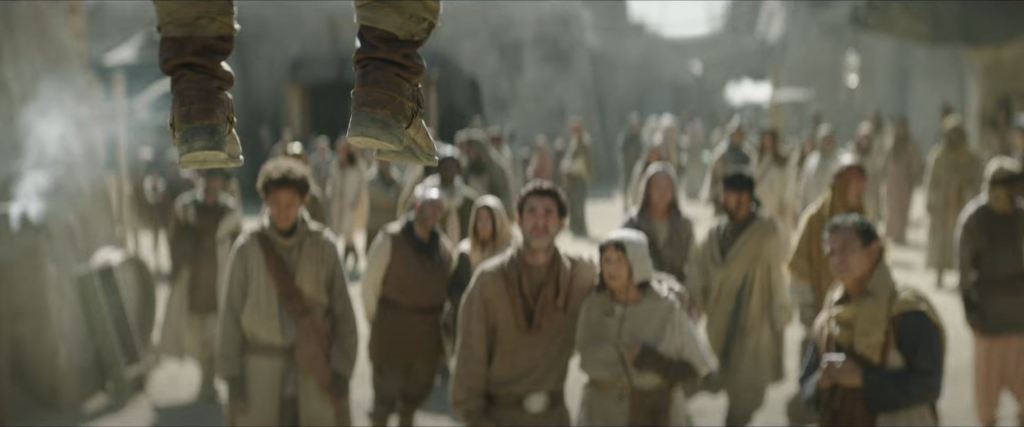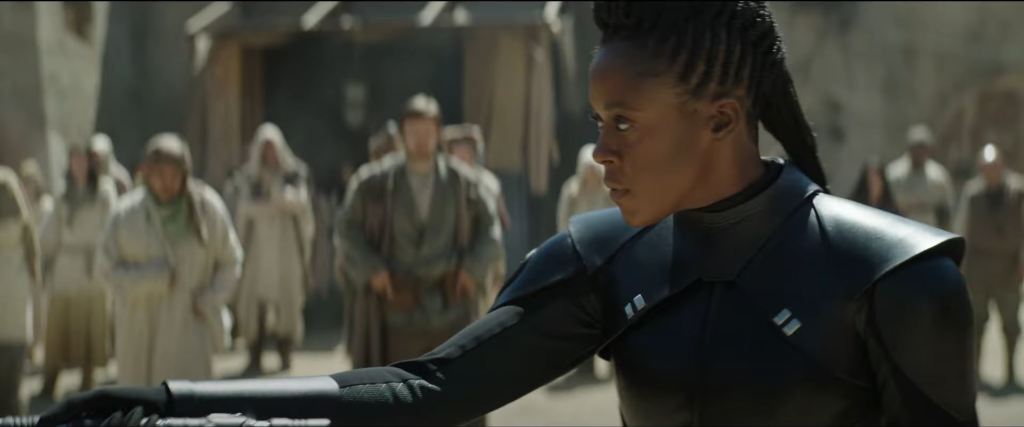 In one shot, we see what looks like someone hanging from a noose, which certainly is on par with the cruel methods Inquisitors usually employ to find their prey. Are the Inquisitor's cruel methods what finally drive Obi-Wan to come out of hiding?
Reva eventually catches up with the Jedi Master, and the two face off in an alleyway on Daiyu…
Rupert Friend as The Grand Inquisitor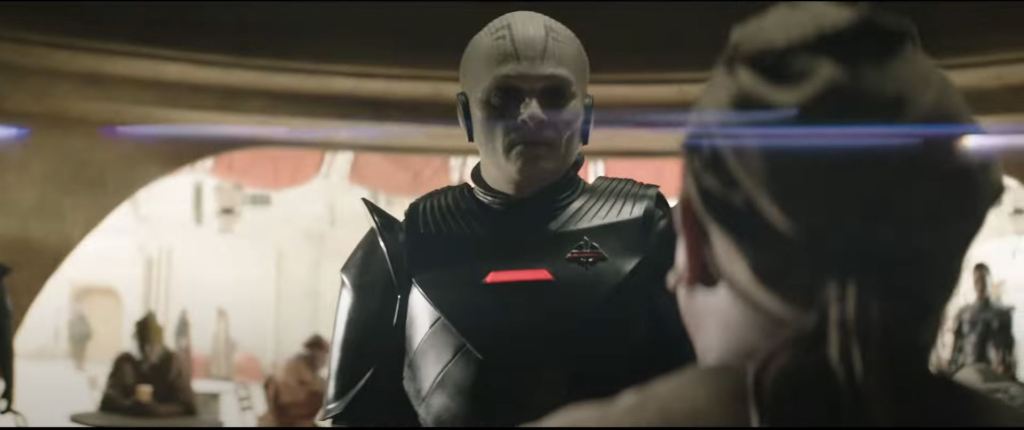 The Grand Inquisitor, one of the most popular villains of the Disney era, is finally making his live-action Star Wars debut, played by Rupert Friend in very heavy makeup. First introduced in the Rebels animated series, the Grand Inquisitor is the mysterious leader of the Inquisitorius. Little is known about his past except that he's a Pau'an from the planet of Utapau, the site of one of the big battles in Revenge of the Sith, and that he was a guard at the Jedi Temple on Coruscant before Order 66. At some point during the Jedi Purge, he turned to evil and began hunting down the brothers and sisters he once swore to protect.
"The key to hunting Jedi…is patience," says the Grand Inquisitor in a voiceover accompanying a shot of him on Tatooine interrogating someone. In the background, you can see two other Inquisitors, which means there are several assassins likely hunting Obi-Wan at once…
Sung Kang as the Fifth Brother…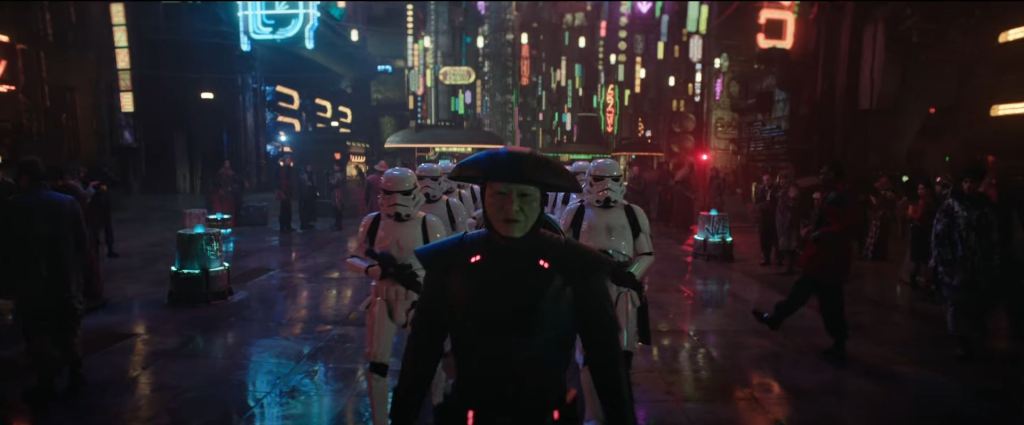 Sung Kang from the Fast & Furious movies plays the Fifth Brother, another Inquisitor we've met before. He originally appeared in Rebels, opposite the Seventh Sister, as one of the Inquisitors tasked with killing Kanan Jarrus, a former Jedi turned rebel agent. But according to this trailer, before he was trading blows with Kanan, Ezra Bridger, and Ahsoka Tano in animation, the Fifth Brother paid visits to both Tatooine and Daiyu in search of other prey.
…and a New Tholothian Sister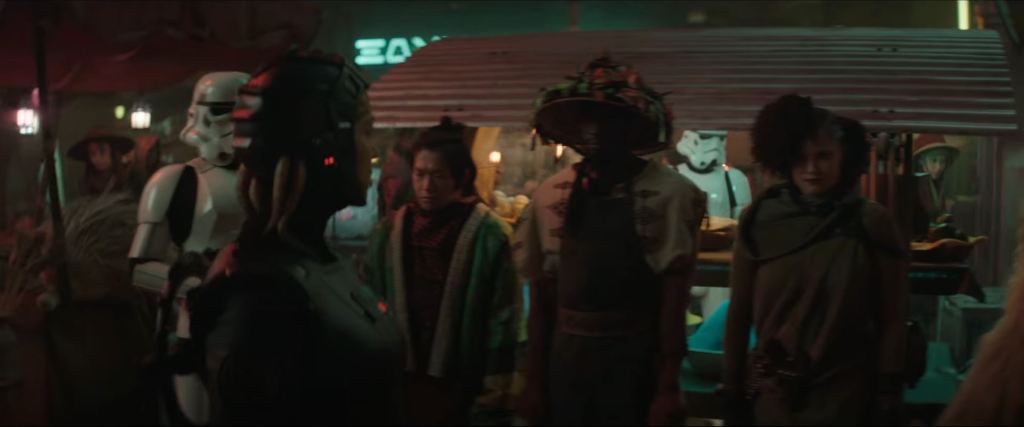 At one point in the trailer, Reva meets with the Fifth Brother and another Inquisitor we haven't seen before. We originally thought this was the Seventh Sister in live action, but the tendrils on her head suggest she's actually a Tholothian character.
We know the Fifth Brother, Seventh Sister, and Eighth Brother from Rebels; the Second Sister and Ninth Sister from Jedi: Fallen Order; and the Fourth Sister and Tenth Brother from the comics. Since Reva is the Third Sister, does this mean this other character is…the Eleventh Sister?
Double-bladed Spinning Lightsaber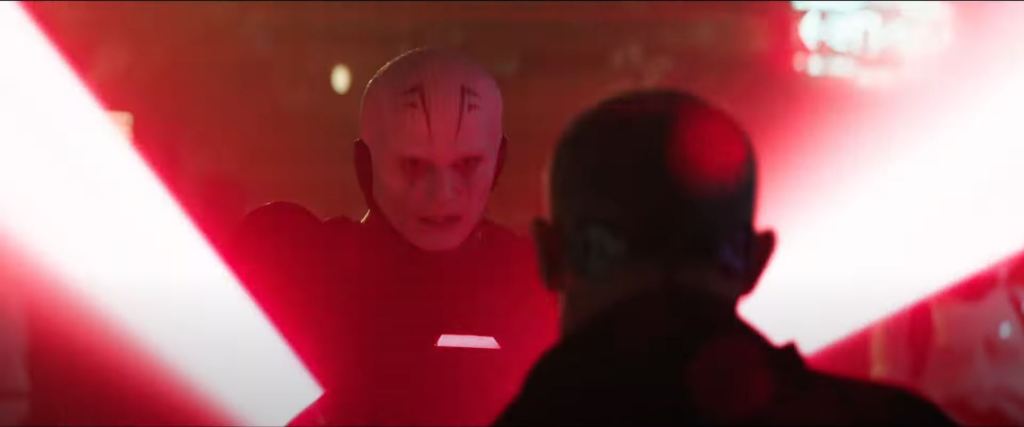 The Inquisitors are one of the Empire's most elite divisions, so naturally they get their very own special lightsabers. First wielded by the Grand Inquisitor on Rebels, it was soon revealed to be the weapon of choice for most Inquisitors, and it's easy to see why.
The double-bladed spinning lightsaber is one of the most intimidating lightsaber designs ever introduced to Star Wars. It boasts two red hot blades that spin on a track like a propeller, making it the perfect weapon with which to cut down weary fugitive Jedi. In the trailer, you can see the Grand Inquisitor using it to scare someone on Daiyu into giving him the information he wants.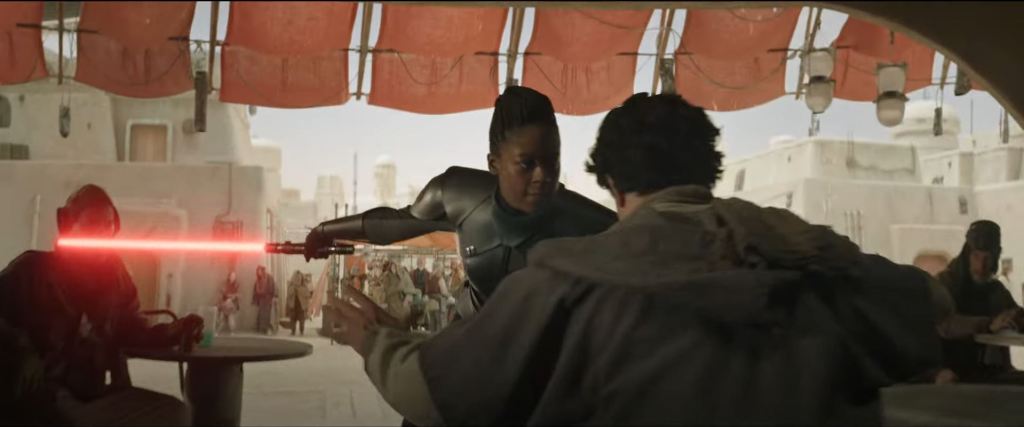 Interestingly enough, Reva seems to use a traditional lightsaber instead of this model.
Escape Pods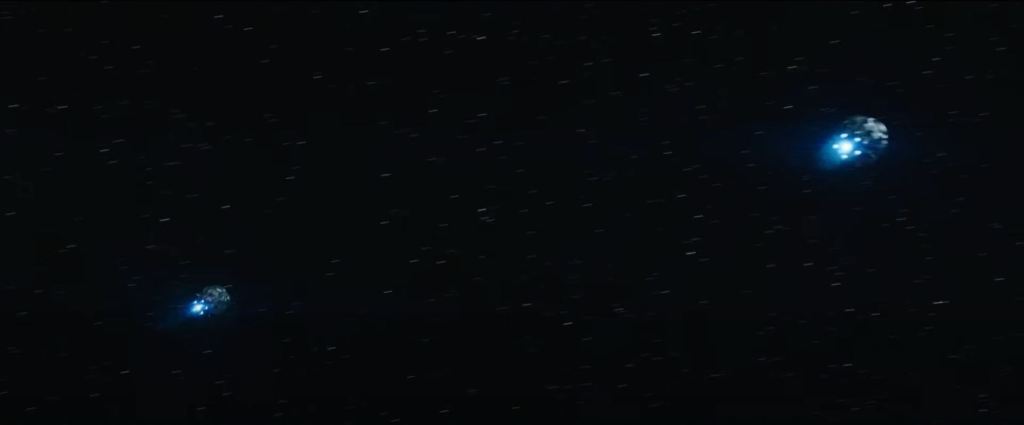 At one point in the trailer, we see what looks like two escape pods zooming through space. Not sure what that's about but it could pertain to a moment meant to rhyme with the start of A New Hope. As George Lucas once said, it all rhymes in the end.
Joel Edgerton as Uncle Owen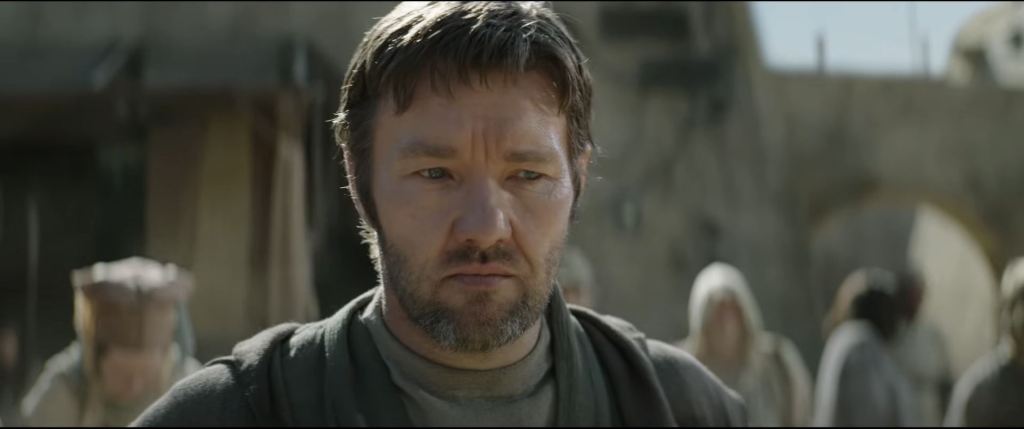 Here's a face we never expected to see again: a younger Uncle Owen played by Joel Edgerton, who first took on the role in Attack of the Clones and briefly appeared at the end of Revenge of the Sith. It's unclear just how big Owen's role is in the series, considering he's a dude who's super opposed to adventures and getting into trouble. That said, a photo released by EW does show him staring down Reva on Tatooine. Can't wait to see what that's all about.
Bonnie Piesse is also returning as Aunt Beru, although we don't really see her up close in the trailer.
Daiyu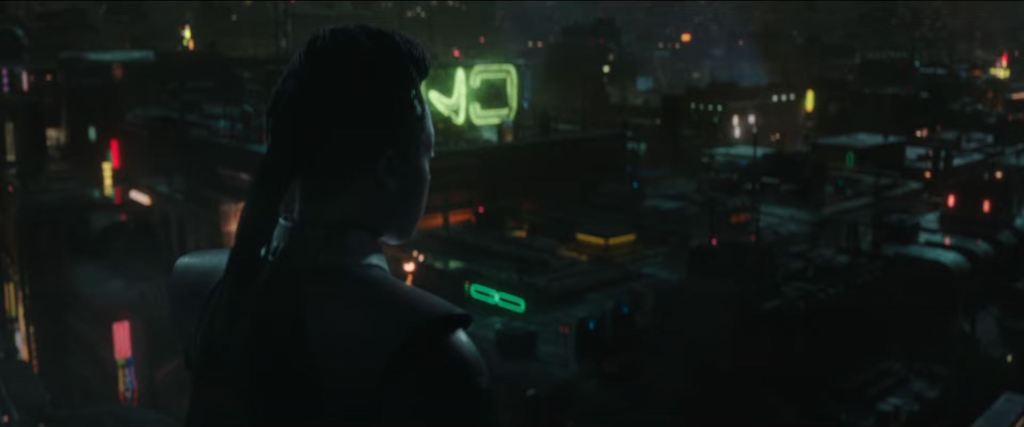 In an interview with EW, Obi-Wan Kenobi writer Joby Harold described new planet Daiyu as "sort of having a Hong Kong feel to it…It's got a graffiti-ridden nightlife, and is kind of edgy. It's just got a different lane and a different feeling."
Sounds like it's yet another hive of scum and villainy Obi-Wan must traverse. Curious that the Jedi Master in hiding gets to have an adventure on a seedy planet while the most famous bounty hunter in the galaxy was grounded on Tatooine in The Book of Boba Fett. Shouldn't it be the other way around?
Fortress Inquisitorius on Nur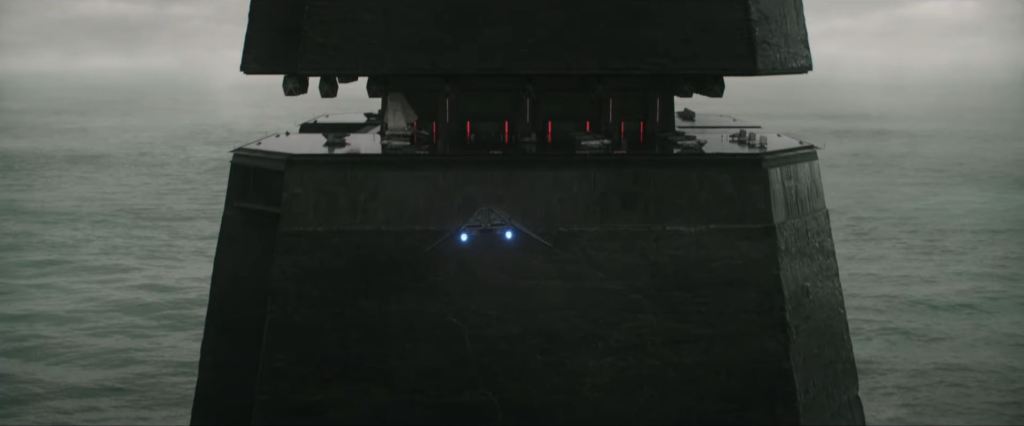 Fortress Inquisitorius is the underwater base of the Inquisitors. It's located on the moon of Nur in the Mustafar system (ahem). Unlike the volcanic planet that gives this star system its name, Nur is actually covered by an endless ocean. This location was first introduced in Jedi: Fallen Order.
Indira Varma as Imperial Officer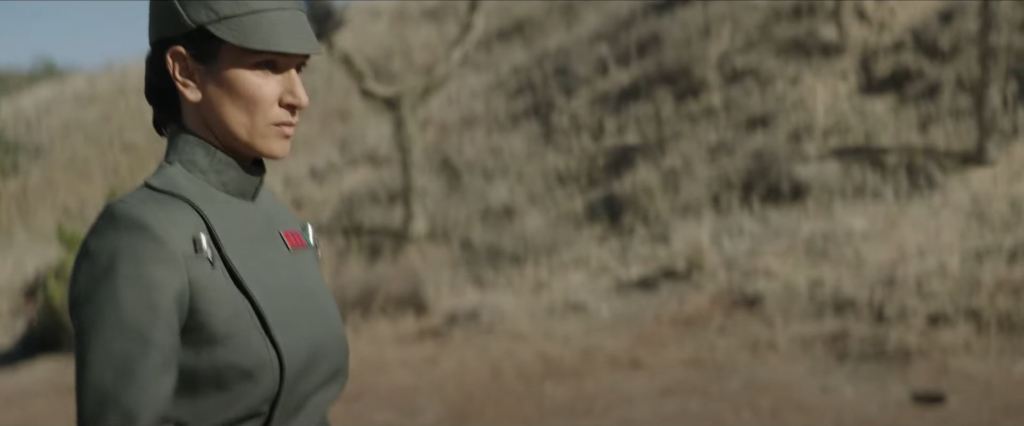 The set photos weren't lying. Indira Varma (Game of Thrones) plays an Imperial officer on the show. No idea what she's up to but it's probably bad news for Obi-Wan.
Clone Troopers?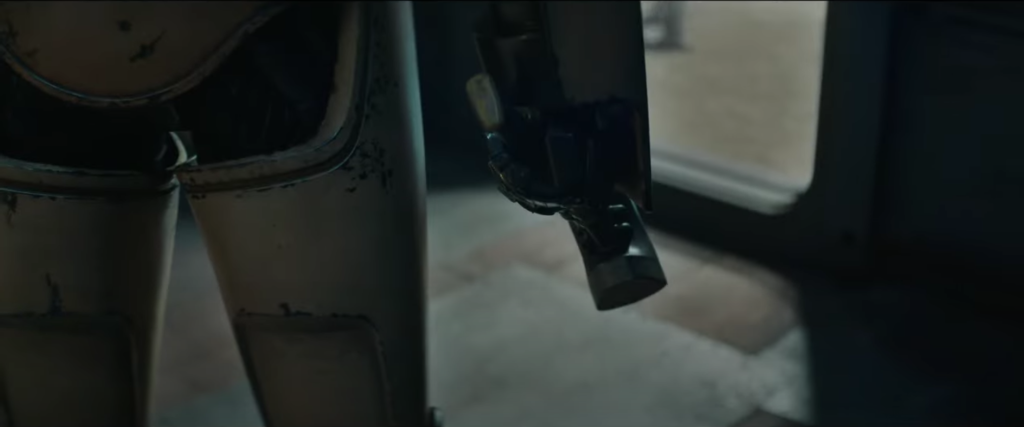 Some fans are theorizing the shot above is of a Republic clone trooper. This is not outside the realm of possibility as some clone troopers did manage to go AWOL after Order 66 instead of joining the Empire. For example, could this be a live-action version of Captain Rex played by Temuera Morrison?!
"Battle of the Heroes" and "Duel of the Fates"
If you were wondering just how hard Obi-Wan Kenobi would lean into Prequel era nostalgia, well, this trailer features two of that trilogy's most famous musical themes: "Duel of the Fates" from The Phantom Menace and "Battle of the Heroes" from Revenge of the Sith, both of which were composed by the legendary John Williams. This is no accident, as both themes were written for Obi-Wan's two biggest duels in the Prequels — against Darth Maul in the first film and Anakin Skywalker in the third.
Since Obi-Wan is due for a rematch with his former apprentice, it wouldn't be surprising if we heard these tunes once again like it's the early 2000s.
Hayden Christensen as Darth Vader
While he doesn't actually appear in the trailer, we know he's coming. Hayden Christensen will reprise his role as Darth Vader (and as Anakin Skywalker, according to McGregor). It looks like we'll have to wait a little longer to actually see Christensen back in Star Wars, but at least we do get the spooky sound of Vader breathing at the end of the trailer…
Obi-Wan Kenobi premieres on Disney+ on May 25. It is directed by Deborah Chow from scripts by Harold. Kumail Nanjiani, O'Shea Jackson Jr., Simone Kessell, Benny Safdie, Maya Erskine, and Rory Ross round out the cast.
Spot anything we missed? Let us know in the comments!
Check out the complete schedule of upcoming Star Wars movies and TV series here.