Features
Andor Cast: Meet the New Star Wars Characters
Andor introduces plenty of new characters to the Star Wars universe. Here's what you need to know about them and the actors who play them!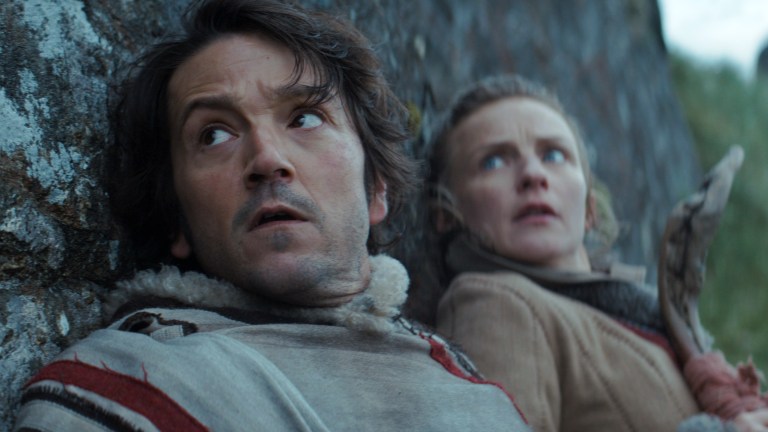 This Star Wars: Andor article contains spoilers.
Andor takes Star Wars in a completely new direction than we've ever seen before. Cassian's origin story opens not with talk of Jedi and Sith, or a civil war between the Empire and the Rebellion, but with a common crook who's down on his luck and desperate. The opening minutes that play like a neo-noir crime thriller straight out of Blade Runner soon give way to a very grounded story about the folks you don't normally see in a Star Wars movie, including the blue collar workers who keep the wheels turning on the Empire's corporate interests. It's on planets like Ferrix, Morlana One, and Kenari that we meet a whole new cast of characters, the people who shape Cassian's past and help him become who he needs to be in Rogue One.
Here's a rundown of all the new characters introduced in the first three episodes of Andor and beyond, as well as where you've seen their actors before…
Diego Luna as Cassian Andor
Star Wars fans of course know him best as Rebel spy Cassian Andor from Rogue One, but Diego Luna has been turning out stellar performances since the early 2000s when he starred alongside his friend Gael Garcia Bernal in the smash hit Mexican film Y tu mamá también. Since his breakout role, he's gone on to work with award-winning directors such as Steven Spielberg (The Terminal), Gus Van Sant (Milk), and Barry Jenkins (If Beale Street Could Talk), among others. In terms of other genre films, he appeared in Neill Blomkamp's dystopian sci-fi film Elysium as well as a sequel to Joel Schumacher's 1990 psychological horror flick Flatliners.
With Andor, Luna now gets to revisit his memorable character from the Star Wars film, a mysterious secret agent who, up until this point, we knew very little about beyond his ultimate sacrifice in the hours before A New Hope. Now, Luna gets to show all the different sides of Cassian while tackling even meatier themes.
"It's difficult to find out where he comes from because obviously he's been forced to move," Luna told Den of Geek magazine in July. "And today, the story of a refugee is a story that is very pertinent to the world and where we find it. It's so difficult to find yourself in a place where people aren't coming from somewhere else."
Adria Arjona as Bix Caleen
Adria Arjona is Bix Caleen, a mechanic by day and a black market dealer by night. She also seems to be one of Cassian's oldest friends on Ferrix, and may have even a bit more than friends at some point in the past. While there's not much else we know about Bix, it's clear she has no love for authority, especially Preox-Morlana goons.
The Puerto Rican actor starred most recently in this year's Spider-Man-adjacent vampire film Morbius as Marvel character Martine Bancroft. She also played the titular bride in Warner Bros.' 2022 remake of Father of the Bride. Before that, Arjona was the protagonist of NBC's Wizard of Oz TV series Emerald City, played Anathema on Good Omens, and Jules Reyes in Pacific Rim: Uprising.
"The main thing that really excited me was her ambition, her desire to have this stability in this very unstable world and moment in history," Arjona tells Den of Geek. "Bix puts everything before her, puts friends, family, and Ferrix before herself. And her moral compass is being questioned at all times. In the show, people are on the cusp of a revolution, and there's a big question mark of what do you do? Do you join the movement? Are you part of the movement? Where do you fit into that?"
Genevieve O'Reilly as Mon Mothma
Genevieve O'Reilly returns as Chandrilan senator and future leader of the Rebel Alliance Mon Mothma. While she most famously played the role in Rogue One, O'Reilly was first cast as the character for Revenge of the Sith, but most of her scenes were ultimately cut from the theatrical version. Fortunately, Andor finally lets us see what Mon Mothma's life as a senator was like before she helped found the Rebellion.
"The longform narrative gives us the time and the space to investigate Mon Mothma not just as a leader but as a woman, not just a politician but as wife, not just as a senator but also a woman who has a cultural history behind her," O'Reilly tells Den of Geek. "I think this is the first time we have the time to think about what does the life look like of a woman who has been representing her planet since the age of 16? What might the culture of that planet be that a woman is in that position at 16? What are the constructs of that world? And how does that inform everything we know about Mon Mothma? It allows us to see how much she has to risk, what her sacrifice is. It's five years before we get to Rogue One so we have a lot to learn about her."
Stellan Skarsgard as Luthen Rael
It's no exaggeration to call Stellan Skarsgard a cinema legend, with a filmography that goes all the way back to the late '60s in his native Sweden. In the nerd world, we may know him best from the Pirates of the Caribbean movies, David Fincher's The Girl With the Dragon Tattoo, his recurring role as Dr. Erik Selvig in the MCU, as Father Merrin in two competing Exorcist prequels from the early 2000s, and as the cruel and grotesque Baron Harkonnen in Denis Villeneuve's film adaptation of Dune. If you're looking for stuff outside of genre fare, he's also collaborated several times with director Lars von Trier, including for the apocalyptic drama Melancholia. He's also in The Hunt for Red October and Good Will Hunting!
In Andor, Skarsgard plays a recruiter who is looking to stoke rebellion against the Empire in different corners of the galaxy. But he's also living a double life on Coruscant, one that also puts him in contact with Mon Mothma. It definitely looks like Luthen Rael is key to the formation o the Rebel Alliance.
Kyle Soller as Syril Karn
Pre-Mor officer Syril Karn brings big hall monitor energy to the Star Wars galaxy, a glorified security guard with delusions of grandeur. Instead of letting the crimes happening in the "corporate sector" of space he patrols, as is the status quo with Pre-Mor, Syril yearns to do some actual police work. It's just too bad he's also so incredibly ill-prepared for an actual fight, as we learn in the third episode. An absolute loser.
While born in the US, Kyle Soller trained as an actor at the Royal Academy of Dramatic Art in London, and has starred in several theater productions on both sides of the pond, winning an Olivier Award for his performance in The Inheritance. You've seen him on British TV as well, including in Poldark, An Inspector Calls, and Bounty Hunters. His jump to the galaxy far, far away has been a very welcome addition so far, and we're really looking forward to seeing more sides of Syril. You'll find out a bit more about him in episode 4…
Faye Marsay as Vel Sartha
While Faye Marsay doesn't appear in the first three episodes of Andor, you'll finally get to meet her in the show's second arc. She plays freedom fighter Vel Sartha, one of Luthen's many rebel associates. Marsay has racked up several credits in other big genre series, such as Doctor Who and Game of Thrones.
Ebon Moss-Bachrach as Arvel Skeen
Yeah, that's "Cousin" Richie from The Bear in Star Wars! Ebon Moss-Bachrach, who you might also recognize as Desi from the Lena Dunham HBO dramedy Girls and/or David Lieberman in The Punisher, plays a proto-Rebel named Arvel. He's part of the seven-man mission to steal the payroll from an Imperial facility on Aldhani.
Alex Lawther as Karis Nemik
Another young Rebel fighter is played by Alex Lawther, who is best known for his two-season run as the co-protagonist of the excellent dramedy The End of the F***ing World. He's also gone on to roles in Wes Anderson's The French Dispatch and Ridley Scott's The Last Duel. Lawther is also a regular on the theater stage, most recently in new productions of The Tempest and Hamlet.
Gershwyn Eustache Jnr as Taramyn Barcona
Gershwyn Eustache Jnr is best known for playing Vitus in British fantasy drama Britannia. He also appeared in the Dennis Quaid-starring Amazon Prime Video series Fortitude as well as Simon Hardy in the Sean Bean series Legends. In Andor, he plays Rebel agent Taramyn Barcona, who's not very welcoming to Cassian when he shows up to join their team out of the blue.
Varada Sethu as Cinta Kaz
It's been a big year for Varada Sethu, who just appeared on the big screen in Jurassic World Dominion. Before that, she appeared in the British apocalyptic police drama Hard Sun for the BBC. In Andor, we meet her as Cinta Kaz, one of the soldiers working for Vel on Aldhani.
Sule Rimi as Lieutenant Gorn
Where there's a Rebel cell working against the Empire, there's usually a double agent working to infiltrate Imperial ranks and dig up information from the inside. On Aldhani, it's Lieutenant Gorn who's tasked with this dangerous mission. We watch in episode 4 as he rendezvous with Vel's team to go over the plan. Gorn is played by Sule Rimi, who you've most recently seen on the ITV series Manhunt and BBC's Death in Paradise.
Alastair Mackenzie as Perrin Fertha
Andor reveals a part of Mon Mothma's life that's never really been explored before: her marriage to Perrin Fertha, a complacent and pretentious man who doesn't see a problem with the way the Empire operates. He's clearly at odds with his much more proactive and concerned wife. Fertha is played by Alastair Mackenzie from The Crown and the Netflix movie Outlaw King.
Elizabeth Dulau as Kleya
The moment she popped up in the trailers for Andor, fans speculated newcomer Elizabeth Dulau's character could be a teen Princess Leia. Except the timeline wouldn't really add up. Leia is about 14-years-old at the time of Andor, and Dulau is clearly meant to be playing someone a little bit older than that. That said, her character on the show is named Kleya, which seems odd if this isn't meant to be Leia…Whatever the case, you'll finally get to meet Kleya in episode 4.
Anton Lesser as Major Partagaz
Anton Lesser loves playing villains in big genre series. In Andor, he plays the head of the Imperial Security Bureau, the division of the Empire tasked with rooting out rebel cells and anyone they decide is trouble for the tyrannical government. Lesser has played a cog of tyranny before, giving us the wonderfully slimy mad scientist Qyburn in Game of Thrones.
Denise Gough as Dedra Meero
Like Soller, Denise Gough's background is also in theater, winning several awards for her performances in London and New York, including her breakout role in Eugene O'Neill's Desire Under the Elms. Gough has collected a few film credits, including in Ridley Scott's Robin Hood. Interestingly enough, she was also cast in the Game of Thrones prequel, The Long Night, shooting a pilot for HBO that didn't end up getting picked up to series. Shame! Fortunately, Gough will get to make her Star Wars debut in episode 4 of Andor.
Ben Bailey Smith as Lieutenant Supervisor Blevin
Ben Bailey Smith, also known as the rapper Doc Brown, makes his Star Wars universe debut as the contemptuous Lieutenant Supervisor Blevin, the ISB officer now in charge of Ferrix after Preox-Morlana's failure earlier in the season. Besides his music, you likely know Smith best from his stint as DS Joe Hawkins in Law & Order: UK. He was most recently in the 2022 adaptation of Persuasion.
Fiona Shaw as Maarva
Fiona Shaw is another absolute legend making her long-awaited Star Wars debut. In Andor, she plays Maarva, Cassian's adoptive mother on Ferrix. We learn much about how the two first met in episode 3 as well as what Maarva's life was like during the Clone Wars. It's clear she's been rebelling much longer than anyone else on the show.
You've watched her in countless movies and TV shows, most recently in Killing Eve, Fleabag, and Channel Zero. But nerds may know her best from the Harry Potter films (she plays Petunia Dursley!) and as Marnie Stonebrook in the HBO series True Blood. The award-winning actor has also appeared in many plays and is perhaps best known in film for her many roles in period dramas and historicals, such as Jane Eyre, Anna Karenina, and Persuasion.
Dave Chapman as B2EMO
What's Star Wars without a little robotic comedic relief? In Andor, we meet the astromech B2EMO, who lives in a constant state of panic and low battery. It must be exhausting to be him. He's voiced wonderfully by Dave Chapman, who has a long legacy in Star Wars. Chapman was not only one of the puppeteers who brought BB-8 to life in the Sequel Trilogy but he also performed the roles of Lady Proxima and Rio Durant in Solo: A Star Wars Story. You've also watched his work in several Muppets movies, Doctor Who, Ridley Scott's Prometheus, and The Dark Crystal: Age of Resistance.
Gary Beadle as Clem Andor
Gary Beadle plays Clem Andor, Maarva's partner in the flashbacks and Cassian's adoptive father. On Ferrix, Cassian took Clem's last name, and we learn during a conversation with Luthen that Clem died sometime before the show.
Beadle is a British TV and stage actor, best known for his roles in EastEnders and Operation Good Guys. He's also appeared in The Sarah Jane Adventures, Silent Witness, Grantchester, and most recently in the 2022 adaptation of Persuasion.
Forest Whitaker as Saw Gerrera
Academy Award-winning actor Forest Whitaker reprises the role of Saw Gerrera, whom he first played in Rogue One. This is technically his fourth time playing the character, as he also voiced the freedom fighter-turned-terrorist in the Rebels animated series and the video game Jedi: Fallen Order.
The actor made his debut on TV in the 1980s before jumping onto the big screen with early credits in Fast Times at Ridgemont High, The Color of Money, and Platoon. His Oscar-winning turn came in 2006 when he starred in The Last King of Scotland. You should also check him out in Denis Villeneuve's best sci-fi film, Arrival.
Antonio Viña as Kassa and Belle Swarc as Kerri
Newcomers Antonio Viña and Belle Swarc play the child versions of Cassian (originally named Kassa) and his sister in Andor's flashback scenes. We learn in those flashbacks that Kassa and Kerri lived in a settlement on Kenari run by unsupervised children. Where did all their parents go? We may find out as the show progresses as well as where Kerri went after Kassa was flown off planet by Maarva.
James McArdle as Timm Karlo
James McArdle plays jealous boyfriend Timm Karlo in the first three episodes of Andor, getting himself killed by the very security officers he ratted Cassian out to in the pilot. What is that old saying about snitches?
If McArdle looked familar to Star Wars fans, it's because you've seen him before in the galaxy far, far away. He played Resistance pilot Niv Lek ("Kelvin" backwards because J.J. Abrams) in The Force Awakens. McArdle also recently appeared in the HBO miniseries, Mare of Easttown, which is fantastic and you should run to watch it once you've finished the first three episodes of Andor.
Joplin Sibtain as Brasso
Brasso is one of Cassian's buddies on Ferrix, and one of the many people who is constantly covering for the young criminal. (Seriously, Cassian is a hot mess.) The character is played by Joplin Sibtain from EastEnders, Doctor Who, The Sarah Jane Adventures, and the Netflix series Safe.
Lee Boardman as Kravas and Stephen Wight as Verlo
The bozos who fucked around and found out in the opening minutes of Andor, Kravas and Verlo get more than they bargained for when they try to shake down Cassian on Morlana One. Instead of credits, they both get murdered. These slimeballs are played by Lee Boardman, who you know best from historicals like Rome and Da Vinci's Demons, and Stephen Wight, a stage actor with TV credits in Misfits, Sherlock, and others.
Alex Ferns as Linus Mosk
Sgt. Mosk makes the mistake of encouraging Syril Karn's quest to find Cassian. By the end of episode 3, both of these Starship Troopers impersonators have egg all over their faces. Mosk is played by Alex Ferns, who also appeared as Commissioner Savage in The Batman earlier this year!
Margaret Clunie as The Hostess
No, you heard correctly. Star Wars just said "brothel" and acknowledged that sex exists. From its opening minutes, Andor makes it clear that this is a more adult version of the galaxy far, far away. It's in said brothel where we meet the Hostess played by Margaret Clunie, who you recognize from British period drama Victoria.