News
Star Trek: Picard Season 1 Episode Guide and News
Make it so! Patrick Stewart has returned to the world of Star Trek for a brand new series simply subtitled "Picard."
CBS All-Access has much more Star Trek on the way, including Star Trek: Picard, which continues the adventures of one of the most beloved captains in the entire Starfleet: Captain Jean-Luc Picard.
Season 1 has wrapped! You can read about Star Trek: Picard Season 2 here. But if you'd like to dive into the finer details of Season 1, check out our episode guide below…
Star Trek: Picard Series Episode Guide
Click on the blue links below to read full reviews of episodes that have already aired.
Star Trek: Picard Episode 1: Remembrance
"At the end of the 24th century, and 14 years after his retirement from Starfleet, Jean-Luc Picard (Sir Patrick Stewart) is living a quiet life on his vineyard, Chateau Picard. When he is sought out by a mysterious young woman, Dahj (Isa Briones), in need of his help, he soon realizes she may have personal connections to his own past."
air date: 1/23/20
Read our full review of "Remembrance" here.
Star Trek: Picard Episode 2: Maps and Legends
"Picard begins investigating the mystery of Dahj as well as what her very existence means to the Federation. Without Starfleet's support, Picard is left leaning on others for help, including Dr. Agnes Jurati (Alison Pill) and an estranged former colleague, Raffi Musiker (Michelle Hurd). Meanwhile, hidden enemies are also interested in where Picard's search for the truth about Dahj will lead."
air date: 1/30/20
Read our full review of "Maps and Legends" here.
Star Trek: Picard Episode 3: The End is the Beginning
"Completely unaware of her special nature, Soji continues her work and captures the attention of the Borg cube research project's executive director. After rehashing past events with a reluctant Raffi, Picard seeks others willing to join his search for Bruce Maddox, including pilot and former Starfleet officer Cristóbal Rios (Santiago Cabrera)."
air date: 2/6/20
Read our full review of "The End is the Beginning" here.
Star Trek: Picard Episode 4: Absolute Candor
"The crew's journey to Freecloud takes a detour when Picard orders a stop at the planet Vashti, where Picard and Raffi relocated Romulan refugees 14 years earlier. Upon arrival, Picard reunites with Elnor (Evan Evagora), a young Romulan he befriended during the relocation. Meanwhile, Narek continues his attempts to learn more about Soji while Narissa's impatience with his lack of progress grows."
air date: 2/13/20
air date: 2/20/20
Read our full review of "Stardust City Rag" here.
Star Trek: Picard Episode 6: The Impossible Box
"Picard and the crew track Soji to the Borg cube in Romulan space, resurfacing haunting memories for Picard. Meanwhile, Narek believes he has finally found a way to safely exploit Soji for information."
air date: 2/27/20
Star Trek: Picard Episode 7: Nepenthe
"Picard and Soji, who's struggling to make sense of her recently unlocked memories, travel to a planet that happens to be the home of Picard's old friends Will Riker and Deanna Troi; Elnor and Hugh are left on the Borg cube to face Narissa."
Star Trek: Picard Episode 10: Et in Arcadia Ego, Part 2
air date: 3/26/20
Read our full review of "Et in Arcadia Ego, Part 2" here.
Star Trek: Picard Series Trailer
The lastest promotional spot focuses on the "mission" that Jean-Luc will endeavor to make so.
The trailer just below premiered back in October at NYCC.
And here is the excellent first trailer for Picard, courtesy of CBS All Access at SDCC 2019.
And here is the first teaser we got…
Star Trek Picard Series Cast
Big news came out of Star Trek's appearance at SDCC 2019: CBS All Access revealed that Brent Spiner and Jeri Ryan would be joining the cast of Picard. If those names sound familiar it's because they are both part of the Star Trek universe already. Spiner played Lt. Commander Data in Star Trek: The Next Generation and Ryan played Seven of Nine in Star Trek: Voyager.
Also announced as part of the cast is Jonathan Del Arco, who played the Borg Hugh in Next Generation. It's a grand reunion all around!
Joining Stewart in the main cast: Alison Pill (The Newsroom), Harry Treadaway (Penny Dreadful), Isa Briones, Evan Evagora, Santiago Cabrera, and Michelle Hurd.
Briones is playing Dahj, a young woman who comes to Picard looking for his help.
Pill is playing Agnes Jurati, a doctor who shares a common goal with Picard.
Cabrera is Cristobal "Chris" Rios, the pilot of Picard's ship and a skilled thief and former Starfleet officer.
Hurd is Raffi Musiker, a former Starfleet intelligence officer struggling with substance abuse who Picard goes to for assistance. She is also Rios' partner.
Treadaway and Evagora will be playing Romulans Narek and Elnor, respectively. Narek is a Romulan agent investigating what the Romulans are doing to former Borg. Elnor is a Romulan refugee who is fiercely loyal to Picard. You can learn more about their characters here.
Star Trek Picard Series Episodes & Story
The Picard series takes place 18 years after the events of Star Trek: Nemesis, with Picard having apparently left his life as a Starfleet Admiral 15 years prior to the start of the new series. Star Trek: Picard will see how Picard is pulled back into Starfleet's orbit, when Dahj asks for his help.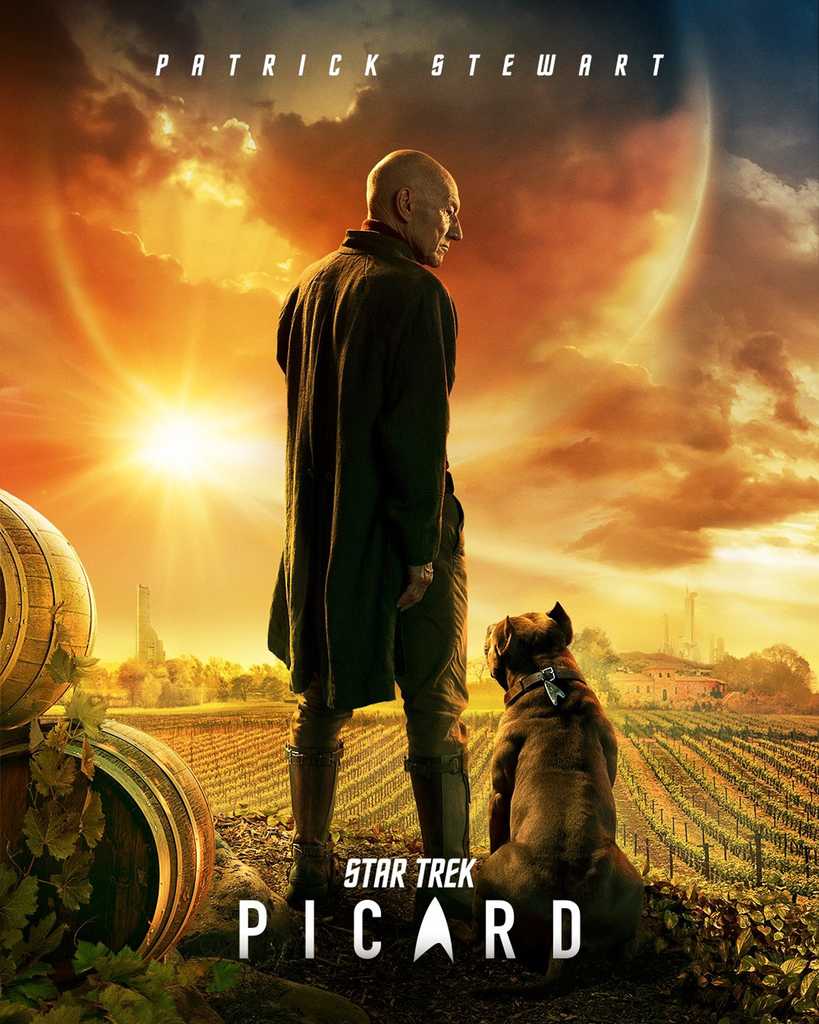 Stewart spoke to Yahoo about the series, saying it will be like "a 10-hour movie."
Stewart issued a lengthy statement via Instagram, which we reproduce in full here:
"I will always be very proud to have been a part of Star Trek: The Next Generation, but when we wrapped that final movie in the spring of 2002, I truly felt my time with Star Trek had run its natural course. It is, therefore, an unexpected but delightful surprise to find myself excited and invigorated to be returning to Jean-Luc Picard and to explore new dimensions within him. Seeking out new life for him, when I thought that life was over.

During these past years, it has been humbling to hear stories about how The Next Generation brought people comfort, saw them through difficult periods in their lives or how the example of Jean-Luc inspired so many to follow in his footsteps, pursuing science, exploration and leadership. I feel I'm ready to return to him for the same reason – to research and experience what comforting and reforming light he might shine on these often very dark times. I look forward to working with our brilliant creative team as we endeavor to bring a fresh, unexpected and pertinent story to life once more."